BCHRD HOLDS THE 1st REGIONAL HEALTH RESEARCH AND DEVELOPMENT FORUM
The 1st Regional for Health Research & Development Forum  with  the  theme:   "SaludBicolnon: Marhay na Salud para sa kagabsan"   was held last  November 21,2013  at  the    Bicol University College of Nursing Function Hall, Legazpi City. It show cased health and health related researches of the region, both professional and student category.
A total of 70 participants who witnessed the event,    mostly from the academe which were as follows:      Bicol University College of Nursing (BUCN),    Bicol University   College   of      Science (BUCS), Partido State University (PSU),  University of Saint Anthony (USANT),   Department of  Science and TechnologyV (DOST-V),  Camarines Sur Polytechnic Colleges (CSPC), Catanduanes State University (CSU), Bicol Regional Training and Teaching Hospital (BRTTH), Aquinas University of Legazpi (AUL), Ago Medical and Educational Center–Bicol Christian College of Medicine (AMEC-BCCM), Bicol Medical Center (BMC), Universidad de Sta. Isabel (USI) and     Commission on Higher Education Regional Office No.V(CHED-V).
The Panel of Evaluators for the Student Category were:        Dr. Pilita O. Lucena,           BCHRD chair, Research  Information  and  Communication  Utilization  Committee  (RICUC),   Mr. Christian Rivero, member  RICUC and  Dr. Nilo Romeroso,  member of   Ethics Review Committee   (ERC). For the Professional  Category were:    Dr. Marla Litam,    Member of Research and Development Committee (R&D), Dr. Marlyn  Daguno, chair R&D and Dr. Marilou Tino,    member   of    Capacity Building Committee (CBC).
The winners for the Professional category were:      1st place:           " Acceptability  and  Effect of Malunggay, Monggo,  and   Rice     (Moringaoleifera Lam, Vignaradiata and Oryza sativa)        – Based Complementary Food on  Selected  Growth  Indicator in  Children:   A   Preliminary Study " by Kuh V. Peterno et. al,  of Partido State University  (PSU);   2nd place is       "Health Needs of the Community Folks of  San Roque Madawon, Nabua, Camarines Sur"by Salvacion  L.   Tabalanza et. al. of Camarines Sur Polytechnic Colleges (CSPC).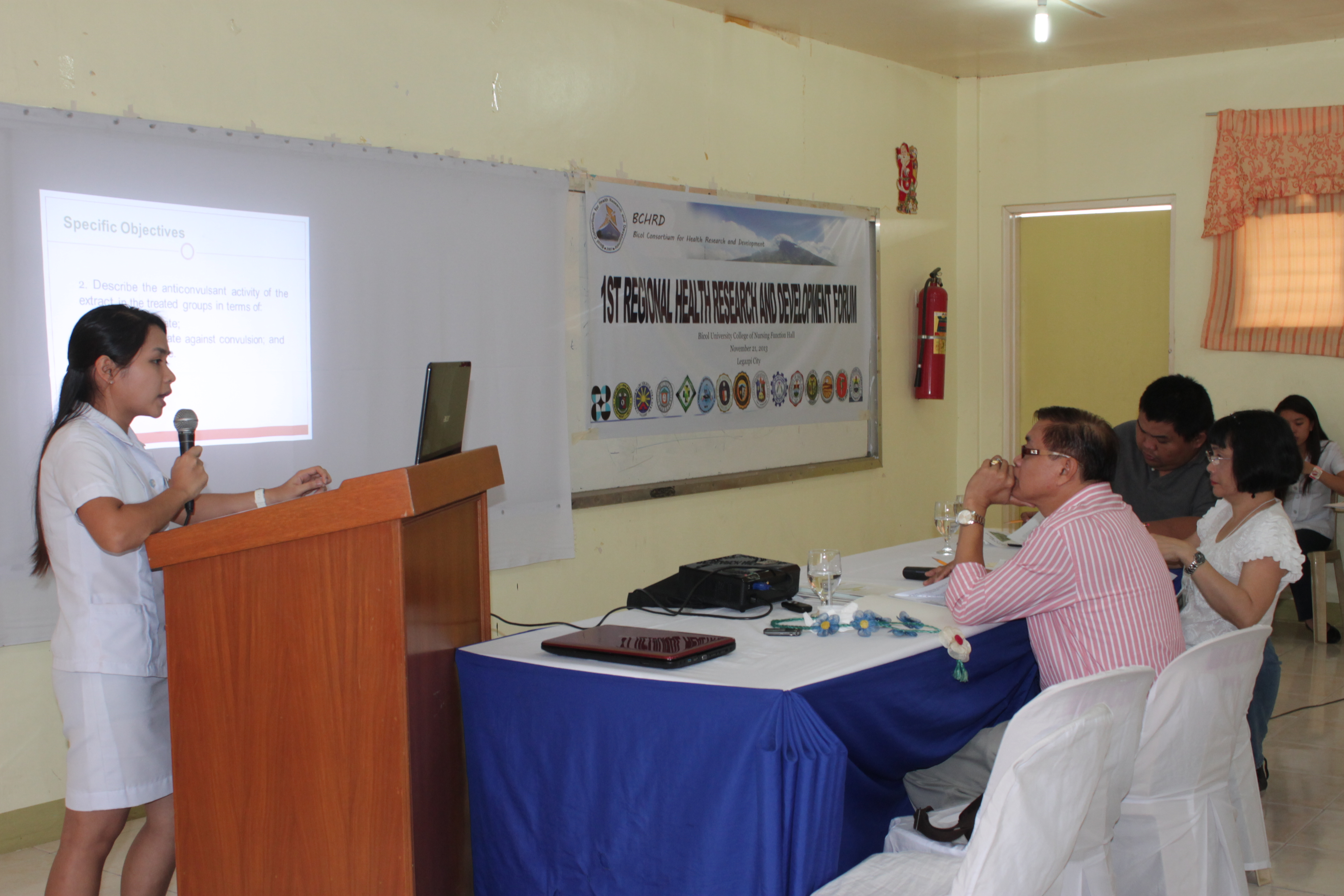 The winners for the Student category were all from Bicol University: 1st place is     "Evaluation of The Anticonvulsant Activity of Jatropha curcas L. (Tubang-bakod)Methanolic Leaf Extract  in Mus musculus "by Ellen Keith C. Barreda of the College of Science (BUCS); 2nd place is "Prevalence of Enterobius vermicularis in the 3rd District of Albay Philippines" by     Jeffrey A. Toledo et. al of the College of Science  (BUCS);   and  3rd place is            "Hypoglycaemic  Effect   of   Papaitan (Tinospora crispa Miers)   Stem   Extract  on  Diabetic and     Normal Glycaemic Male Albino  Mice "by Christine Arcueno et. al of Bicol University College of Nursing.
The winners of both the professional and student categories  will be the entry of        BCHRD to the Philippine  National  Health  Research  (PNHRS)  Conference  Week  on          August 2014. These winners were asked to submit to the consortium the       full    research   paper  with the completion of the suggestions for final clearance from the R & D Committee.
In behalf of the consortium Chair, President Fay Lea Patria M. Lauraya, our appreciation to the participants and CONGRATULATIONS to all the winners.