Details

Written by

BCHRD

Category: Updates
DOH - Regional Nutrition Council/DOST – NUTRICOMNET jointly spearhead Nutrition Month Regional Launching this July 2014
            The member-institutions of the Department of Health - Regional Nutrition Council (DOH-RNC) and the Department of Science and Technology - Nutrition Communicators Network (DOST-NURTICOMNET) headed by Dr. Gloria G. Balboa, Regional Director, DOH and Dir. Tomas B. Briñas, Regional Director, DOST V, respectively jointly spearheaded the regional launching for this year's Nutrition Month (NM) Celebration. Its theme is "Kalamidad Paghandaan: Gutom at Malnutrisyon agapan!"
            During the planning session for the conduct of this activity, the province of Camarines Sur was highly recommended as its venue with DOST's initiative called "Science for Safer Communities (S4SC) conducted last 19-20 May 2014 in said province. S4SC, an IEC Campaign highlighted DOST's Projects NOAH (Nationwide Operational Assessment of Hazards), DINA (Disaster Information for Nationwide Awareness) and DREAM (Disaster Risk and Exposure Assessment for Mitigation) featuring Science-based solutions, e.g. high resolution hazard maps, early warning system and others.
            In complementing S4SC, RNC and NUTRICOMNET conducted the NM Regional Launch centered on "Nutrition in Emergencies". This is a component of DRRM whose main concern is to prepare the vulnerable groups especially the women (pregnant and lactating mothers), children, Senior Citizens, Persons with Disabilities (PWDs) and others. Increase in malnourished cases is an offshoot of a disaster. It should also be prioritized to prevent rapid deterioration since malnutrition particularly on infant and young children already affects Bicol's regional standing together with other problems on livelihood/employment, etc., above all, poverty is the root cause.
            Held on July 2014 at the Camarines Sur Polytechnic Colleges (CSPC), the priority areas/municipalities in Camarines Sur are: Nabua, Balatan, Buhi, Baao, Pili and Iriga City with two hundred (200) local chief executives, barangay officials, health workers and nutrition scholars, and CSPC Food Technology students in attendance.  Ex-Mayor Atty. Simbulan, the husband of Mayor Delia Simbulan, now the Administrator of Nabua gave the welcome remarks and cited that it was the first time in Nabua for this activity.
            The Bicol River Basin traverses over the Province of Camarines Norte and Sur, and Albay with forty three municipalities (identified barangays in said priority municipalities are mostly flooded due to overflow/heavy rains).
            Other important topics discussed were the following:
·         2014 NM Theme:                 Ms. Arlene R. Reario
Nutrition Program Coordinator
NNC Bicol
·         Flood Forecasting:               Engr. Dan Ragudan
Hydrologist
BRFFWC-PAGASA
Camaligan, Camarines Sur
            With the recent Typhoon Glenda that directly hit the Provinces of Albay, Sorsogon, Camarines Norte and Sur, and Catanduanes last 15 July 2014, Nutrition in Emergencies should always be among the immediate concerns by LGUs, national government agencies and other stakeholders engaged in health and nutrition, and disaster preparedness. Nutrition in Emergencies is defined as the services that form part of emergency preparedness, response and recovery to prevent deterioration of nutrition status and death. The services can include nutritional assessment; infant and young child feeding promotion, protection and support; management of acute malnutrition, micronutrient supplementation and other food or non-food based interventions.
            Nutrition falls under the health cluster together with 1) Water Sanitation and Hygiene (WASH), 2) Health, and 3) Mental Health and Psychosocial Support (MHPS). NNC chairs the Nutrition Cluster together with DOH-Health Emergency Management Staff/ National Center for Disease Prevention and Control/ National Center for Health Facility Development/ National Center for Health Promotion/ Food and Drug Administration, DOST-Food and Nutrition Research Institute, DSWD-Disaster Risk Reduction Response Operations Office/ Council for the Welfare of Children, DILG, DTI, DepEd and CHED as members.
Details

Written by

Super User

Category: Updates
BCHRD HOLDS THE 1st REGIONAL HEALTH RESEARCH AND DEVELOPMENT FORUM
The 1st Regional for Health Research & Development Forum  with  the  theme:   "SaludBicolnon: Marhay na Salud para sa kagabsan"   was held last  November 21,2013  at  the    Bicol University College of Nursing Function Hall, Legazpi City. It show cased health and health related researches of the region, both professional and student category.
A total of 70 participants who witnessed the event,    mostly from the academe which were as follows:      Bicol University College of Nursing (BUCN),    Bicol University   College   of      Science (BUCS), Partido State University (PSU),  University of Saint Anthony (USANT),   Department of  Science and TechnologyV (DOST-V),  Camarines Sur Polytechnic Colleges (CSPC), Catanduanes State University (CSU), Bicol Regional Training and Teaching Hospital (BRTTH), Aquinas University of Legazpi (AUL), Ago Medical and Educational Center–Bicol Christian College of Medicine (AMEC-BCCM), Bicol Medical Center (BMC), Universidad de Sta. Isabel (USI) and     Commission on Higher Education Regional Office No.V(CHED-V).
The Panel of Evaluators for the Student Category were:        Dr. Pilita O. Lucena,           BCHRD chair, Research  Information  and  Communication  Utilization  Committee  (RICUC),   Mr. Christian Rivero, member  RICUC and  Dr. Nilo Romeroso,  member of   Ethics Review Committee   (ERC). For the Professional  Category were:    Dr. Marla Litam,    Member of Research and Development Committee (R&D), Dr. Marlyn  Daguno, chair R&D and Dr. Marilou Tino,    member   of    Capacity Building Committee (CBC).
The winners for the Professional category were:      1st place:           " Acceptability  and  Effect of Malunggay, Monggo,  and   Rice     (Moringaoleifera Lam, Vignaradiata and Oryza sativa)        – Based Complementary Food on  Selected  Growth  Indicator in  Children:   A   Preliminary Study " by Kuh V. Peterno et. al,  of Partido State University  (PSU);   2nd place is       "Health Needs of the Community Folks of  San Roque Madawon, Nabua, Camarines Sur"by Salvacion  L.   Tabalanza et. al. of Camarines Sur Polytechnic Colleges (CSPC).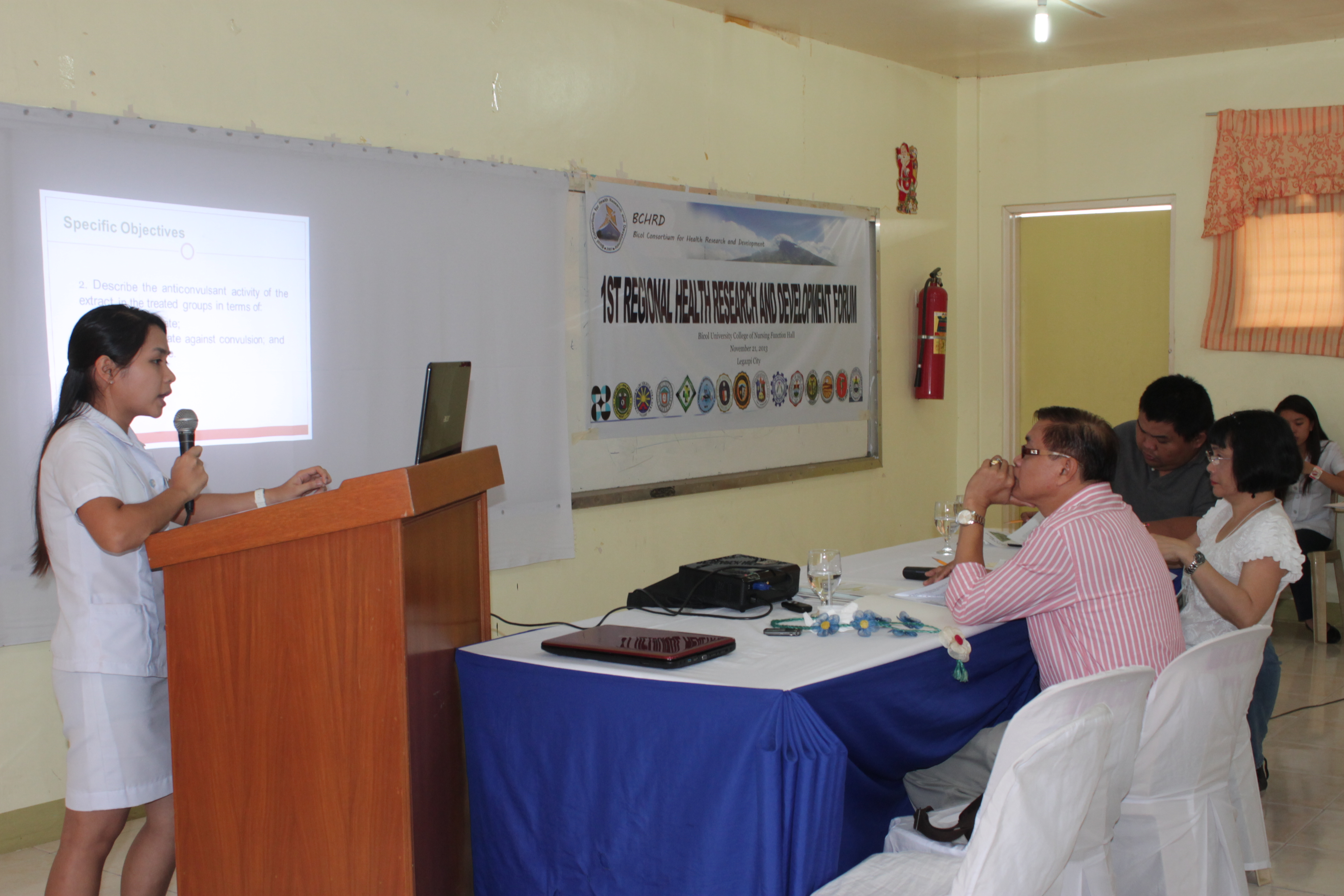 The winners for the Student category were all from Bicol University: 1st place is     "Evaluation of The Anticonvulsant Activity of Jatropha curcas L. (Tubang-bakod)Methanolic Leaf Extract  in Mus musculus "by Ellen Keith C. Barreda of the College of Science (BUCS); 2nd place is "Prevalence of Enterobius vermicularis in the 3rd District of Albay Philippines" by     Jeffrey A. Toledo et. al of the College of Science  (BUCS);   and  3rd place is            "Hypoglycaemic  Effect   of   Papaitan (Tinospora crispa Miers)   Stem   Extract  on  Diabetic and     Normal Glycaemic Male Albino  Mice "by Christine Arcueno et. al of Bicol University College of Nursing.
The winners of both the professional and student categories  will be the entry of        BCHRD to the Philippine  National  Health  Research  (PNHRS)  Conference  Week  on          August 2014. These winners were asked to submit to the consortium the       full    research   paper  with the completion of the suggestions for final clearance from the R & D Committee.
In behalf of the consortium Chair, President Fay Lea Patria M. Lauraya, our appreciation to the participants and CONGRATULATIONS to all the winners.
Details

Written by

Super User

Category: Updates
Bicol Consortium for Health Research and Development (BCHRD) participates in the 7t h Philippine National Health Research System (PNHRS) Week Celebration in Laoag City
Region V (Bicol) through the Bicol Consortium for Health Research and Development (BCHRD) was well represented during the 7t h Philippine National Health Research System (PNHRS).
Dr. Fay Lea Patria M. Lauraya led the Bicol's delegation of seventeen (17) officials and personnel from BCHRD member-agencies who actively participated in this national event namely Dr. Alma Banua, BU (Consortium Director) and Ms. Chona Guidote, Project SStaff (BCHRD Secretariat); committee chairs, Dr. Marlyn Daguno, BRTTH (Research and Development); Dean Laarni Salcedo, CSPC (Capability Building); Dr. Rafaelita O. Lucena, DOST V (Regional Information and Communication Utilization); and Ms Sandy Lasa, USI (Ethics Review); and the three (3) student-contestants from Bicol University. Other participants are from USANT (2); ADNU; BU Colleges of Science and Medicine (2); and CSU (2).
This PNHRS Week Celebration spearheaded by the key implementing agencies [Philippine Council for Health Research and Development (DOST-PCHRD), Department of Health (DOH), Commission on Higher Education (CHED) and the University of the Philippines (UP)Manila] was an avenue for sharing/discussions of information and experiences by seventeen (17) health R&D consortia with S&T-based solutions to the problems of the country particularly on health and health related concerns.
Region V's entry "Hypoglycemic Effect of Ethanol Peel Extract of Citrus Sinesis (Orange) on Male Alloxan-lnfused Diabetic Albino Mice (Mus Musculus)" was awarded as national finalist in the Student Research Presentation Competition with a P2,000 cash prize. The student-contestants were Mary G. Estanislao, Maria I.M. Lanuzo and Irja K.E. Robles, BU College of Nursing.
Aside from the poster and research presentation competitions, other celebration highlights were the talks on Ethics in Health Review; Indigenous People's Health, and Writing for Scientific Journal; Panel Discussions on Research for People's Health and Generating More Quality Proposals; Roundtable Discussion on the Health Research Shapers focusing on the Universal Health Care; Consortium Exhibits and the Opening/Closing Ceremonies graced by local leaders of llocos Norte with Region I Health Research and Development as this year's host.
DOST Secretary Mario G. Montejo was represented by Undersecretary Amelia Guevarra during the opening ceremonies (Secretary Montejo and other cabinet members were with President Aquino at that time in Davao City for the Mindanao Business Conference). Usee. Guevarra stressed on DOST's commitment for meaningful S&T based solutions and innovations for the people we serve. Better policies and services will improve their lives. She also said that DOST-PCHRD leads the PNHRS in adopting collaborative strategies to ensure that health researches will contribute to better and improved health facilities. On the other hand, R&D initiatives generate and increase knowledge and push for more public health services together with local leaders and other stakeholders who are recognized as catalyst of change.
During fellowship night with regional presentations featuring songs and dances, Region V's rendition of the songs "Sarong Banggi" and "Ano Daw Idtong sa Gogon" together with Region IV-A (with the tagalog version of "Sarung Banggi") won third prizes for the Best Choral Presentation and Best Costume. The competition was intended for every region but later changed into clusters (Northern Luzon, Southern Luzon, NCR, Visayas and Mindanao).
According to Dr. Jaime Montoya, DOST-PCHRD Executive Director, the good news is for the year 2013 could be labeled as the year for health with the passage of PNHRS Act; RH Law and Sin Tax.
The Philippines will be the venue for two (2) big international events, the Global Forum for Health Research where the Philippines is recognized as a model for the National Unified Health Research Agenda (NUHRA) to be held in February 2015 at PICC,Metro Manila and the International Health Conference on 23-26 November 2014 at Cebu City with the theme "Embedding Ethics in Health Research", Dr. Montoya added (Dr. ROL/Bong, DOST V).
Details

Written by

Alma S. Banua, Ed.D.

Category: Updates
BCHRD delegates attended the PNHRS week in Plaza del Norte, Laoag City, Ilocos Norte from August 7-9, 2013. The theme "People at the Center of Health Research" was reflected in the poster of each consortium. The BCHRD's poster portrayed the target research undertakings as strategies towards the improvement of health conditions of Bicolanos.
The PNHRS celebration was a venue for the researchers to disseminate findings for evidence based practice. Dr. Ma. Lourdes K. Otayza, Chair of the Region 1 Health Research and Development Consortium and the host of the activity enjoined everyone to interact and learn from one another to pursue the common goal of making a difference in the lives of every Filipino.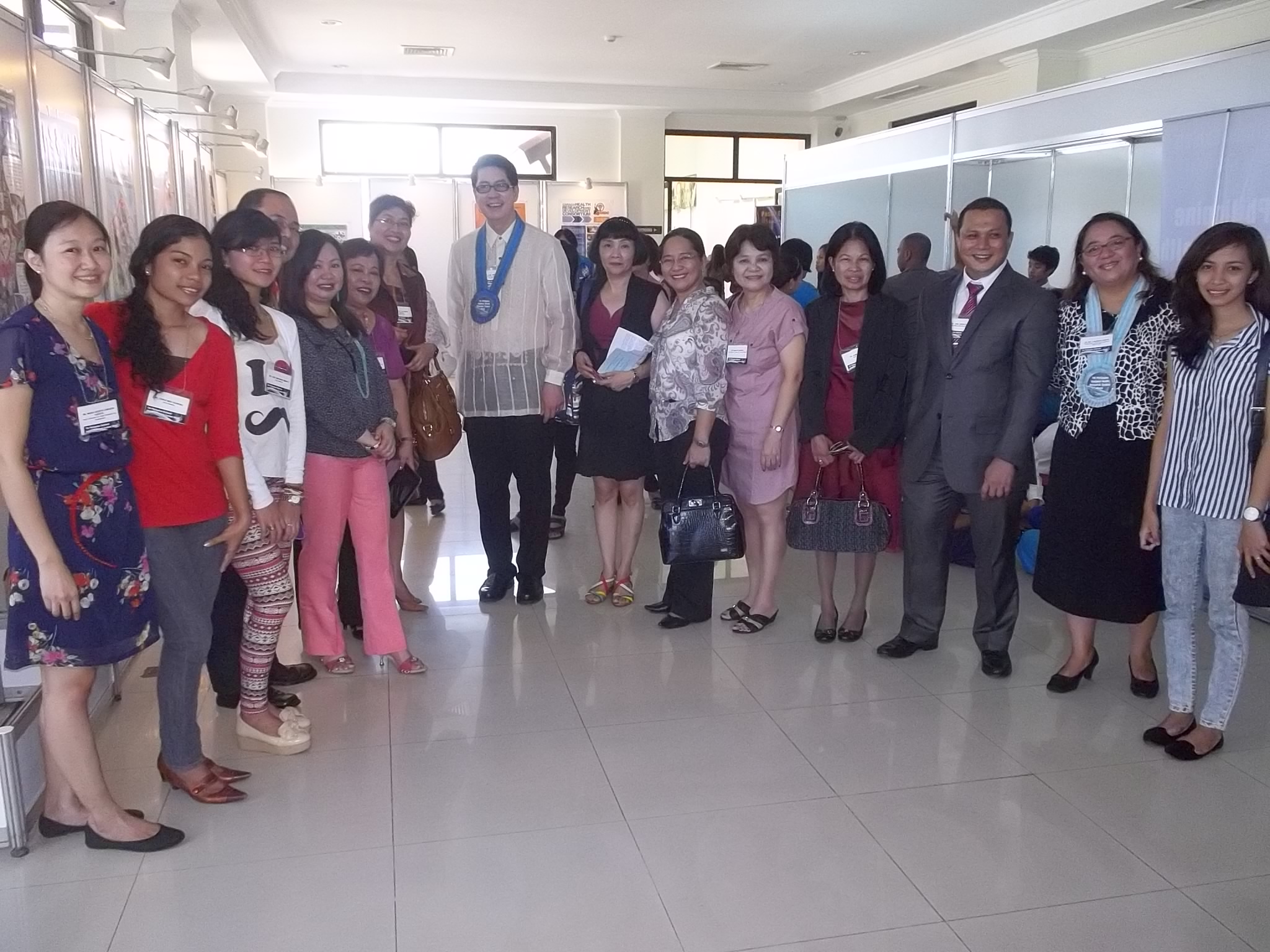 [Above, the BCHRD delegation headed by Chair and Bicol University President Dr. Fay Lauraya (7th from left) with PCHRD Executive Director Dr. Jaime Montoya (8th from left) and R1HRDC Chair and convention host, Dr. Lourdes Otayza (2nd from right).]
The BCHRD contingent was headed by the BCHRD chair and President of Bicol University, President Fay Lea Patria Lauraya. Among the delegates of the BCHRD were Director Dr. Alma Banua, the Committee chairs namely: Sandy Lasa of Ethics Review Committee, Dr. Marlyn Daguno, Research and Development Committee, Ma. Laarni Salcedo, Capacity Building Committee, and Dr. Rafaelita Lucena, Research Information, Dissemination and Utilization Committee. Also with the group were Dr. Marilou Tino and Dr Bienvenida Oliva of University of Saint Anthony, members of the CBC, Dr. Alvin Ogalesco and Prof. Joel Olfindo of Catanduanes State University, Dr. Ruben Caragay and  Dr. Teresita Yap of BU College of Medicine, Dr. Ma Clara Rubino, member of R & D and Dean of Ateneo de Naga University College of Nursing; Prof. Michael Montealegre, Faculty of BU College of Science, Ms. Mary Grace Estanislao, alumna of BU College of Nursing; Ms. Erika Mae Achaval and Ms. Cris Ann Mari Amante, alumnae of BU Polangui Campus; and Maria Vicenta Corazon Guidote, BCHRD Project Assistant.
Among the topics shared were: Indigenous Peoples Health: Research Challenges in IP Communities, Ethics in Health Research, Student and Faculty Research Competition, PNHRS Law, among others.
Ms. Estanislao, a finalist in the paper presentation for the student category, presented her group's study titled "The Hypoglycemic Effect of Ethanolic Peel Extract of Citrus sinensis (Orange) on Male Alloxan-Induced Diabetic Albino Mice (Mus musculus)."  Other papers submitted for presentation during the convention by BCHRD were: "The Case of Paralytic Shellfish Poisoning (PSP) Incidence in Sorsogon Bay" by Prof. Montealegre, et.al. and "Development of Moringa oleifera Seed Antibacterial Ointment" by Ms. Achaval, et.al.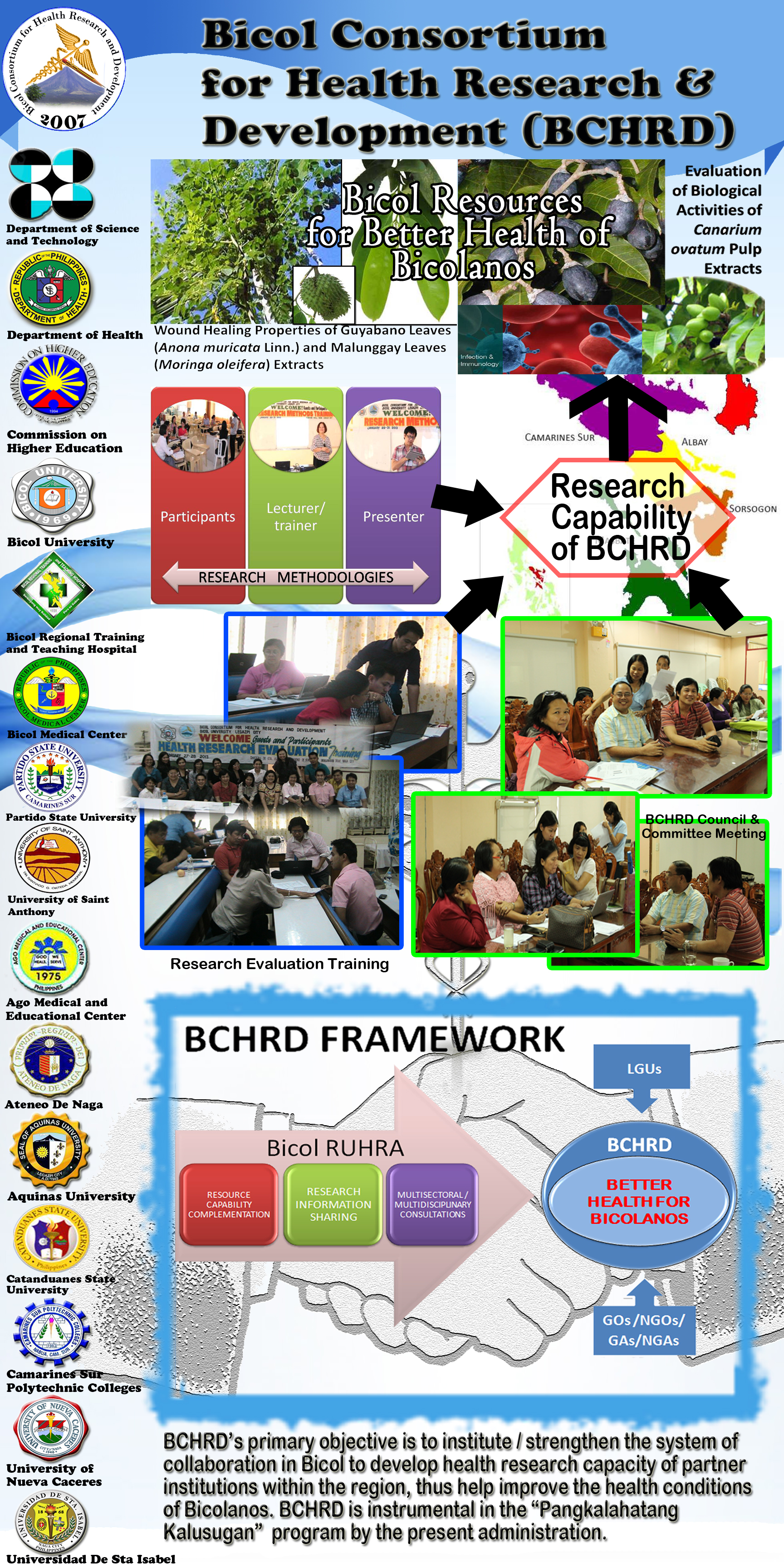 Details

Written by

Super User

Category: Updates
BCHRD TAKING STEPS TO ACHIEVE ITS VISION…
By: Dr. Alma Sorrera-Banua, Director, BCHRD
The vision of BCHRD is to conduct health and health-related researches responsive to the needs of the Bicolanos towards improved quality of life. Several strategies are being undertaken for the actualization of the vision. These are as follows: 1) Conduct proposal writeshop, 2) Technical & ethical review 3) Submit proposals for funding; other strategies are underway such as the conduct approved proposals.
Four research proposals were submitted for funding to different funding agencies. Three were submitted to the Philippine Council for Health Research and Development and one to BU Research and Development Center. A summary of the status of the said research protocols is show below.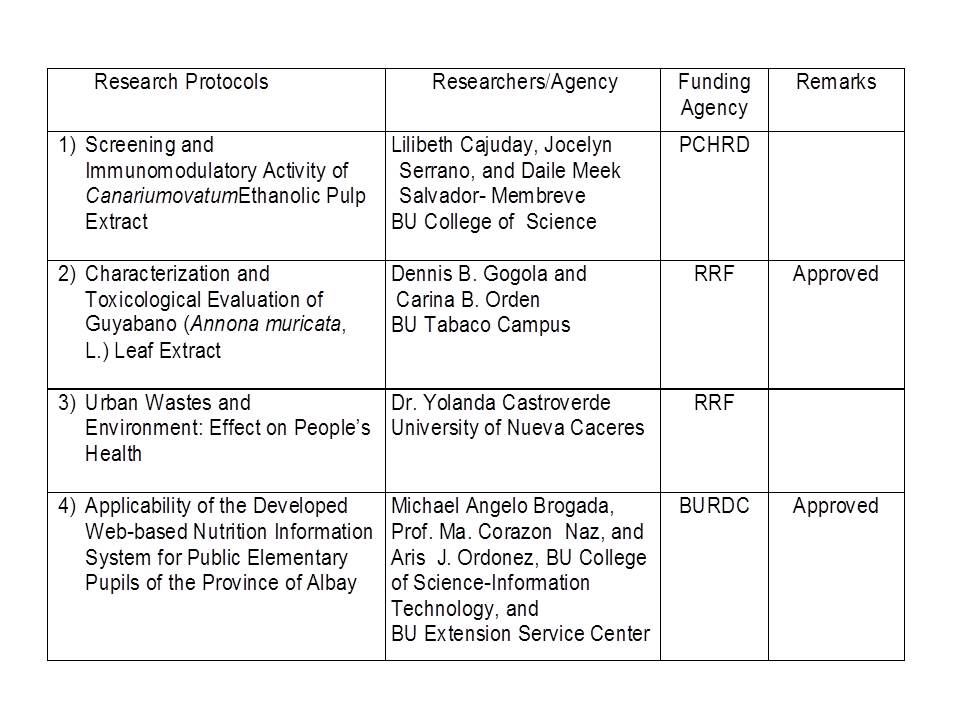 Meanwhile Dennis B. Gogola of BUTC will be signing the Memorandum of Agreement between PCHRD and BUTC, for the utilization of the research fund allocated for the research "Characterization and Toxicological Evaluation of Guyabano (Annona muricata, L.) Leaf Extract"
The BCHRD is presently into a multidisciplinary research proposal that will focus on the Promotion of Maternal Health of Bicolanos: Bicol Women's Health Research and Development Program so as to be able to submit to PCHRD additional protocols for funding. This activity will involve the different member-agencies of the consortium. The 2nd phase was held on August 19-20, 2013 at the University of Anthony, Iriga City.