Details

Category: News
Legazpi City --- December 1, 2017. This year BCHRD launch its first Scholarship Program, the BICOL HeaRT (Bicol Health Research Training and Development Program) which aims to capacitate researchers who have interest in conducting health and health-related researches along with the identified research priorities in the region. The idea of this program is first to accept concept note that is mainly included in the regions priority of health research. The concept notes have been evaluated for choosing the candidate for the scholarship program. Bicol Heart Scholars participated the venue at the Hotel Venezia for MOA and Module 1 & 2 Workshop Training.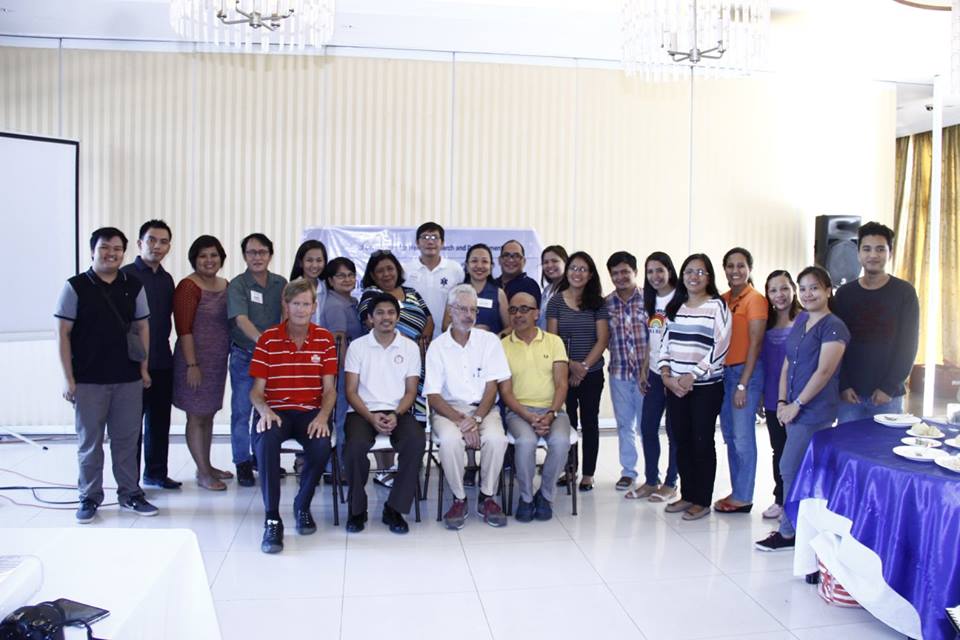 Last November 8, 2017, the scholars of Bicol Heart gather the venue at the Hotel Venezia, Hall 2 for MOA Signing. Dir. Michael Montealegre, BCHRD Director introduced the terms and guidelines regarding the scholarship program. Dr. Ernie V. Vera, the assistant regional director of DOH delivered a welcome message in lieu of DOH Regional Director, Dr. Napoleon Arevalo. who was not able to attend the event due to a prior commitment. Also, the presence of the head of the agencies and institutions also attend the MOA Signing for the support of the selected Scholars.
A total of 32 concept notes from the different institutions and agencies were submitted to the BCHRD for the application of scholarship. Only 15 of concept notes received the scholarship program. The first batch of the scholars is mainly prioritizing the health service, which is the top priority of the region. Researcher for Batch 1 Bicol Heart Program undergo series of training and workshop. The module one and two discuss on working their Technical Paper and Research Method which is dated on November 9-10, 2017.
The objective of the workshop is to refresh our researcher, recognize different types of health research and their roles and can distinguish between science and research and between research and development. Understand principles of relevant methodologies for health research including sampling, questionnaires, and data management. The output of this workshop is for them to prepare quality research proposals worthy of funding.
More Photos during the "MOA and Module 1 and 2" are available  HERE.
Details

Category: News
Legazpi City --- December 1, 2017. Professional and Student Researcher's filled the venue at the BU Amphitheater for BICOL REGIONAL HEALTH RESEARCH FORUM 2017 with aims to provide a platform for the different stakeholder in R&D in the region, to interact, share best practices, information and current trends in R&D that shall contribute to the research-based solutions to problems in health.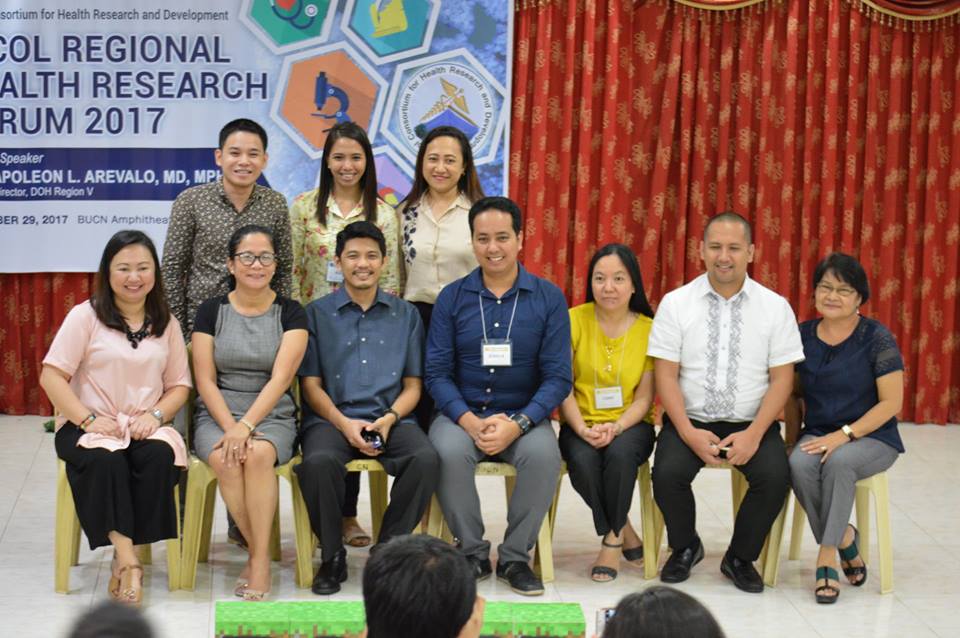 A total of 19 research entries; 10 for oral presentation and 9 for poster exhibits from schools all over the region. The participating schools are come from Universidad de Sta. Isabel, Bicol University, Catanduanes State University, Camarines Sur Polytechnic Colleges, Partido State University and Bicol Medical Center.
Atty. Christian Rivero delivered a welcome remarks in lieu of BCHRD RICUC Chair, Dr. Ma.Teresa G. De Alban, who was not able to attend the event due to a prior commitment in Manila. Dr. Napoleon Arevalo was introduced as Keynote Speaker.
The contest was opened by the presentation of the mechanics of the contest and the introduction of the members of the Panel of Evaluators namely: (Oral Research Presentation-Professional) Atty. Christian Rivero – CHED Education Specialist II, Marilou Tino - University Research Director of USANT and Chairperson of Capacity Building Committee of BCHRD and Ms. Teresita Pambid – Dean of Nursing, University of Nueva Caceres; (Oral Research Presentation-Student and Poster Contest-Both Professional and Student Category) Joshua B. Arimado - Research Office, BMC, Carmela R. Mirandilla - Assistant Regional Director of UST Legazpi, and Dr. Romeo M. Sumayo - Dean, University of Nueva Caceres School of Graduate Study.
For Professional Category-Oral Presentation Contest, Partido State University topped the contest with the study entitled "Incidence and Economic Valuation of Post-Typhoon and Climate Change- Induced Diseases in the Selected Fishing Communities of Bicol and the Coastal Aquaculture Areas of the Philippines". While USI topped the Oral Presentation for Student Category with the study entitled "Development Of Nutritionally Infused Food Product As A Supplement Towards Addressing Malnutrition Among School-Age Children".
More Photos during the "2017 Regional Health Research Symposium" are available  HERE.
Details

Category: News

The  Philippine   Council    for    Health Research and Development (PCHRD) of the Department of Science and Technology (DOST) calls for research proposals on the nine (9) listed  topics on research ethics.
2017 -2020 Research & Development Agenda on Research Ethics
·      Benchmarking: Study of comparable standards and ethics review procedures in countries with systems or practices that can serve as models for further improvement
·      Evaluation of possible impact of revisions in the CIOMS Guidelines and Helsinki Declaration on research ethics review in the Philippines
·         Impact of the implementation of the Data Privacy Act on research ethics review in the Philippines
1.    Possible changes in the NEGHR
2.    Possible changes in ERC SOPs
·         Development of a Philippine glossary of terms used in health research (different dialects: Tagalog, Ilocano, Cebuano, Ilonggo, Kapampangan, etc.)
·         Impact of ethics review on the quality and quantity of Philippine health research
·         Evaluation of the implementation (Operational Research) of research with IPs
1.    Genetic/ genomic research
2.    Herbal medicine studies
3.    Health Care practices (e.g., perinatal and post-natal)
·         Ethical Issues in the Engagement of Filipinos in Research
1.    Promotion of Rights and Responsibilities of Participants
2.    Knowledge of and attitudes towards the Informed Consent Process
3.    REC and Researcher KAP on vulnerability
4.    REC and Researcher KAP on Conflict of Interest
 

Administrators KAP re ethics review and the REC

 

Determination of Filipino Perspectives on the following;
      1.    Data management
2.    Data Privacy Act
3.    Post-research benefits
4.    Authorship and Publication
5.    Peer Review
6.    Research Misconduct
7.    Whistle blowing
PCHRD encourages interested parties to submit the full proposals online through Project Management
System http://www.projects.pchrd.dost.gov.ph and upload the following documents:
 ·         Letter of Intent
·         Curriculum Vitae of Lead Researcher
·         Profile of Institution
·         Proposal using PCHRD proposal template
Deadline of submission of proposals is every 30th of June.
For inquiries, kindly contact the Ethics Secretariat through telephone: (632) 837 75 37 or email: This email address is being protected from spambots. You need JavaScript enabled to view it.
(Source: www.pchrd.gov.ph)
Details

Category: Updates
CALL FOR PARTICIPATION

Application deadline: December 8, 2017
REGISTRATION IS FREE (limited slots only)
             The Department of Science and Technology - Philippine Council for Health Research and Development (DOST-PCHRD) and Bicol Consortium for Health Research and Development (BCHRD), in cooperation with Philippine Association of Medical Journal Editors (PAMJE) and Asia Pacific Association of Medical Journal Editors (APAME) is organizing the 13th National Medical Writing Workshop and 6th Writeshop for Young Researchers on 8-9 January 2017 in Legazpi City. The workshop aims to help young investigators in health and health social sciences acquire practical knowledge and skills in preparing a scientific article for publication in a scholarly peer-reviewed journal. Successful applicants will be granted free workshop registration, accommodation for participants and meals during the workshop, and assigned to a mentor-facilitator who will guide them in preparing their articles for a brief presentation.
Details

Category: Updates
The Philippine National Health Research System and Philippine National Ethics Board launches the 2017 National Ethical Guidelines for Health and Health-Related Research last August 24, 2017 at PICC, Pasay City, Metro Manila during the 11th PNHRS Week Celebration.
During the PNHRS Pre-conference session entitled, Emerging Issues in Research Ethics, Dr. Marita V.T. Reyes discussed the introduction and highlighted the new provisions to the National Ethical Guidelines for health and Health-Related Research and in the 2017
Two hundred copies of the said handbook were produced and was distributed during the launching. PHREB apologizes to attendees that due to the limited copies produced, only the accredited RECs will be given a copy and only one per institution.
PHREB guarantees that the copy of the 2017 national ethical guidelines is readily available for download at their website http://www.ethics.healthresearch.ph/ (BCHRD/Kevin Capoles)