BCHRD delegates attended the PNHRS week in Plaza del Norte, Laoag City, Ilocos Norte from August 7-9, 2013. The theme "People at the Center of Health Research" was reflected in the poster of each consortium. The BCHRD's poster portrayed the target research undertakings as strategies towards the improvement of health conditions of Bicolanos.
The PNHRS celebration was a venue for the researchers to disseminate findings for evidence based practice. Dr. Ma. Lourdes K. Otayza, Chair of the Region 1 Health Research and Development Consortium and the host of the activity enjoined everyone to interact and learn from one another to pursue the common goal of making a difference in the lives of every Filipino.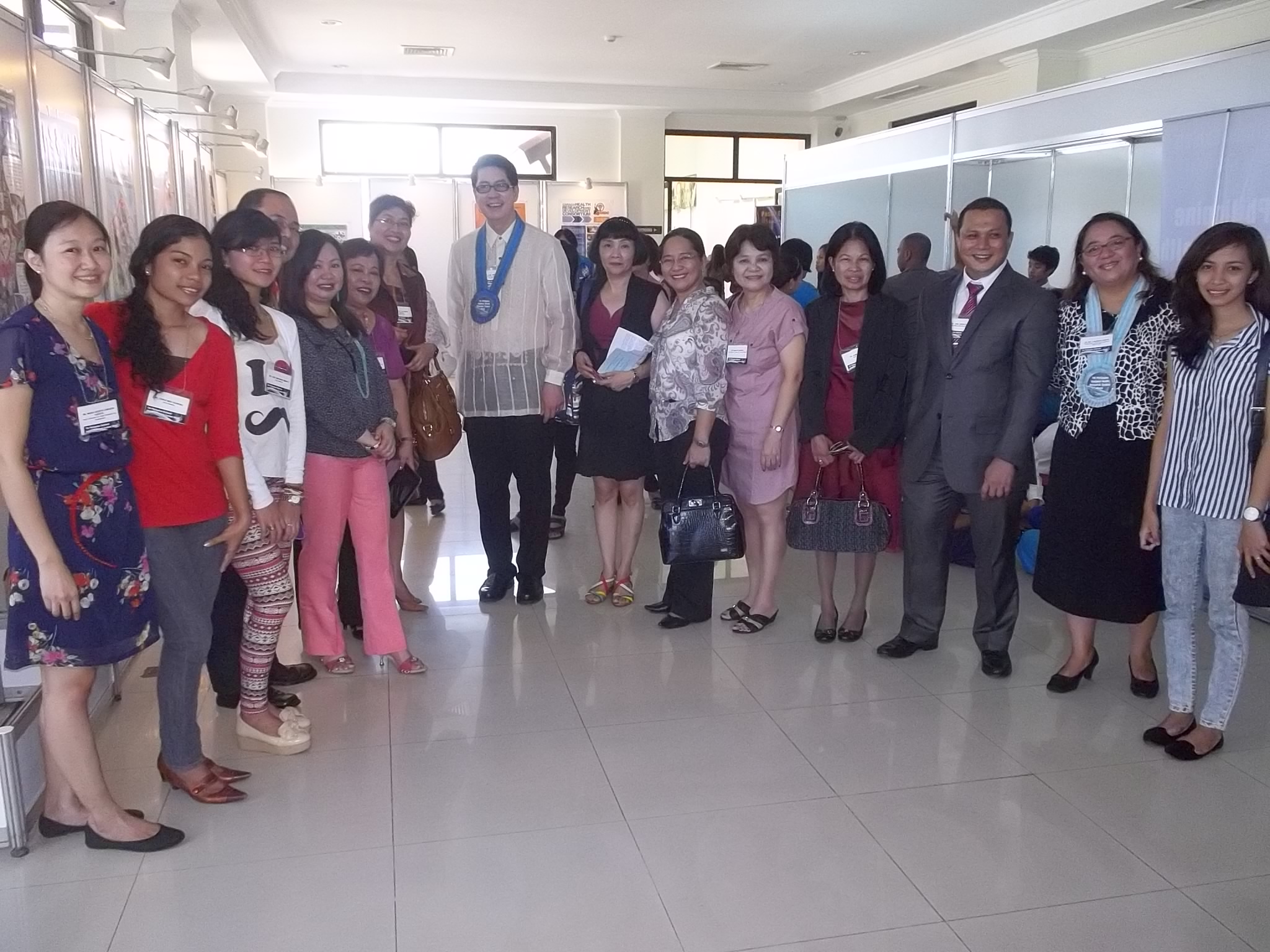 [Above, the BCHRD delegation headed by Chair and Bicol University President Dr. Fay Lauraya (7th from left) with PCHRD Executive Director Dr. Jaime Montoya (8th from left) and R1HRDC Chair and convention host, Dr. Lourdes Otayza (2nd from right).]
The BCHRD contingent was headed by the BCHRD chair and President of Bicol University, President Fay Lea Patria Lauraya. Among the delegates of the BCHRD were Director Dr. Alma Banua, the Committee chairs namely: Sandy Lasa of Ethics Review Committee, Dr. Marlyn Daguno, Research and Development Committee, Ma. Laarni Salcedo, Capacity Building Committee, and Dr. Rafaelita Lucena, Research Information, Dissemination and Utilization Committee. Also with the group were Dr. Marilou Tino and Dr Bienvenida Oliva of University of Saint Anthony, members of the CBC, Dr. Alvin Ogalesco and Prof. Joel Olfindo of Catanduanes State University, Dr. Ruben Caragay and  Dr. Teresita Yap of BU College of Medicine, Dr. Ma Clara Rubino, member of R & D and Dean of Ateneo de Naga University College of Nursing; Prof. Michael Montealegre, Faculty of BU College of Science, Ms. Mary Grace Estanislao, alumna of BU College of Nursing; Ms. Erika Mae Achaval and Ms. Cris Ann Mari Amante, alumnae of BU Polangui Campus; and Maria Vicenta Corazon Guidote, BCHRD Project Assistant.
Among the topics shared were: Indigenous Peoples Health: Research Challenges in IP Communities, Ethics in Health Research, Student and Faculty Research Competition, PNHRS Law, among others.
Ms. Estanislao, a finalist in the paper presentation for the student category, presented her group's study titled "The Hypoglycemic Effect of Ethanolic Peel Extract of Citrus sinensis (Orange) on Male Alloxan-Induced Diabetic Albino Mice (Mus musculus)."  Other papers submitted for presentation during the convention by BCHRD were: "The Case of Paralytic Shellfish Poisoning (PSP) Incidence in Sorsogon Bay" by Prof. Montealegre, et.al. and "Development of Moringa oleifera Seed Antibacterial Ointment" by Ms. Achaval, et.al.