Details

Category: Bicol Health News
A radio talk on: Antimicrobial Resistance (AMR)
Central Bicol State University of Agriculture Extension Services Division wants to invite you to another session of Uma-Agring Kita this Saturday, March 13, 2021, discussing Antimicrobial Resistance (AMR) with, Doctor Mark Jaypee C. Gonzales at RMN DWNX 91.1 FM Naga| 4:00-5:00PM
Interested listeners may register via:
https://forms.gle/LVfh8hGrjYvcmUNRA
E-Certificates may be given after answering the survey form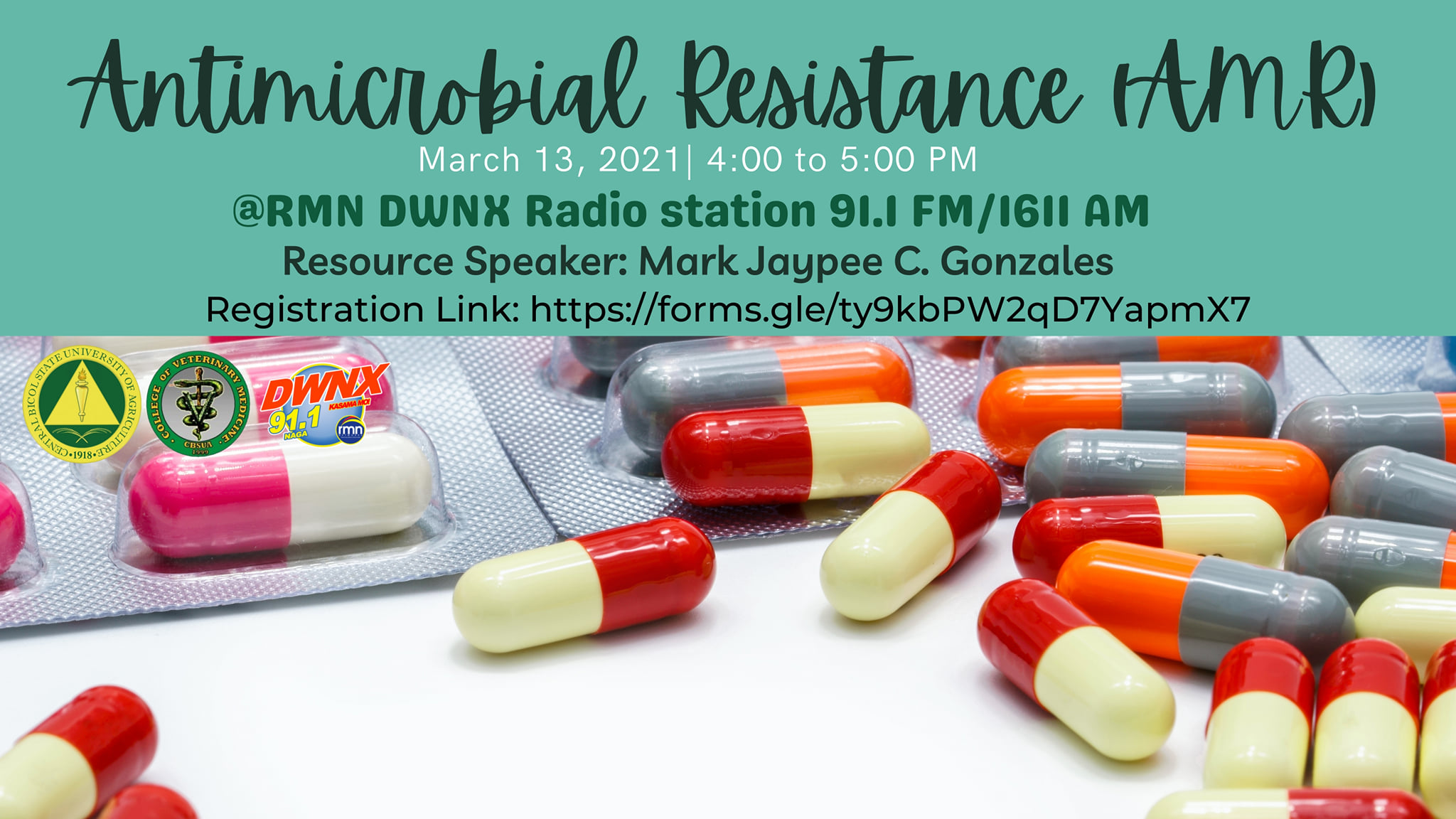 Published by: BERNARD DEXTER M. MOROS, BCHRD Secretariat
Credits to: Dr. Mark Jaypee C. Gonzales
Details

Category: Bicol Health News
In response to the lash of Tropical Depression Usman in the Bicol Region last December 30, 2018, the Department of Health Center for Health Development (DOH CHD) Bicol, coordinated with the Provincial DOH (PDO), Provincial Health Offices (PHOs), and other partner agencies to streamline its health services to address the basic needs and uplift the health status of the evacuees affected by Usman.
Surveys as of January 8, 2019 through the DOH Public Health Preparedness and Response Unit (PHPRU) reported a total of 1,561 families or 5,776 individuals have been evacuated. The DOH Quad Cluster composed of the Water, Sanitation, and Hygiene (WASH), Mental Health and Psychological Support (MHPSS), Nutrition, and Medical team have been deployed to monitor and conduct health services to the evacuees round-the-clock.
The DOH WASH team provided technical assistance on the installation of filtration systems and conducted rapid water quality assessment together with the WASH team of PHO Camarines Sur. Water trucks were also disinfected to ensure the availability of safe drinking water for the affected residents.
The Nutrition team of DOH set out to determine the nutrition situation for evacuees ages 0-59 months and conducted rapid nutrition assessment, meanwhile the MHPSS team applied psychological first aid to 8 individuals and 3 families in Tiwi, Albay who have been affected by a series of massive landslides.
DOH CHD-Bicol also deployed Human Resources for Health (HRH) to provide medical assistance such as administering immunization on measles and pneumonia, as well as treatment and cleaning of wounds of the injured evacuees.
DOH CHD-Bicol allocated over 6 million worth of relief goods to be distributed in Albay, Sorsogon and Camarines Sur, which include water containers, hygiene kits, medicines, and body bags.
"The DOH will be actively involved in the efforts to address the need for medical services, safe drinking water, and sanitary toilet facilities. We have to ensure that everyone maintains the state of health. No one must be ill; and if there is inevitable illness, there are deployed teams to provide check-ups for the pregnant, elderly, and children," said OIC Regional Director, Dr. Ernie Vera.
DOH CHD-Bicol assures continuous coordination with partner agencies, and provide technical assistance to PDOs and PHOs.
Article Source: http://ro5.doh.gov.ph/index.php/13-press-releases/247-doh-usman-relief-operations-in-full-swing?fbclid=IwAR1NeySnlZPXOaOQxtrw3o7vTgQP9A4qrT4nvutIuOfGt6DkddlG1CegJpw
Details

Category: Bicol Health News
DOH Bicol Administers Free Vaccines for Naga City Seniors
The Department of Health (DOH) Bicol, in partnership with the City Government of Naga and Naga City Health Office conducts the "Bakunado si Lolo at Lola" at the Naga City People's Hall, Naga City, this morning of August 10, 2018.
Details

Category: Bicol Health News
IT'S NOT JUST BABY TOOTH
Dr. Lulu Santiago-Ramos conducted a talk on childhood daycare focusing on the oral health of the children during the last day of the Baby and Momma Fair 2018 at the Ayala Malls Legazpi, this August  13, 2018.
Details

Category: Bicol Health News
BRTTH is now an Accredited CPD Provider
August 17, 2018-The Professional Regulation Commission posted the latest set of accredited continuing professional development (CPD) providers under the Council of Nursing—one of which is Bicol Regional Training and Teaching Hospital. Being a government institution/agency with a Professional Education and Training Office that actively collaborates with concerned departments, it is one step closer to providing personnel and the public with relevant learning and development services with CPD units.