Details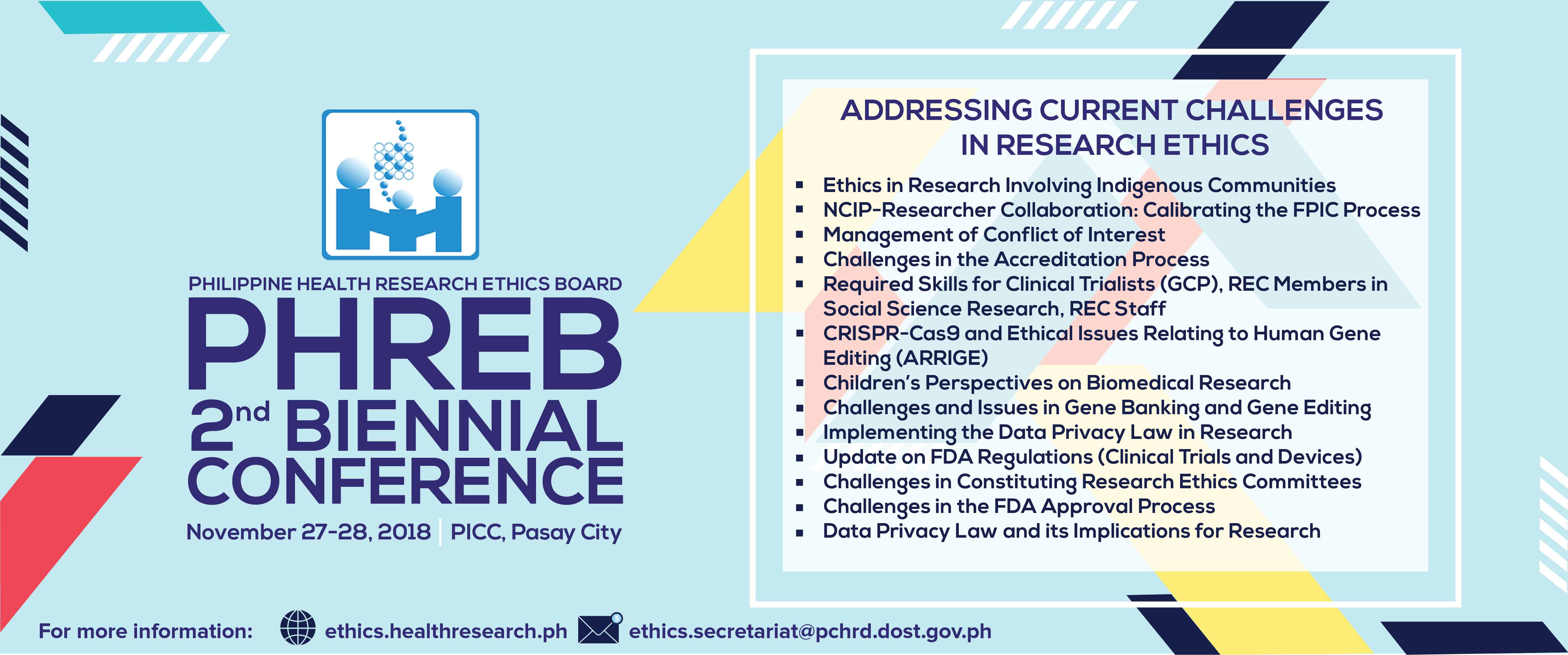 The Philippine Health Research Ethics Board (PHREB) in collaboration with the Department of Science and Technology-Philippine Council for Health Research and Development (DOST- PCHRD)  is organizing its 2nd Biennial Conference with the theme "Addressing Current Challenges in Health Research Ethics" on November 27-28, 2018 at the Philippine International Convention Center (PICC).
The conference will be a platform for Research Ethics Committees (REC), researchers, research coordinators, policymakers, faculty members, and students of research to discuss the current situation, challenges, and advancements in research ethics. 
For more information, all interested participants may contact Ms. Joyce C. Cordon (e-mail address: This email address is being protected from spambots. You need JavaScript enabled to view it./ This email address is being protected from spambots. You need JavaScript enabled to view it. or tel no. (02) 837-7534 loc. 403). 
Details
Organized by the Philippine Council for Health Research and Development (PCHRD) and the  Philippine Association of Medical Journal Editors (PAMJE), co-organized by Zamboanga Consortium for Health Research and Development (ZCHRD) Endorsed by the Asia Pacific Association of Medical Journal Editors (APAME)
Details
Come and join celebrating the 2018 Regional Science and Technology Week on 08-10 August 2018, Bicol University Gymnasium, East Campus, Legazpi City
Details
The Alpha Nu Delta International - Honor Society of Medicine, Inc. Bicol University College of Medicine chapter, an organization of medical students and medical professionals, upholds the conduct of the very 1st National Health Research Congress in Legazpi City. With the theme "Innovating for Better Health for All", the congress will showcase research results through poster and oral paper presentations.  The activity shall recognize outstanding research papers refereed by national research experts in lined with their expertise/field.
Details
The HERDIN on tour is scheduled to visit Ago Medical and Educational Center- Bicol Christian College of Medicine (AMEC- BCCM) and Divine Word College of Legazpi (DWCL) on June 7, 2018 and Bicol Regional Training and Teaching Hospital (BRTTH) on June 8,2018.  HERDIN on tour is an information caravan program by HERDIN that aims to introduce the service to various universities and institutions.