Details
The Department of Science and Technology - Philippine Council for Health Research and Development (DOST-PCHRD), in cooperation with Philippine Association of Medical Journal Editors (PAMJE) and Asia Pacific Association of Medical Journal Editors (APAME) is organizing the 14th National Medical Writing Workshop and 7th Writeshop for Young Researchers on 6-7 August 2018 in Baguio City. The workshop aims to help young investigators in health and health social sciences acquire practical knowledge and skills in preparing a scientific article for publication in a scholarly peer-reviewed journal. Successful applicants will be granted free workshop registration, accommodation for participants and meals during the workshop, and assigned to a mentor-facilitator who will guide them in preparing their articles for a brief presentation.
Details
PhilHealth and PCHRD, together with the International Labour Organization (ILO), are inviting researchers (affiliated with research organizations) to submit proposals for the Informal Economy Segmentation Study: Towards Universal Health Coverage in Philippines – Reaching and Retaining Members in the Informal Sector.
Details
The DOST-PCHRD Undergraduate Thesis Grant in Natural Products provides fund support to all undergraduate students who will conduct their thesis on natural products. The program aims to sustain a research culture in natural products to increase the number of research and later on build a pool of researchers/experts specializing in the field.
Details
The Department of Health (DOH) and the Philippine Council for Health Research and Development (PCHRD) is pleased to announce the first call for research proposals for the Advancing Health through Evidence-Assisted Decisions with Health Policy and Systems Research (AHEAD-HPSR) Program. Application deadline: 2 Feb 2018.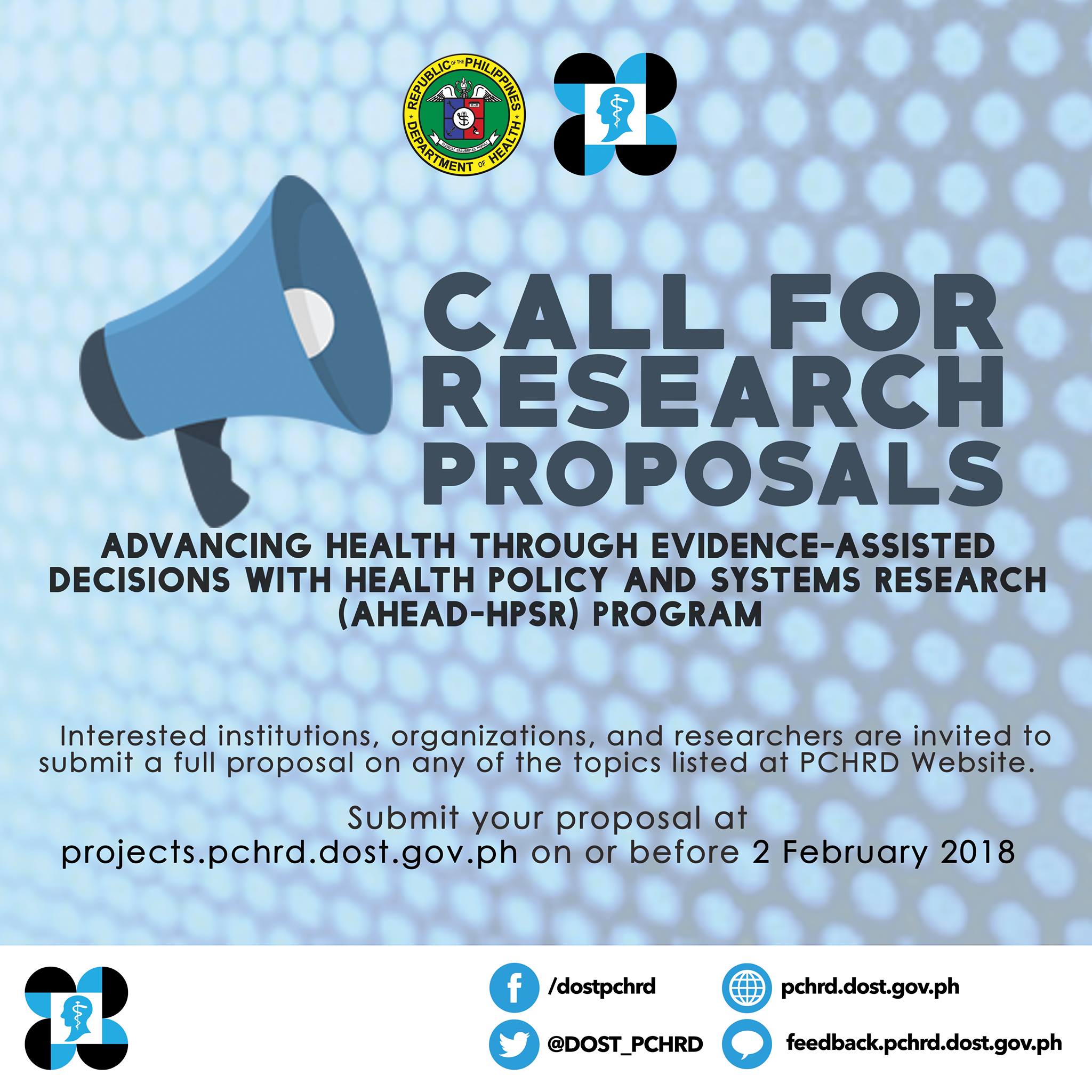 For details, visit http://bit.ly/2EpLj3f! #healthresearchph  Click HERE.