Details

Written by

Super User

Category: Updates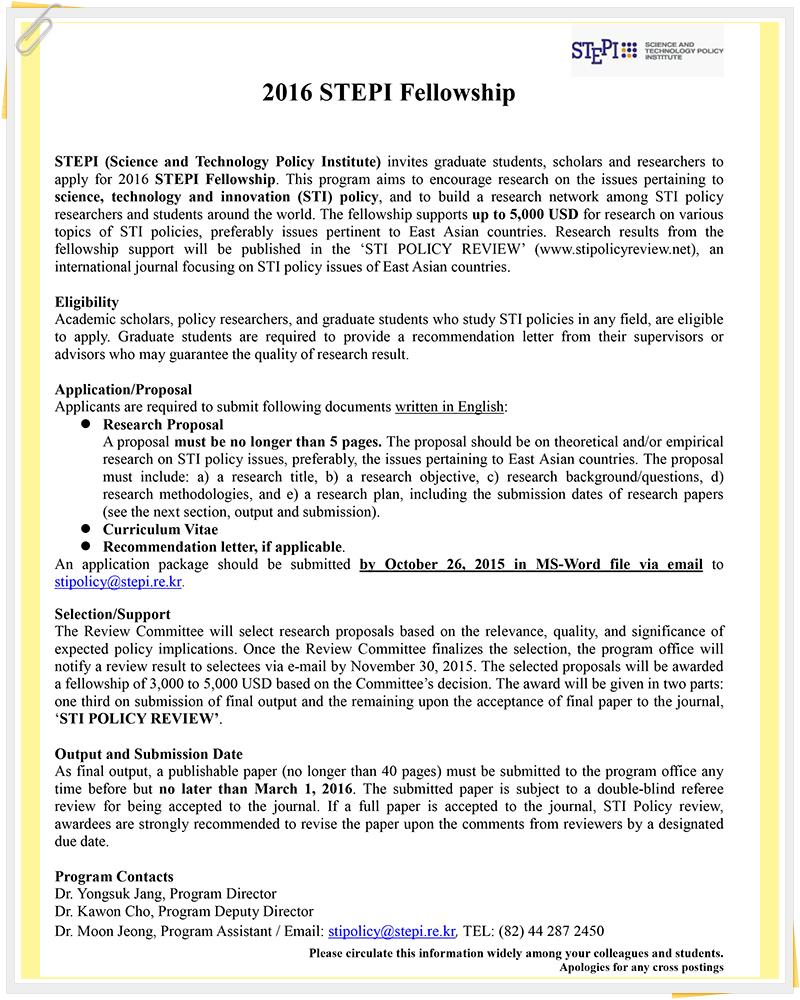 Details

Written by

BCHRD

Category: Updates
Author: Ma. Concepcion M. Maceres
 This year, the Philippines hosted the Global Forum on Research and Innovation for Health, with the help of the Department of Science and Technology (DOST) and the Department of Health (DOH), in partnership between the Philippine Council for Health Research and Development (PCHRD) and Council on Health Research for Development (COHRED). It was held at the Philippine International Convention Center Manila, Philippines on August 24-27, 2015.
         The target of the Forum was to identify solutions to the world's unmet health needs through research and innovation. In particular, it aimed to provide a platform and an opportunity for low- and middle-income countries to define the global health research agenda, present solutions and partners for action.
           Over 4,000 stakeholder from the government, business, non-profit, international organizations, academic and research institutions and social entrepreneurs from different countries actively participated. There were 70 sessions that highlighted the importance of giving health solutions by building strategies through partnerships in innovation and research. Six (6) subthemes focused on Social Accountability, Increasing Investment, Country-driven Capacity Building, Food and Nutrition Safety and Security, Health in Megacities, and Disaster Risk Reduction. Aside from the sessions, there were competition on film festival, global health debates, and IT4Health and photo exhibits on varied global health issues and health intervention.
The Region V delegates to the forum was comprised of BCHRD and Philippine Nurses' Association (PNA). Dr. Alma S. Banua, BCHRD Director led the R V delegates, who were as follows: Dr. Ma. Teresa G. de Alban- CHED (chair of RICUC), Dr. Marilou D. Tino- USANT (chair of CBC), Dr. Pilita O. Lucena- DOST (Vice Chair-RICUC), Dr. Jensy S. Ong- BMC (Vice Chair-R & D), Prof. Ida Francia H. Revale- BU (Vice Chair- ERC); committee members, Fr. Herbert M. Canar, BRTTH (ERC), Dr. Lilibeth Tubalinal- CSU (RICUC), Dr. Alvin Sario- AUL (RICUC), Dr. Marlyn Daguno- BRTTH (R&D), Dr. Aurora Daluro- DOH, (ERC) and and Ma. Concepcion M. Maceres, ERC Secretary. Likewise present were researchers of BCHRD- Prof. Ofelia E. Tam- PSU and Prof. Dennis B. Gogola- BU and Dr. Lilibeth Cajuday- BU; faculty members of member agencies of BCHRD- Dr. Annie Baylon- AUL, Dr. Pamela Sorra-AUL, Dr. Ray Ortega-USANT, Dr. Erlinda Basilla- PSU, Kuh Paterno-PSU, Jocelyn Serrano- BU, Dr. Jean Ibo-BU, Brigida Lobete-BU and PNA delegates - Prof. Alilie Gaduena (SBC), Dr. Nera Galan-BU, Prof. Nelsa Malong-DWCL, Prof. Roanne Morano-BU, and Dr. Maria Bernardita Palacio- BU.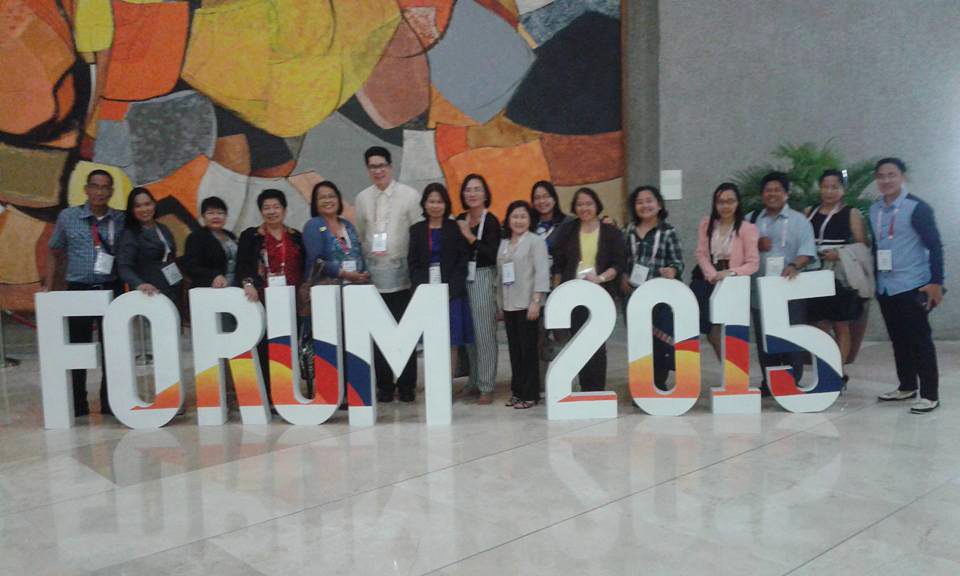 Region V Participants of Global Forum on Research and Innovation for Health with Dr. Jaime Montoya, Director of PCHRD
Details

Written by

BCHRD

Category: Updates
A.    HEALTH SERVICE DELIVERY
1.     Improvement of Maternal Health and Nutrition
a.     Assessment of the health status of women
b.    Assessment of the KAPs of women in their Perinatal Period
c.     Effectiveness of IEC materials on maternal health care
d.    Evaluation of the maternal health service delivery
2.     Improvement of Child Health and Nutrition
a.     Assessment of the Health Status of Children
b.    Assessment of Feeding Programs in Day Care Centers (3 -6 y/o)
c.     Infant Feeding Program
d.    Review and Analysis of the Existing BEmONC/ CEmONC in terms of Facilities, human resource expertise, usage and usefulness
e.     Compliance with EPI
f.     Evaluation of the Family Planning Program
B.    HEALTH DEVELOPMENT
1.     Prevention of Non-communicable Diseases
a.     Mental Health
b.    Lifestyle Diseases (diabetes, hypertension, cardiovascular diseases)
c.     Trauma and Injuries
2.     Prevention of Communicable Diseases
a.     STI & HIV
b.    TUBERCULOSIS (MDR)
3.     Herbal in Various Forms
a.     Inventory of Herbal Plants in the Bicol Region(including pictures, location, parts of the plants used, common names and uses)
b.    Preparation and Utilization of Indigenous Herbs for Common Illnesses
c.     Dosage forms of herbal medicine
4.     Functional Foods
a.        Beneficial/Potential hazards of the following:  Malunggay, Ginger, Garlic, Yakon,
Cassava and  Siling Labuyo
C.    SOCIO- ENVIRONMENTAL HEALTH CONCERNS
1.     Environment and Climate Change
a.     Health effects of Climate Change among Vulnerable Groups (Elderly & Children)
Ø  Community Development
1.     Health and sanitary Practices Among residents of resettlement Areas
2.     Health Preparedness and Capabilities during Emergencies
Ø  Waste Management
1.     Level of Implementation of Local Ordinances on Waste Management
2.     Hospital Waste Management
D.    HEALTH TECHNOLOGY DEVELOPMENT
Ø  Technology Development
1.     Techno Verification on _______for health use.
2.     Utilization and Production of Yakon Chips as Dietary Food Supplement
Ø  Knowledge Management
1.     Adoption of Health Data Base System in the Bicol Region
2.     Surveillance of Reported Infectious Diseases
E.    HEALTH FINANCING 
Details

Written by

BCHRD

Category: Updates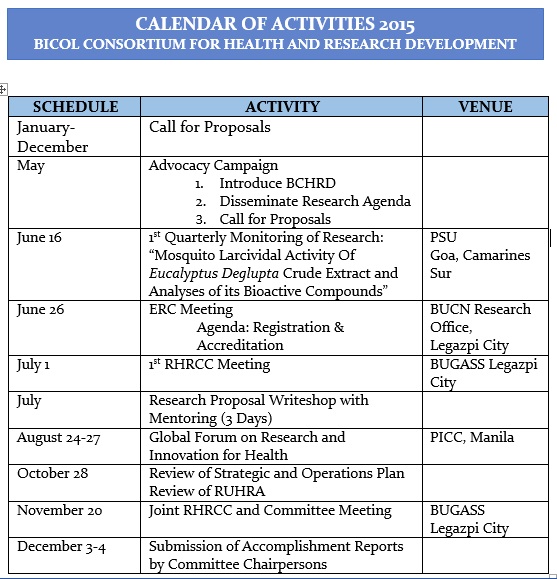 Details

Written by

Super User

Category: Updates
INVITATION FOR NOMINATION
Keio University Medical Science Fund is now accepting nominations for the Keio Medical Science Prize 2015. Established in 1996, Keio University annually awards the Keio Medical Science Prize to recognize researchers who have made an outstanding contribution to the field of medicine or life sciences.
Keio Medical Science Prize 2015
Criteria
·         Nominee must have a breakthrough in the fields of medicine and life sciences, and/or related fields.
·         Nominee must have an outstanding contribution to basic and clinical medicine.
Selection
            13 selection committee members and over 60 specialists from various fields, within and outside Keio University, will select laureates through rigorous review process.
Eligibility
            Nominees must be currently active in their field of research, and be expected to make future contributions to the field.
Prize
            Each laureate receives a certificate of merit, medal and a monetary award of 10 million yen.
Nomination
·         Individuals are limited to one nomination each.
·         Institutions or organizations may make as many nomination as they can.
·         In case of multiple nominations, nominations are limited to One nominee per research theme.
Note: A nomination should be for one researcher. Keio University does not accept nominations for groups.
Nomination Materials
·         Nomination form (*can be downloaded from http://www.ms-fund.keio.ac.jp/prize/)
·         Nominee's curriculum vitae
·         Nominee's bibliography
·         Copy of major publications (maximum of 5, each major publication must be a separate PDF file.)
Please send all materials listed above in separate PDF format files via email to
This email address is being protected from spambots. You need JavaScript enabled to view it., or by post to:
Office of the Keio University Medical Science Fund
                  35 Shinanomachi, Shinjuku-ku, Tokyo 160-8582, Japan
Online nomination is also available at http://www.ms-fund.keio.ac.jp/prize/index.html
Deadline
      Nominations for 2015 must reach the Office of the Keio University Medical Science Fund by March 10, 2015.
For more information, visit http://www.ms-fund.keio.ac.jp/prize/index.html