Updates
Details

Category: Updates
BCHRD TAKING STEPS TO ACHIEVE ITS VISION…
By: Dr. Alma Sorrera-Banua, Director, BCHRD
The vision of BCHRD is to conduct health and health-related researches responsive to the needs of the Bicolanos towards improved quality of life. Several strategies are being undertaken for the actualization of the vision. These are as follows: 1) Conduct proposal writeshop, 2) Technical & ethical review 3) Submit proposals for funding; other strategies are underway such as the conduct approved proposals.
Four research proposals were submitted for funding to different funding agencies. Three were submitted to the Philippine Council for Health Research and Development and one to BU Research and Development Center. A summary of the status of the said research protocols is show below.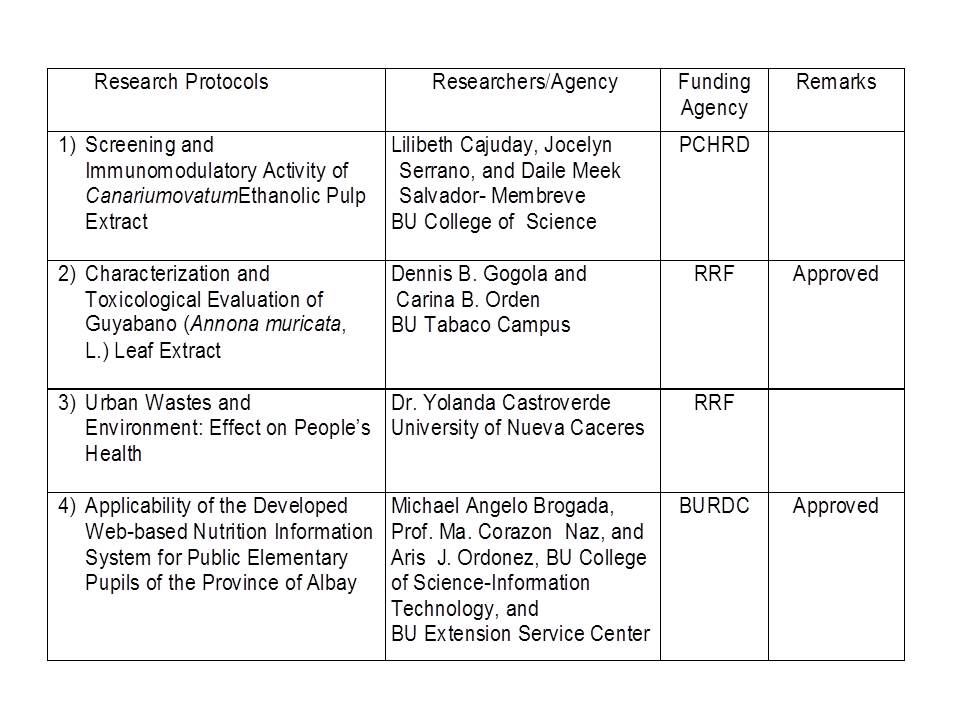 Meanwhile Dennis B. Gogola of BUTC will be signing the Memorandum of Agreement between PCHRD and BUTC, for the utilization of the research fund allocated for the research "Characterization and Toxicological Evaluation of Guyabano (Annona muricata, L.) Leaf Extract"
The BCHRD is presently into a multidisciplinary research proposal that will focus on the Promotion of Maternal Health of Bicolanos: Bicol Women's Health Research and Development Program so as to be able to submit to PCHRD additional protocols for funding. This activity will involve the different member-agencies of the consortium. The 2nd phase was held on August 19-20, 2013 at the University of Anthony, Iriga City.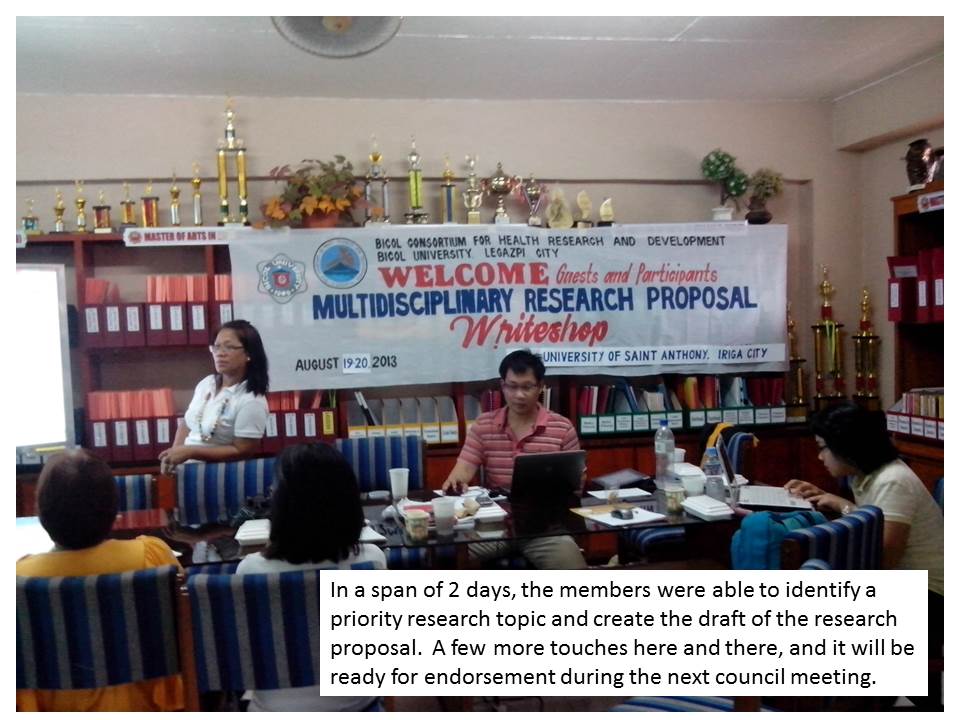 Details

Category: Updates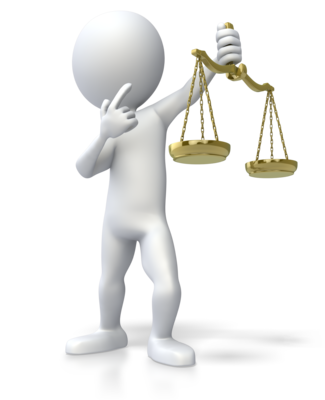 The Bicol Consortium for Health Research and Development (BCHRD) conducted an Ethics Training on Standard Operating Procedures (SOPs) at Bicol University College of Nursing, Hospital Room on June 18-19, 2013.  The General Objective of this training is to develop the standard operating procedures (SOPs) of the Ethics Review Committee (ERC) for quality assurance.  Specifically, it aimed to: 1)Discuss the rationale for the development of SOPs; 2) Identify specific activities of the ERC that need SOPs; 3) Identify the individuals/officials/members that participate in each of these activities; 4) State the rationale and objective of each SOP; 5) Develop the flow chart of each activity, and; 6) Use the PHREB template in the documentation of each SOP.
The Resource Speakers for the said event were two members of the Philippine Health Research Ethics Board (PHREB) Marita V.T. Reyes, M.D., Chair of the National Ethics Committee and Co-Chair), and Cecilia V. Tomas M.D., who was a resource Speaker during the BCHRD Basic Training on Health Ethics in 2012, is Chair of its Subcommittee on Standards and Accreditation.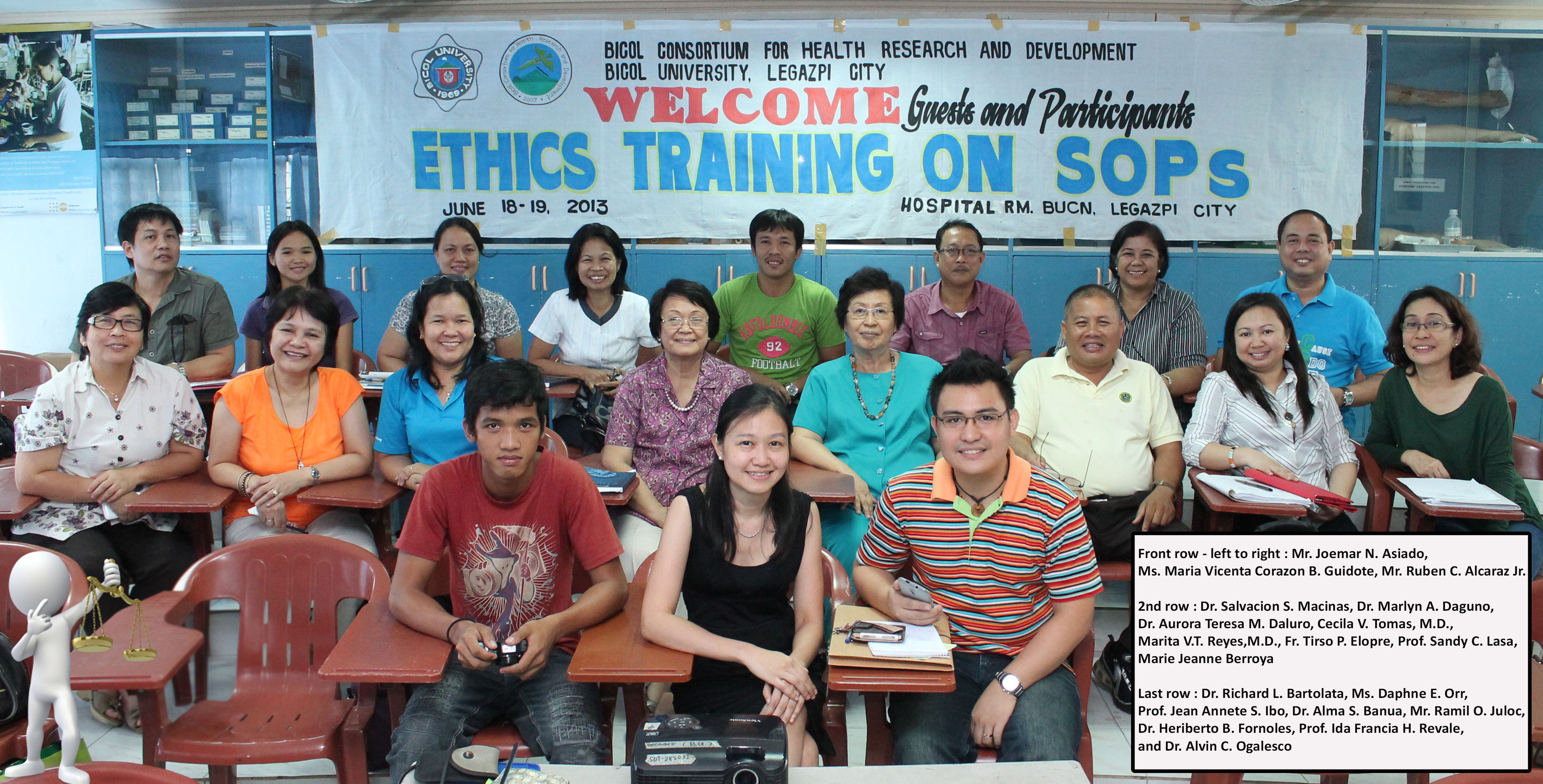 The event was attended by the same participants who had undergone the BCHRD Basic Training on Health Research Ethics in 2012, who were from the different member agencies of BCRHD. They Marlyn A. Daguno, Dr. Salvacion S. Macinas, Dr. Gabriel R. Peñas and Ramil O. Juloc from Bicol Regional Traning and Teaching Hospital (BRTTH), Alvin C. Ogalesco from Catanduanes State University (CSU), Fr. Tirso P. Elopre and Dr. Heriberto B. Fornoles from Bicol Medical Center (BMC), Pilita O. Lucena from Department of Science and Technology (DOST V), Ida Francia H. Revale, Jean Annette S. Ibo, Charmaine A. Malonzo, and Richard L. Bartolata from Bicol University (BU), Sandy C. Lasa, Virginia C. Reyes, and Nenette L. Abrigo from Universidad De Sta Isabel, Dr. Aurora Teresa M. Daluro from Department of Health (DOH), Alma S. Banua (BCHRD Director), Marie Jeanne Berroya, PCHRD-DOST (Regional Project Officer for Region V) and Ruben C. Alcazar  Jr. (PHREB Secretariat), and the BCHRD secretariat composed of Ms. Maria Vicenta Corazon B. Guidote, Joemar N. Asiado and  Daphne E. Orr.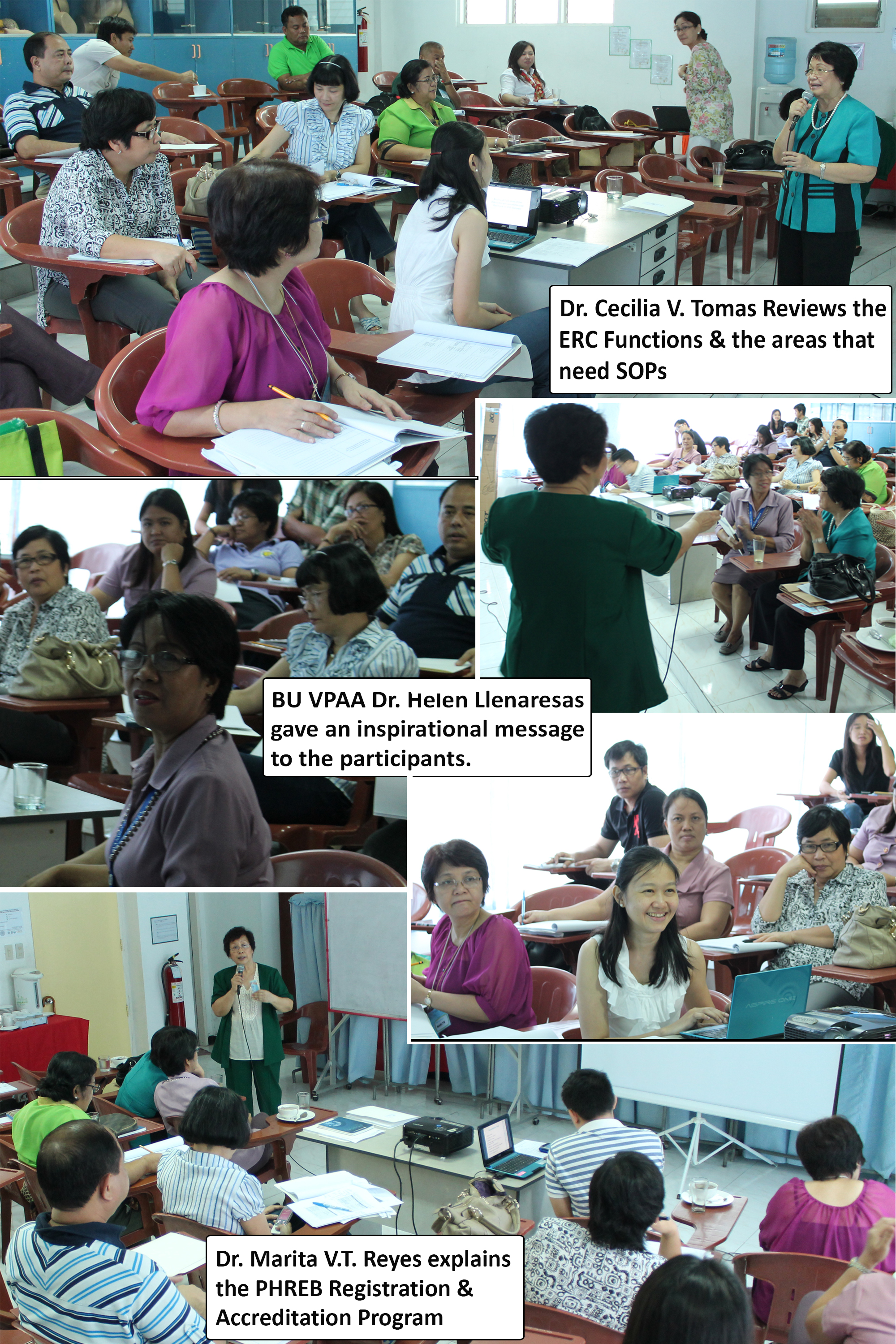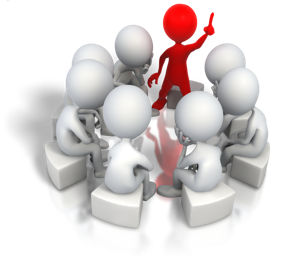 The 2-day training consisted on lectures and workshops. Among the topics discussed were: The PHREB Accreditation Program and Policies, Review of ERC Functions & Overview of SOP Sections, Revisiting the Review, After Review Processes, Documentation and Archiving, and Issues and Challenges.  The workshops consisted of the drafting of SOPs for the different regular activities undertaken by an ethics board.
The training ended with a determined note on the part of the participants to finalize the requirements needed to establish Ethics Review Committees in their own institutions.  For their part, the resource speakers promised to go over the various SOPs submitted during the workshop and to be returned back to the participants.
Details

Category: Updates
Of the nine (9) provincial/city nutri quiz winners and regional finalists, Ms. Syra L. Panoy, a barangay nutrition scholar (BNS) of San Agustin, Iriga City emerged as the 2013 DOST – NUTRICOMNET Regional Nutri Quiz Year 5 Champion in partnership with the Bicol Consortium Health Research and Development (BCHRD). BNSes Marissa M. Aguilar of Tibgao, Canaman, Camarines Sur and Margarita B. Divinaflor of Basag, Ligao City are the 1st and 2nd Runners-up, respectively. It was a consistent lead for Ms. Panoy while tie-breaking questions were administered for Aguilar and Divinaflor. After the sixth tie-breaking question (sudden death), Aguilar won as 1st Runner-up and Divinaflor as 2nd Runner-up in the said Regional Nutri Quiz. This Regional Activity was held last 19 December 2013 at the Bicol University College of Nursing Function Hall, Legazpi City.
            As regional champion, BNS Panoy was awarded P 5,000, and BNS Aguilar 1st Runner-up with P 3,000 and BNS Divinaflor, 2nd Runner-up had P 2,000. All regional participants received a consolation prize of P 1, 000 each.
            The Board of Judges was chaired by Ms. Arlene R. Reario, Nutrition Program Coordinator (NPC), National Nutrition Council (NNC) Bicol, together with Ms. Aida A. Naz, OIC-Regional Director, Philippine Information Agency (PIA V)/Chair, NUTRICOMNET, Dr. Rafaelita O. Lucena, Regional NUTRICOMNET Coordinator, Department of Science and Technology (DOST V), Ms. Myrna P. Rayala, Nurse II, Department of Health – Center for Health  Development (DOH-CHD) and Ms. Anneli Alejo, Planning Officer, Commission on Population (POPCOM V) as members.
Now on its 5th year, the Regional Nutri Quiz is an initiative of the Nutrition Communication Network (NUTRICOMNET) Bicol, a DOST V-led S&T network composed of health and nutrition program planners/implementers and information officers from national government agencies and private organizations, and media partners. Every year this activity is spearheaded by DOST V headed by Dir. Tomas B. Briñas, Regional Director and the DOH V Family headed by Dr. Gloria J. Balboa, Regional Director, DOH-CHD Bicol, Ms. Arlene R. Reario, NPC, NNC Bicol and Ms. Magdalena G. Abellera, Regional Director, POPCOM V. Its main objective is to continuously promote awareness on good health and proper nutrition especially among barangay residents with the BNSes and Barangay Health Workers (BHWs) actively involved in the implementation of health and nutrition programs in the region. (Dr. P.O. Lucena, DOST V).
Details

Category: Updates
Very keen on realizing its objective of capacitating local researchers interested in health and health-related studies, the BCHRD conducted the Research Evaluation Training with the twofold goal of aiding the Research Proposal Evaluation Team in developing a tool for evaluating research proposals, and assisting researchers in fine-tuning their revised proposals.
The consortium's Evaluation Team is composed of the Research and Development (R&D) and Ethics Review (ERC) Committees.  The research proponents invited to the training were those who participated inthe Research Methods Training conducted on January 29-31, 2013 at Bicol University, Legazpi City.
The Research Evaluation Training, held on February 27-28, 2013 in Naga City, at the Universidad de Sta. Isabel (USI) College of Nursing Lecture Hall, was the second phase of the Health Research Proposal Packaging Process (HRPPP), which the BCHRD is implementing; the Research Methods Trainingin January was Phase I of the process.
The Participants were: Prof. Sandy C. Lasa of USI, chairman of the ERC; other USI faculty- Profs Janet S. dela Cruz, Teresa B. Pambid, Glenda C. Icaro,  Mary Ann Tumbado, and Mr. Rhandy V. Salvani; Prof. Elma R. Peralta and Dr. Ma. Clara Ll. Rubino Faculty and Dean respectively of Ateneo de Naga University (AdNU); Dr. Yolanda L. Castroverde and Dr. Carmelita S. Baylon of the University of Nueva Caceres (UNC); Dr. Raul G. Bradecina, Profs. Ana L. Vargas, and Emelina R. Padayao of Partido State University (PSU); Dr. Nilo B. Romeroso of Ago Medical Center-Bicol Christian College of Medicine (AMEC-BCCM); Prof. Joyce S. Obis of University of Saint Anthony (USANT); Prof. Athena G.  Masip of Aquinas University of Legazpi (AUL); researchers and BCHRD committee members who were part of the Bicol University delegation included Dr. Richard L. Bartolata (BUCN), Profs. Ida Francia H. Revale and Daile Meek Salvador-Membreve (BUCS), Profs. Michael Angelo D. Brogada and Aris J. Ordoñez (BU CS-CS/IT), Prof. Ma. Corazon R. Naz, (BUESC), Profs. Carina B. Orden and Dennis B. Gogola (BUTC), BCHRD Director Dr. Alma S. Banua, and the BCHRD Secretariat composed of Ms. Reizha O. Rito and Ms. Maria Vicenta Corazon B. Guidote.  Also present was Ms. Marie Jeanne "Gigi" B. Berroya, PCHRD-DOST Regional Project Officer for Region V.
Resource speaker for the activity was Dr. Godofreda "Jody" V. Dalmacion, M.D., MSc, MHPEd, FPOGS- a professor at the Department of Pharmacology and Toxicology, and Assistant Director of the Department of Clinical Epidemiology, College of Medicine, University of the Philippines (UP), Manila.  Dr. Jody earned the overwhelming respect of the participants with her sincere, pro-active approach.  The research proponents appreciated the one-on-one sessions they had with her, and her promise to read their revisions. Assisting Dr. Jody was her very able co-facilitator, Mr. Juan Carlo "JC" G. Remulla, R.N., a University Researcher at UP Manila- National Institutes of Health.
The training ended with setting of the deadline for submission of revised proposals to the BCHRD secretariat, (total of 5 proposals) and finalization of the R&D and ERC Standard Operating Procedures.The two-day training/seminar involved pre- and post-tests, lectures, small group discussions, and critiquing of proposals.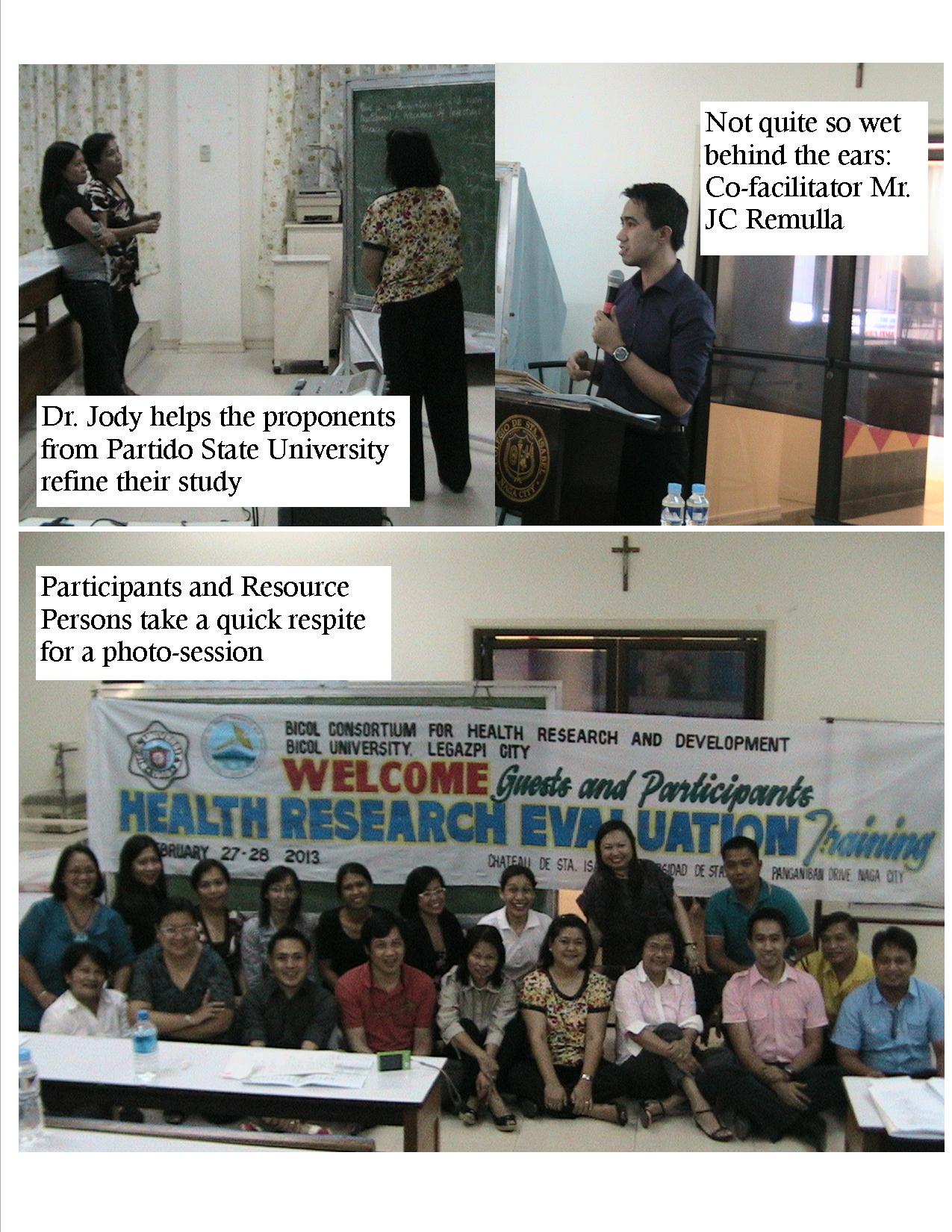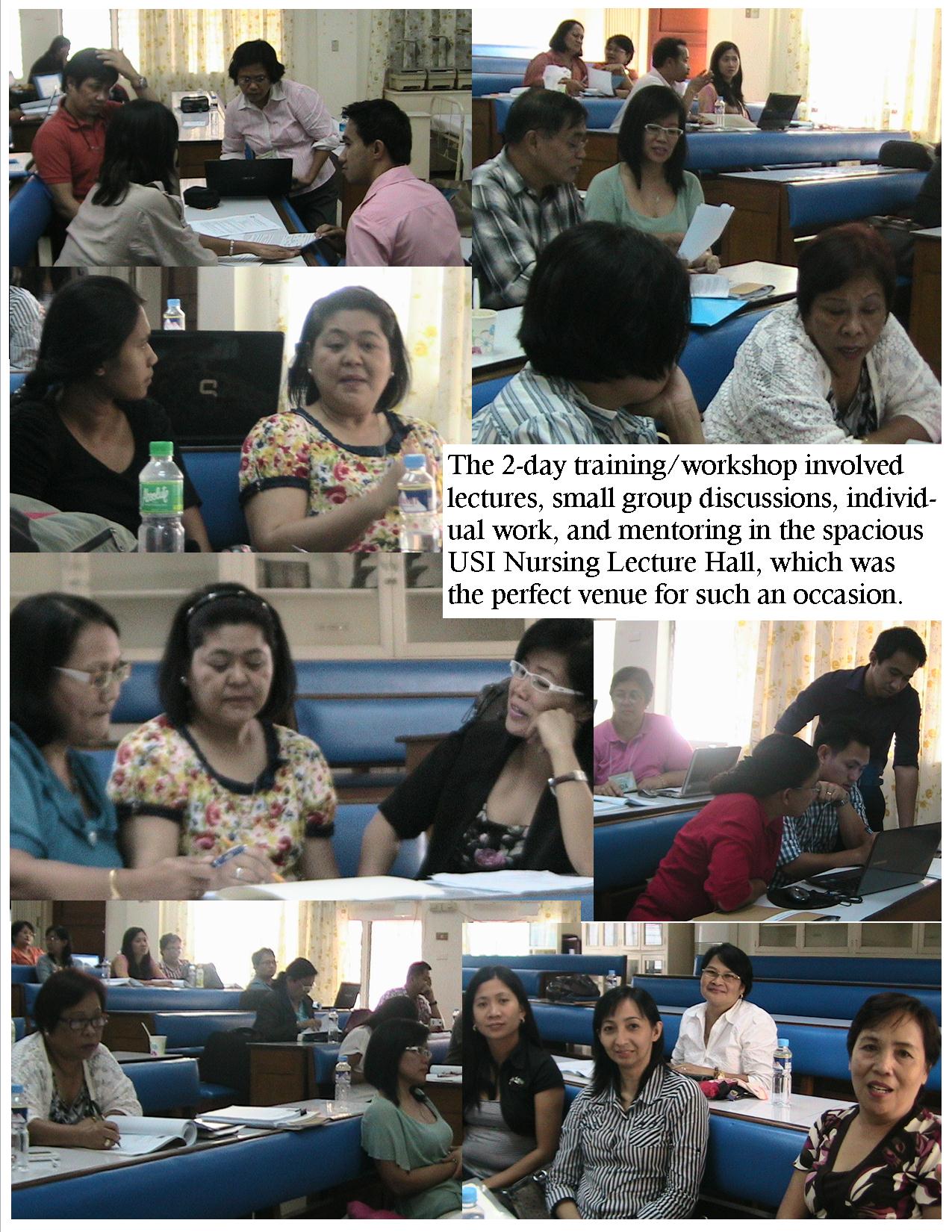 Details

Category: Updates
The aim of the Philippine National Research Health System of ensuring that the health research is linked to the needs of our health system is cascaded to the vision of the BCHRD, of producing excellent health researches that are responsive to the needs of Bicolanos. In order to achieve the vision, this 2013, the BCHRD is working on packaging health and health related research proposals. This was expressed during the welcome address of Dr. Alma Banua, the consortium director, wherein she enjoined the participants to undertake the Health Research Proposal Packaging Process (HRPPP) with the consortium.
The HRPPP was conceptualized based on the principle of learning by doing by Aristotle. It is comprised of lectures by a resource speaker and workshop/application of the learning, thus the invited participants come with a research proposal that is refined as they undergo the HRPPP. The review of the research proposal is done by the Research and Development and Ethics Review Committees together with an expert recommended by the PCHRD-DOST.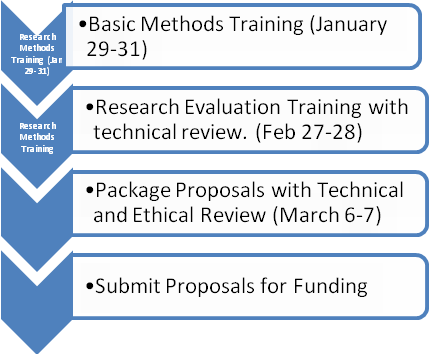 The HRPPP is comprised of 3 phases, Phase 1:Basic Methods Training held on January 29-31, consisting of concepts on objective setting, research design and data analysis; Phase 2:Research Evaluation Training with technical review (Feb 27-28); and Phase 3:Package Proposals with Technical and Ethical Review (March 6-7). At the end of the process is a full blown proposal ready for submission to the funding agency.
Fifteen (15) research proposals were presented by the research participants from the member agencies. It was short listed to six (6) – all of which were aligned to the National Unified Health Research Agenda (NUHRA) and/or Regional Unified Health Research Agenda (RUHRA).
These six proposals are:
Joel Olfindo et al- Biomedical Waste Management Practices in Government Health Care Facilities in Catanduanes
Elma P. Peralta & Marlyn A. Daguno- Total Financial Cost of Motor Vehicular Accident Patients Admitted at BRTTH
Dennis B. Gogola & Carina Orden- Wound Healing Properties of Guyabano Leaf and Malunggay Leaf Extract
Jocelyn E. Serrano- Biological Activities of Pili Pulp Extracts
Joan Nace- Phytochemical Characterization, Antimicrobial Screening, and Histological Study of Orthosiphon aristatus (Balbas Pusa)

Michael Angelo B. Brogada- Feasibility of a Web-Based Health Status Monitoring and Decision Support System for Public Elementary Pupils of the Province of Albay
Subcategories