Updates
Details

Category: Updates
DR. NAPOLEON AREVALO, DESIGNATED AS CO CHAIR OF BCHRD
The Republic Act 10532, otherwise known as the "Philippine National Health Research System Act (PNHRS) of 2013" was signed into law by President Benigno S. Aquino last May 7, 2013. Sec. 13 of the law pertaining to the Regional Health Research Systems stipulates that
"The PNHRS framework shall be mirrored in all the regions of the country, forming a network of regional research consortia. Each regional health research system' shall address concerns relating to health research agenda, development of human resource in health research, conduct of researches, dissemination of research results, research utilization, resource mobilization, leadership and management."
            Supportive to this, is the Department Order No.2014-0121, issued by DOH Secretary Enrique Ona,  stipulating the following provisions: 
1)     All Centers of Health Development Offices, DOH Regional Hospitals and Retained Hospitals to allocate 2% MOOE budget to health system research activities;
2)     The DOH CHD's Regional Director/Assistant Regional Director (ARD) if not included as Chair or Co-Chair of the regional consortium, to designate ARD as co-chair of the said consortium, in order to ensure efficient use of  health resources in the region; and
3)     Formulate holistic health research plan and health research agenda in the region. 
With the PNHRS Act as the basis the BCHRD had opened the organizational structure to the entry of a co-chair in the person of DR. NAPOLEON AREVALO, the Assistant Regional Director of the Department of Health. 
In a personal meeting with Dr. Arevalo and  Dr. Alma S. Banua, the consortium director, the following topics were discussed: 1) research agenda of BCHRD; 2) research undertakings; and 3) provision of funds to research proposals. With the joined forces of DOH as the lead agency in health  and  the BCHRD,  they both will be moving to one direction – strengthening the health research system management in the region as a strategy to improve the health conditions of the Bicolanos.
Details

Category: Updates
Mentoring in Research and Development is in for an effective program/project implementation
          The "Big Brother Concept" in Research and Development (R&D) has been adopted in various public and private entities towards an effective program/project implementation. This is usually done by mentoring/coaching involving two (2) or more proponents/implementer in the country.  Through a partnership in health R&D, mentoring/coaching for example is led by a big school (known for its track record and earned accreditations) together with another school whose R&D work is in progress, just starting or has limited capacity/capability to do R&D.
            In the Bicol Region, the Ago Medical and Educational Center – Bicol Christian College of Medicine (AMEC-BCCM) has undertaken the Twinning Project in collaboration with the University of the Philippines (UP)-Manila. AMEC-BCCM was the former base institution of the Bicol Consortium for Health Research and Development (BCHRD) from 2007-2011.
            Recently, BCHRD conducted the Training on Health Proposal Packaging cum Writeshop. A total of thirty (30) professors/researchers and member-representatives attended this three-day training held on 21-23 July 2014 at Alvi's Restraurant, Daraga, Albay. Dr. Ophelia Mendoza and Dr. Evangeline Amor served as resource speaker and mentor respectively, both are Consultants and Research Experts of the Philippine Council for Health Research and Development (DOST-PCHRD). The training facilitators were Ms. Gigi Benosa, Regional Consortium Coordinator, DOST-PCHRD and  Dr. Marlyn Daguno, Chair, BCHRD Research and Development Committee (RDC).
            Seven (7) health proposals were presented/ critiqued by the resource speaker/mentor and the RDC members. These proposals upon completion of requirements will be endorsed by BCHRD to DOST-PCHRD for evaluation, approval, funding and possible implementation in 2015.
            BCHRD now based at Bicol University (BU), Legazpi City from 2011 to date, leads in health R&D in the region. It is composed of higher education institutions (state/private universities and colleges), government/private hospitals and national government agencies. BCHRD is chaired by Dr. Fay Lea Patria M. Lauraya, BU President with Dr. Alma G. Banua, as the Consortium Director.
           DOST-PCHRD supervises the seventeen (17) health consortia in the country including BCHRD. (Dr. P.O. Lucena, DOST V)
Details

Category: Updates
CALL FOR ADDITIONAL RESEARCH PROPOSALS EXTENDED BY BCHRD
President Fay Lea Patria Lauraya chair of the BCHRD announced during the 5th Regional Health Research Coordinating Council (RHRCC) meeting, that the submission of the research proposals shall be extended to June 2014 to make room for those who wants to undertake health researches. President Lauraya had called the chair of the Research and Development (R & D) Committee- Dr. Marlyn Daguno of the Bicol Regional and Training and Teaching Hospital to enjoin all the members of the consortium to submit proposals.
Funding of research proposals comes from the Regional Development Fund worth P500.00, however proposals needing more than this amount are likewise funded by the Philippine Council for health Research and Development.
A total of six (6) research proposals were submitted to the consortium and were already shortlisted by the R & D Committee.
A good news is we are still accepting research proposals and will do so year round. The requirements to submit a research proposals are as follows: 1) Submit a capsule proposal (in DOST 1B Format) to be evaluated by the R& D Committee; 2) If accepted, submit a detailed proposal (in PCHRD Format); 3) A 2nd review will be done by the R & D committee; 4) Approval from the RHRCC; and 5) Submission to the Philippine Council for final review.
Details

Category: Updates
2012 Regional Health Profile Bases for Research Proposal
            An update on the 2012 Regional Health Profile was shared by Dr. Aurora Daluro of  Department of Health, Region V during the 5th Regional Health Research Coordinating Council on ------ 2014 at the Bicol University, Legazpi City.
Region V

Fully Immunized Child

Target: ≥ 95 %

 

% Increase

Infant Mortality Rate

 

2007-2011

2012

 

2007-2011

2012

Albay

79.40

82.63

3.23

7.32

8.4

Camarines Norte

81.19

74.34

- 6.85

14.23

13.96

Camarines Sur

78.82

64.36

-14.46

9.57

7.97

Catanduanes

79.06

84.22

5.16

9.03

7.37

Masbate

88.10

72.37

-15.73

9.83

6.76

Sorsogon

79.24

69.15

-10.09

6.87

9.05

Iriga City

67.30

80.91

13.61

13.51

5.25

Naga City

89.68

96.07

6.39*

15.05

15.89

Legazpi City

91.59

90.91

- 0.68

12.6

8.03*

BICOL REGION

79.53

73.86

- 5.67

9.6

8.8
The health profile presented consisted of the: 1) Population, 2) Health facilities, 3) Crude death rate, 4) Crude birth rate, 5) Infant mortality rate, 6) Under five mortality rate, 7) Leading causes of infant mortality, 8) Fully immunized child, 9) Maternal mortality, 10) Leading causes of maternal mortality, 11) Leading causes of morbidity, 12) Leading causes of mortality, 13) House hold with access to improved / safe water supply, and 14) Sanitary toilets.
            Looking at the data the 2012 health profile it showed that for the Catanduanes has the highest crude death rate (7.08)  and crude birth rate (33.35); Naga City has the highest Infant Mortality Rate (15.89) higher by .84% in 20017-2011 and Under5 Mortality Rate (20.75).
 

Crude Death Rate

Crude Birth Rate

Infant Mortality Rate

Under5 Mortality Rate

 

2007-2011

2012

2007-2011

2012

2007-2011

2012

2007-2011

2012

Albay

4.64

4.69

21.59

19.95

7.32

8.4

12.35

14.41**

Camarines Norte

4.53

5.11

22.41

21.72

14.23

13.96

15.4

19.8

Camarines Sur

4.04

4.09

19.49

20.71

9.57

7.97

14.32

12.72

Catanduanes

5.71

7.08**

21.81

33.35**

9.03

7.37

13.27

8.55*

Masbate

3.47

3.6

24.32

23.32

9.83

6.76

13.75

13.51

Sorsogon

4.6

5.35

21.18

21.76

6.87

9.05

10.12

16.3

Iriga City

6.07

5.13

19.59

24.21**

13.51

5.25

18.34

9.37*

Naga City

7.16

6.17

24.21

22.16

15.05

15.89

21.06

20.75

Legazpi City

6.37

5.46

20.69

20.17

12.6

8.03*

17.59

16.53

Bicol Region

4.49

4.71

21.37

21.49

9.6

8.8

13.72

14.5
The data on fully immunized Child, (target is > 95%) and Infant Mortality Rate /1000 live births, only Naga City has achieved 96.07% of fully immunized children which had exceeded the target of 95%. Iriga City is 14.09 % below the target, however it has the highest % increase of 13.61%.
Also significant is that Camarines  Sur achieved 60% fully immunized children in 2012 which  had deteriorated to Negative 14.16%.
Looking further at the columns under the Infant Mortality Rate, Naga City exceeded the target for immunization, however the IMR went up from15.05 to 15.89. In Iriga City, the achievement in immunization shows a significant decrease in the mortality rate from 13.5 to 5.15/1000 live births. On an overall the Bicol Region neither reached the target; The Region had tripped to negative 5.67%. There is a dire need to look into the  reasons for the said performance, considering that the vaccines  are given for free by the DOH.
          On the Maternal side, the target in 2015 for  Maternal Mortality rate is 52/100,000 live births. The performance shows that Camarines Norte (46.78), Naga (51.24) & Legazpi City (51.81) achieved the target with Cam. Norte having the highest achievement. The lowest achiever is  Catanduanes, whose MMR is 150. With the implementation of the Basic Emergency Obstetrical and Newborn Care (BEMONC), researchers are encouraged to investigate the reasons behind the results. The data presented can be  used by researchers in coming up with research proposals to be submitted to the consortium for funding.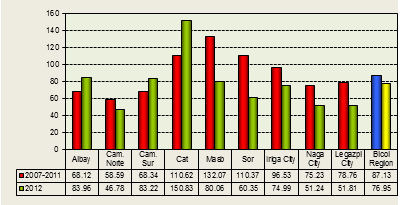 Details

Category: Updates
Application for 2015 DOST-SEI Science and Technology
(S&T) Scholarship is on
            "Make S&T Your Future, Be a DOST Scholar!" This is the new slogan for the 2015 Department of Science and Technology - Science Education Institute (DOST-SEI) scholarships.
            In line with the S&T education thrust, DOST encourages the youth especially those graduating students from public and private high schools this coming March/April 2015. Specifically, they should belong to the top five percent (5%) of the regular high school graduating class or have high aptitude in Science and Mathematics and are willing to pursue fields of study in Science, Mathematics and Engineering. Great opportunities await our S&T scholars who will later become the country's future achievers as scientists, engineers, researchers, teachers and others. As a government investment amounting to more or less Four Hundred Thousand Pesos (P400,000) for each scholar-graduate depending on the scholarship classification as full, partial or special, his/her enormous contribution in nation building after a period of four (4) or five (5) academic years, matters most.
            For one to aspire for the S&T scholarship has to apply and comply with the requirements, take and pass the examination and enroll for authorized Bachelor of Science degrees in recognized state/private universities and colleges in the country. There are two (2) study placements: RA 7687 (for poor, talented and deserving students and Merit Scholarships (for those having gainfully employed parents).
            The scholarship requirements/items to be submitted are:
·         DOST-SEI Information Sheet (Form A)
·         Household Information Questionnaire (Form B)
·         Certificate of Good Moral Character (Form C)
·         Certification that applicant belongs to upper 5% of graduating class (Form D1); or
·         Certification that applicant belongs to the graduating class of DOST-SEI identified or DepEd recognized science high school (Form D2)
·         Statement of applicant that he/she has not taken any undergraduate units or post secondary course (Form E)
·         Statement of parent that applicant has no pending application as immigrant to any other county (Form F)
·         Cetificate of Residency (Form G)
·         Two (2) recent "1x1" pictures
·         Photocopy of Birth Certificate
·         Parent/s 2013 Income Tax Return/W2/Employment Contract for OFW/BIR Certificate of Exemption from Filing of ITR/Barangay Certificate of Indigency
·         Electric bill for three (3) consecutive months in 2014
Note: Application for Merit Scholarship does not require the Certificate of Residency (Form G), Parent/s 2013 ITR/OFW Employment Contract/BIR Cert. of Exemption from ITR Filing/Brgy. Cert. of Indigency and Electric bill for three (3) consecutive months in 2014.
            Application forms are available and upon completion can be filed at DOST-SEI, 2nd Level Science Heritage Bldg., DOST Compound, General Santos Avenue, Bicutan, Taguig City, Metro Manila; DOST Regional Offices, Provincial S&T Centers (PSTCs) or Office of the Congress Representative and Senator. It can be downloaded at the website, www.dost.gov.ph and www.science-scholarship.ph.
            The students, their parents/guardians or any representatives may file the scholarship applications at the said offices. Secondary school registrars/in-charge are encouraged to file their students' scholarship applications by group/batch. Deadline for submission of application is on 22 August 2014. The examination is set on 21 September 2014 (1st Batch, 7:00 a.m. - 12:00nn and 2nd Batch, 1:00 – 6:00p.m. in designated testing centers. The test permits shall be mailed/ delivered to the applicant/s or school principal for distribution to the applicants. In case of non-receipt within the week before the examination, the examinees are advised to visit DOST Region V, Regional Center Site, Rawis, Legazpi City, telephone numbers Trunklines: (052) 482-1050; ORD Telefax: (052) 482-0534(BAYANTEL); (052) 742-0911 (PLDT); Scholarship Telefax: (052) 482-0745; and Technical Telefax: (052) 482-0910 or Provincial S&T Center (PSTC) nearest them, (Dr. P.O. Lucena/C.L. Gillego, DOST V).
Subcategories