Updates
Details

Category: Updates
A faculty from Bicol University College of Science (BUCS), Michael V. Montealegre has been designated as the new Director of the Bicol Consortium for Health Research and Development (BCHRD) by President and Chairperson Dr. Arnulfo M. Mascariñas.
Montealegre is a licensed chemist and currently teaches chemistry subjects in BUCS. He finished a degree in Bachelor of Science in Agricultural Chemistry at the University of the Philippines Los Baños (UPLB) in 2001 and completed his master's degree in chemistry at University of the Philippines Diliman (UP Diliman) in 2015.
He served as chairman of Department of Chemistry, BUCS from 2007 to 2008.. He was also designated as the Special Technical Assistant at BU-CHED Zonal Research Center from 2009 to 2011 and was appointed as the Assistant Director of Bicol University Research and Development Center (BURDC) from 2013 to 2015.
The new director has also been engaged in research for the past years and he won as 2008 CHED Best Regional HEI Research Program Award for the research entitled "Sorsogon Bay Resource Management and Development Program"
Montealegre would be the second consortium director of BCHRD after the term of Dr. Alma S. Banua. (KBC/BCHRD)
Details

Category: Updates
By: Rina R. Llenaresas
                The DOST V, in cooperation with the Technology Application and Promotion Institute (TAPI) and the 3 regional consortia namely BCHRD, BCARRD and BCIEERRD conducted the DOST- Bicol Regional Inventions and Exhibits (BRICE) at the Camarines Sur Polytechnic Colleges (CSPC), Nabua Camarines Sur on September 7-9, 2015 with the theme, " Philippines: A Science-Nation Innovating and Inventing for Global Competitiveness". Various activities and contests were held showcasing Bicolano inventions, utility models, industrial designs and professional /student researches both in private individuals and organizations. The event was designed to enhance awareness and interest in the S&T innovations, promotion and advocacy.
                As part of the advocacy campaign, the BCHRD and BCARRD organized the Joint BCARRD and BCHRD Stakeholders Forum at the CSPC Academic Building 2, Function Room on September 9, 2015, whose objective is to increase awareness of participants on issues and policies on health, invention and research.  
The forum was started with an introduction of the 2 consortia thru an audio-visual presentation that presented the VMGO and salient activities and services of the two consortia. The highlight of the activity were the lectures shared on: 1) Intellectual Property Policy by Dir. Tomas B. Briñas, DOST V Director and BCARRD Chairperson; 2) Invention Development by Dr. George Colorado, CHED V Director; 3) Ethics Review/ SOP and Requirement by Dr. Sandy C. Lasa, BCHRD-ERC Chairperson and National Dengue Vector Program-Aksyon Barangay Kontra Dengue (NDVSP-ABKP) Ms. Leah Dyn Bellen, the DOST V NDVSP-ABKP Coordinator.  A total of 65 stakeholders were present who took active participation during the open forum. In the closing of the activity Dr. Alma Banua, Director of the BCHRD, encouraged  the inventors  and researchers to continue to come up with new knowledge and inventions that will address the health needs of the Bicolanos.
Details

Category: Updates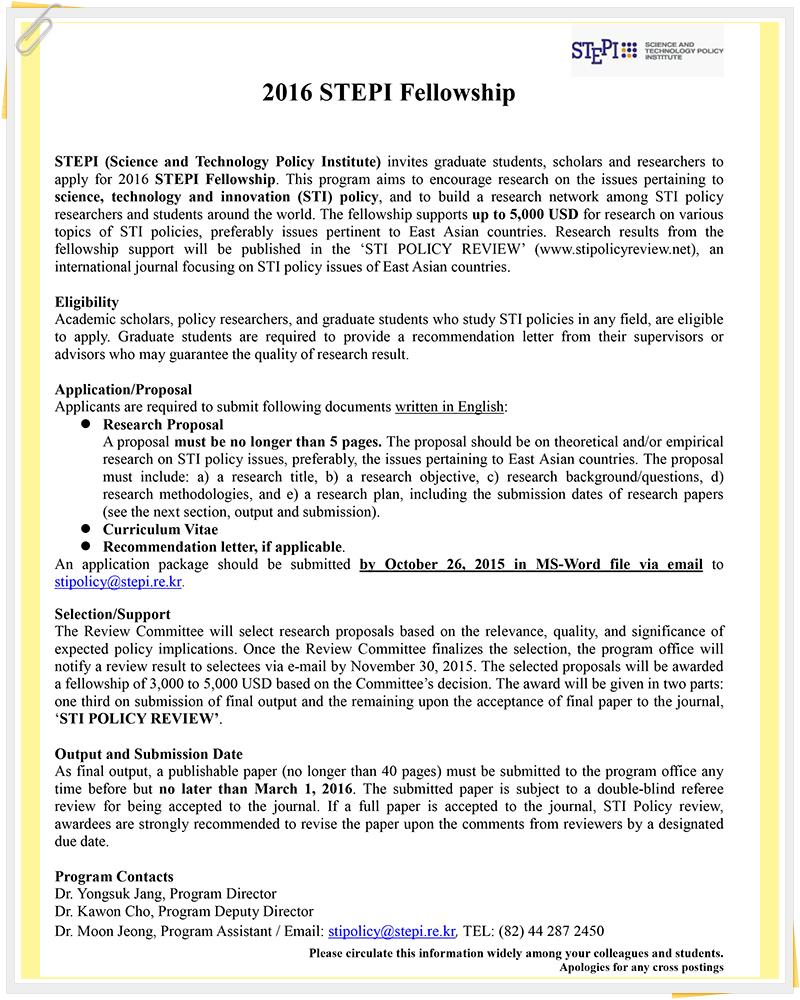 Details

Category: Updates
Author: Ma. Concepcion M. Maceres
 This year, the Philippines hosted the Global Forum on Research and Innovation for Health, with the help of the Department of Science and Technology (DOST) and the Department of Health (DOH), in partnership between the Philippine Council for Health Research and Development (PCHRD) and Council on Health Research for Development (COHRED). It was held at the Philippine International Convention Center Manila, Philippines on August 24-27, 2015.
         The target of the Forum was to identify solutions to the world's unmet health needs through research and innovation. In particular, it aimed to provide a platform and an opportunity for low- and middle-income countries to define the global health research agenda, present solutions and partners for action.
           Over 4,000 stakeholder from the government, business, non-profit, international organizations, academic and research institutions and social entrepreneurs from different countries actively participated. There were 70 sessions that highlighted the importance of giving health solutions by building strategies through partnerships in innovation and research. Six (6) subthemes focused on Social Accountability, Increasing Investment, Country-driven Capacity Building, Food and Nutrition Safety and Security, Health in Megacities, and Disaster Risk Reduction. Aside from the sessions, there were competition on film festival, global health debates, and IT4Health and photo exhibits on varied global health issues and health intervention.
The Region V delegates to the forum was comprised of BCHRD and Philippine Nurses' Association (PNA). Dr. Alma S. Banua, BCHRD Director led the R V delegates, who were as follows: Dr. Ma. Teresa G. de Alban- CHED (chair of RICUC), Dr. Marilou D. Tino- USANT (chair of CBC), Dr. Pilita O. Lucena- DOST (Vice Chair-RICUC), Dr. Jensy S. Ong- BMC (Vice Chair-R & D), Prof. Ida Francia H. Revale- BU (Vice Chair- ERC); committee members, Fr. Herbert M. Canar, BRTTH (ERC), Dr. Lilibeth Tubalinal- CSU (RICUC), Dr. Alvin Sario- AUL (RICUC), Dr. Marlyn Daguno- BRTTH (R&D), Dr. Aurora Daluro- DOH, (ERC) and and Ma. Concepcion M. Maceres, ERC Secretary. Likewise present were researchers of BCHRD- Prof. Ofelia E. Tam- PSU and Prof. Dennis B. Gogola- BU and Dr. Lilibeth Cajuday- BU; faculty members of member agencies of BCHRD- Dr. Annie Baylon- AUL, Dr. Pamela Sorra-AUL, Dr. Ray Ortega-USANT, Dr. Erlinda Basilla- PSU, Kuh Paterno-PSU, Jocelyn Serrano- BU, Dr. Jean Ibo-BU, Brigida Lobete-BU and PNA delegates - Prof. Alilie Gaduena (SBC), Dr. Nera Galan-BU, Prof. Nelsa Malong-DWCL, Prof. Roanne Morano-BU, and Dr. Maria Bernardita Palacio- BU.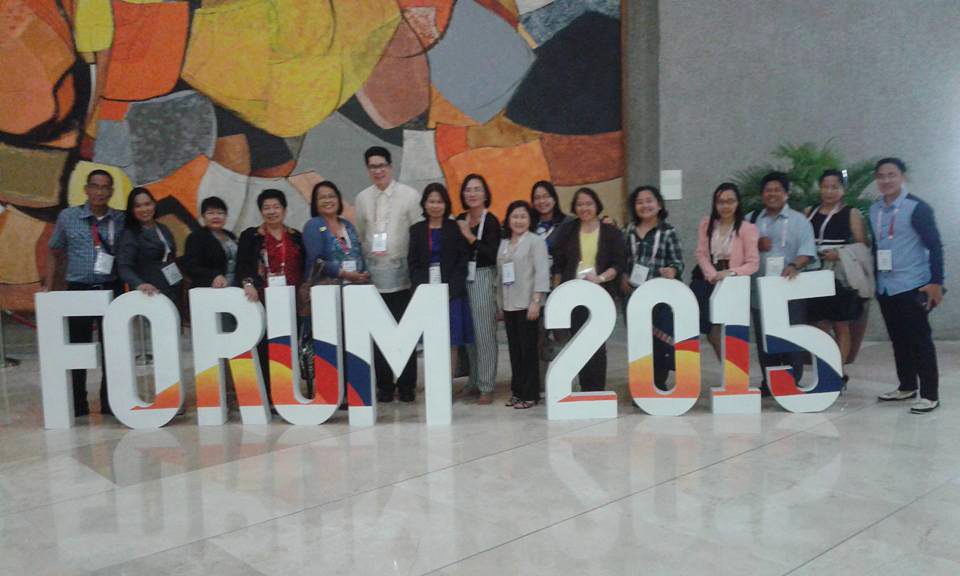 Region V Participants of Global Forum on Research and Innovation for Health with Dr. Jaime Montoya, Director of PCHRD
Subcategories