The Bicol Consortium for Health Research and Development (BCHRD) organized a three-day Research Methods Training on January 29-31, 2013 with the following objectives: 1) Equip the participants with research methodologies; 2) Assist participants in refining the methodology of their research proposals; and 3) Assist the participants in packaging the research proposals, in preparation for the technical and ethical review by the consortium evaluators.
The training was facilitated by the Consortium Director Dr. Alma Banua and the PCHRD-DOST Regional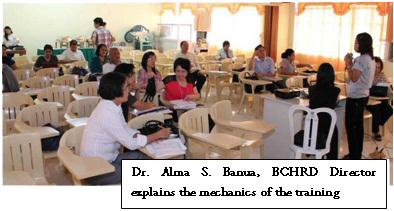 Coordinator Ms. Marie Jeanne Berroya. It was participated by the chairpersons and members of the BCHRD Research and Development (R&D) and Ethics Review (ERC) Committees, as well researchers from the different member-agencies of the consortium.  Doctors, nurses, and professors from the different schools, institutions, and agencies came all the way from as far as Catanduanes and Camarines Sur to join their local counterparts in Legazpi City.
The member-agencies of BCHRD represented during the training were: Universidad de Sta. Isabel (USI)- Ms. Sandy Lasa; Catanduanes State University (CSU)- Dr. Alvin Ogalesco and Prof. Joel Olfindo; University of Saint Anthony (USANT)- Prof. Joyce Obis; Ateneo de Naga University (AdNU)- Ms. Elma Peralta; University of Nueva Caceres (UNC)- Dr. Carmelita Baylon and Dr. Yolanda Castroverde; Camarines Sur Polytechnic Colleges (CSPC)- Ms. Salvacion Tablanza and Ms. Ma. Angela Concepcion Nolasco; Partido State University (PSU)- Ms. Emelina R. Padayao; Aquinas University (AUL)- Ms. Athena G. Masip; Bicol Medical Center (BMC)- Dr. Marla Litam; BRTTH- Dr. Marlyn Daguno and Ms. Bernardita Patacsil; and Department of Health (DOH)- Dr. Aurora Teresa Daluro, aside from BCHRD host agency Bicol University, which had participants from the College of Nursing- Dr. Richard Bartolata and Prof. Garry Grageda; College of Science- Profs. Ida Revale, Jocelyn Serrano, Joan Nace, Daile Meek Membreve and Mr. Michael Angelo Brogada; Tabaco Campus- Profs. Carina Orden and Dennis Gogola; and RDC- Dr. Arnulfo Mascariñas.  Also present were the BCHRD Secretariat composed of Ms. Maria Vicenta Corazon Guidote, Ms. Reizha Rito, and Ms. Eunice Endrano.
The participants were privileged to have as resource speaker the in-demand and highly recommended Dr. Ophelia "Ophie" M. Mendoza, a PCHRD consultant and research expert. Dr. Ophie holds several degrees including Master of Science in Public Health (Biostatistics) and Doctor of Public Health (Biostatistics) from the University of North Carolina at Chapel Hill as well as the degrees of Bachelor of Science in Statistics, and Master in Statistics from the University of the Philippines.  A researcher in her own right with a considerable number of researches to her name both here and abroad, it is only fitting that she would be recommended by no less than the PCHRD-DOST itself, to give lectures during seminars that it funds.
Needless to say, Dr. Ophie did not disappoint;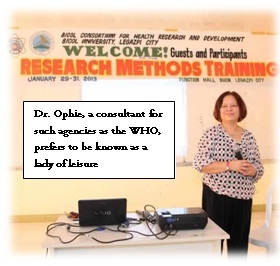 evaluation from the participants all contained rave-reviews of how well she delivered the lectures which were very comprehensive, and how she was able to simplify even the most complicated topics.
The training followed a challenging daily lecture-workshop-plenary schedule that really squeezed the creative juices out of the committee members and researchers, who were all required to give presentations as well as evaluate each other's outputs.  Dr. Ophie was on hand to assist the R&D and ERC committees in the critiquing.
On the whole the BCHRD is happy with the fifteen (15) research proposals that were presented, and hopeful that with certain revisions, they will be ready to be submitted to the R&D and ERC committees for technical review, in preparation for submission to PCHRD for final consideration.  Further trainings will be held to give assistance to the researchers in the refinement of their proposals.