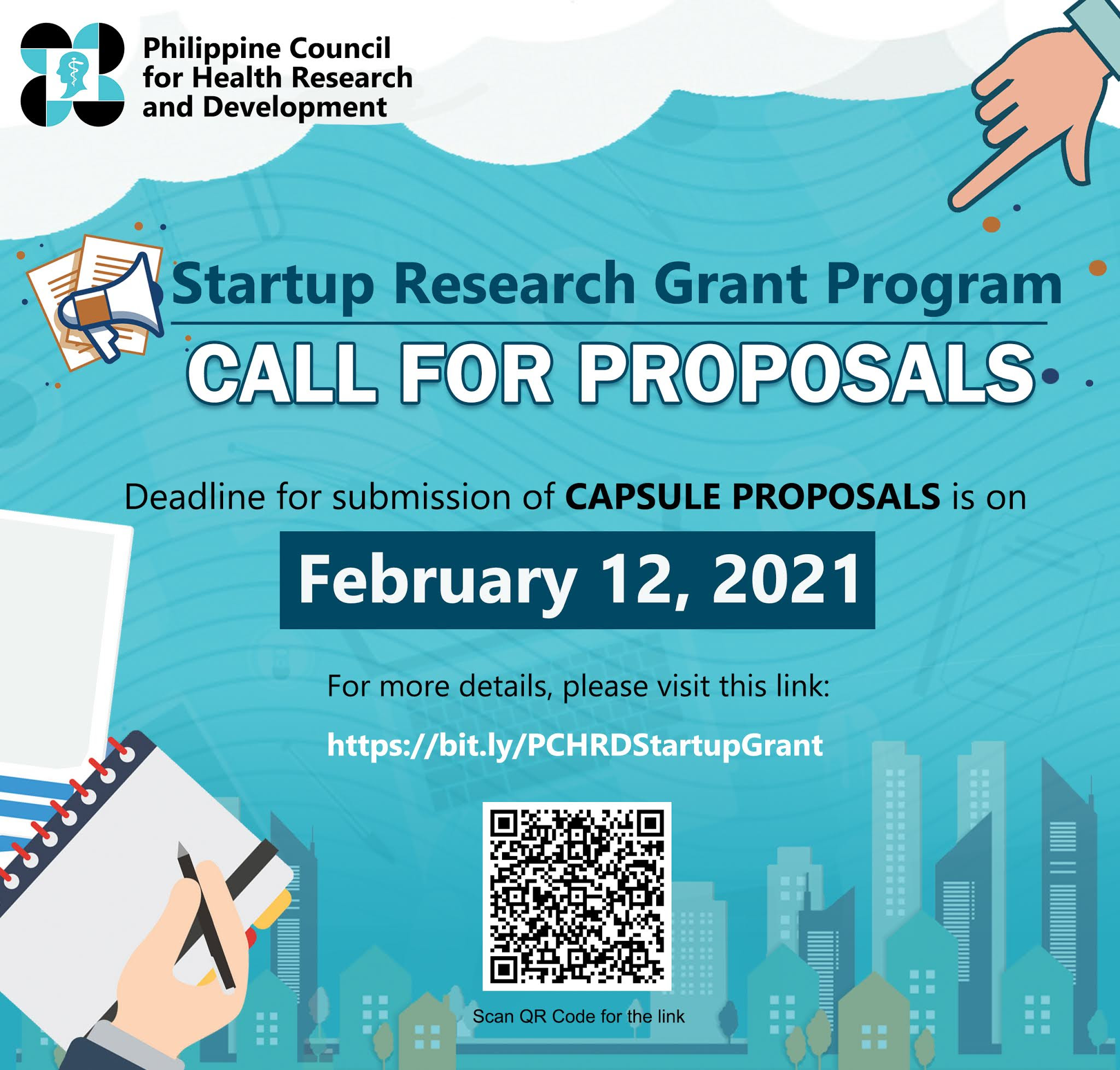 For Dissemination:
Copyright Written by Julie Anne Balangat Published: 18 December 2020
https://bit.ly/3sVQHny


CALL FOR PROPOSALS FOR
PCHRD STARTUP RESEARCH GRANT PROGRAM
What is PCHRD's Startup Research Grant Program?
Under Republic Act No. 11337 or the Innovative Startup Act, the Department of Science and Technology (DOST) has been identified as one of the key government agencies tasked to support research and development (R&D) activities of Filipino-owned startups and promote the startup ecosystem within the country. RA 11337 also authorizes the establishment of a Startup Grant Fund (SGF) under DOST which will be used to fund R&D activities of eligible startups that are aimed at improving their core technology, enhancing the product's market potential, and refining their existing products, processes, or services.

The Philippine Council for Health Research and Development (PCHRD), one of the sectoral planning councils of DOST, greatly recognizes the importance of R&D in addressing the health issues of the country. In support to the operationalization of RA 11337, PCHRD created a Startup Research Grant Program under DOST SGF that aims to support research activities of startups in the health sector.
Objectives of the Program:
The PCHRD Startup Research Grant Program will provide financial support to qualified startups to conduct research activities aimed at:
Overcoming R&D roadblocks;
Strengthening intellectual property (IP);
Establishing initial market traction;
Refining business model; and/or
Scaling up production.
Benefits to Startups:
Recipients of research grants under this program are entitled to receive the following benefits:
Access to the DOST/Council's GIA Program
Access to follow-up financial assistance for scale-up and expansion offered by other DOST offices and agencies
Access to the science and technology network of the DOST and the Philippine National Health Research System
Access to DOST Testing Laboratories and Research Facilities
Access to the DOST Technology Business Incubator (TBI) Network
Call Scope
Research proposals must be drafted based on any of the following research areas:
Innovative Tools for Improved Health Care Provider-Patient Experience
Systems/tools that will improve health care provider-patient experience (e.g. appointment systems, specialist search, resource mapping/tracking, homecare monitoring, etc.)
Systems for Health Service Delivery
Efficient and inclusive health service delivery systems such as online referral systems, ePharmacy, teleconsultations, etc.
Innovative Technologies for Health Care Facilities
Technologies for health facilities, such as biomedical devices, diagnostic kits, supply chain management, smart and resilient health facilities, etc.
Fund Tracks
Interested applicants may submit research proposals under any of the following funding tracks:
1. Proof-of-concept to Product (POC2P Track)
Generation of marketable and validated products/services
2. Product to Market (P2M Track)
Validation of business model
Incubation
Mentoring
Business support program
Capacity building
Fabrication support
Marketing and market validation
Optimization of processes
Acquisition of production capacities
Optimization of value chains
Legal and expert support
Use of facilities
Scale up optimization
Roll out
Expansion of protection to other countries
Eligibility Requirements
To avail of the grant, a startup must have the following qualifications:
Must be registered with DTI or SEC

Must be a startup company with one or multiple products and/or service related to health 

Must be Filipino-owned (at least 60% of the company is Filipino-owned)
Must be in operation for a minimum of 1 year and a maximum of 3 years
Project leader must be Filipino
Must show capability to conduct R&D
Has legal personality to issue receipt
Does not have any outstanding accountabilities with DOST
Has no ongoing project with DOST
Has no pending administrative or criminal cases
Application Mechanics and Documentary Requirements
Here is how to apply:
1. Prepare a capsule proposal (download template here) in PDF format containing the following information and required attachments:
Project title
Proposed project duration (maximum of 1 year)
Name of project leader
Company name, address and contact details
Cooperating agencies (if any)
Project plan (statement of the problem, objectives, description of proposed research activity, methodology, target accomplishments and expected outputs, significance/impact, discussion on regulatory barriers and plan to overcome the same)

Required attachments:
Budgetary requirements (capped at PhP 3M) (download template here)
Background of the startup

Year established
Current level of funding round
Products/services offered with corresponding descriptions
R&D activities conducted on current products
Team composition
Business model
Competitive advantage

Proofs of eligibility

Authenticated copy of DTI Registration for Sole Proprietorship; or, authenticated copies of SEC-registered Articles of Incorporation and the latest General Information Sheet for stock and non-stock corporations like NGOs, foundations, cooperatives or associations; or authenticated copy of SEC-registered Articles of Partnership for partnerships;
Authenticated copies of Business Permits and Licenses;
Latest copies of Income Tax Returns, Audited Financial Statements, and other financial reports;
Proof of capability and track record in conducting R&D, and when applicable, endorsement from the business incubation facility where the startup is located.
Disclosure of other businesses (if any)
CV of project leader

2. Deadline for submission of capsule proposals is on February 12, 2021. The capsule proposal and required attachments should be submitted via email at This email address is being protected from spambots. You need JavaScript enabled to view it. or This email address is being protected from spambots. You need JavaScript enabled to view it..

3. Shortlisted applicants will be announced on March 1, 2021. All shortlisted applicants are required to attend PCHRD's online writeshop for the preparation of full-blown proposals. This online writeshop is tentatively scheduled on March 8, 2021.

4. Full-blown proposals should be submitted/uploaded to the DPMIS portal (https://dpmis.dost.gov.ph/) by March 19, 2021. The full-blown proposal shall include the following:

Title of the proposed project
Duration of the proposed project
Description of the startup and the founders
Description of the product and value proposition
Background of the startup and the development of the technology (evolution of the startup, first prototype, first test, first sale)
Description of the target market and size
Competitive advantage analysis using a comparative advantage table
IP status and protection
Objective and scope of the proposed research
Methodology and expected outputs
Work plan or Gantt Chart of activities
Curriculum vitae of the project leader
Line-Item-Budget with 20% counterpart funding
Sworn Affidavits from all of the startup owners/ incorporators/ stockholders/ organizers/ partners, directors and/ or officers that they are not agents of or related by consanguinity or affinity up to the fourth civil degree to any DOST officer authorized to process and/or approve the grant and release of funds
Grant guidelines
The following guidelines shall be observed:
Interested applicants are only allowed to submit one (1) proposal at a time. Likewise, grantees are only allowed to implement one (1) project at a time.
Approved R&D activities must be implemented for a maximum period of 12 months. Grant per project is capped at PhP 3M.
DOST-supported and non-DOST-supported startups may apply.
R&D activities for DOST-supported technologies may be applied. R&D activities for non-DOST-supported technologies may also be applied as long as the technology is Filipino-owned and is health-related.
All required project reports shall be submitted using applicable DOST Forms. The DOST Startup Grant guidelines for project implementation and monitoring will be followed.
PCHRD shall monitor status of startup grantees after project termination. Startup grantees shall likewise accommodate PCHRD's request for updates.
Dates to Remember
| DATES | EVENTS |
| --- | --- |
| December 16, 2020 | Release of Call for Proposals |
| February 12, 2021 | Deadline for submission of capsule proposals |
| February 19, 2021 | Last day of in-house evaluation (pre-screening) |
| February 26, 2021 | Last day of external technical panel evaluation |
| March 1, 2021 | Announcement for the shortlisted applicants |
| March 8, 2021 | Online writeshop for the preparation of full-blown proposals for shortlisted applicants |
| March 19, 2021 | Deadline for submission of full-blown proposals at DPMIS portal |
| March 30, 2021 | Last day of second round of external technical panel evaluation |
| April 5, 2021 | Announcement of the list of official startup grantees |
FREQUENTLY ASKED QUESTIONS (FAQs)
I have a product idea but I am still building a working prototype. Can I apply for a grant under this program?
NO, R&D activities for proof-of-concepts (POCs) will not be funded. You must at least have an ugly but working prototype to qualify for funding assistance under the program.
Can I request for funding assistance above PhP 3M?
YES, funding requests above PhP 3M may still be approved subject to PCHRD's evaluation. Additional documentary requirements (i.e. financial viability doc, financial projections, manufacturing plan, value engineering, IP protection) may be requested by PCHRD as bases for approval of such request.
Do I have to use the DOST LIB form for the capsule proposal?
NO, you may only submit to us a list of all required expenses as an attachment to your capsule proposal. You may list all these required expenses in our prescribed budgetary requirement form (download here). We will assist you in preparing an LIB using prescribed DOST form during the writeshop.
Are we allowed to request for extension?
YES, subject to PCHRD's evaluation and provided that the reason for extension is justified and acceptable.
Our startup has been in operation for more than a year but we are still in the process of applying for registration (DTI/SEC). Are we eligible to apply for a grant?
NO, a startup must be in operation for at least 1 year 

starting from the date of registration

 to be eligible.
Published by: Bernard Dexter M. Moros, BCHRD Secretariat