Updates
Details

Category: Updates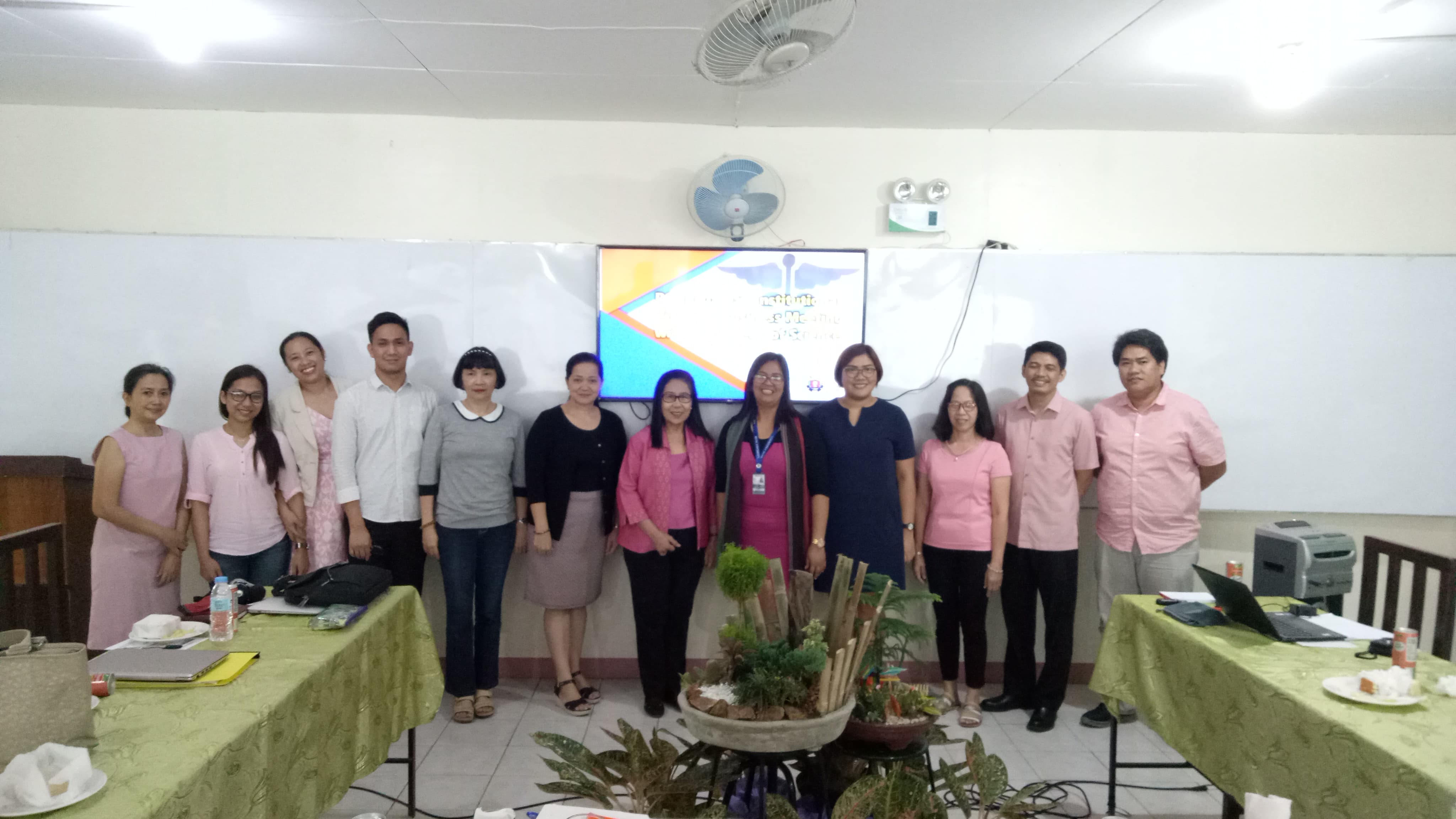 LEGAZPI CITY-The DOST through the Philippine Council for Health Research and Development (PCHRD) initiated a program called Tuklas Lunas as an effort to discover safe and effective natural alternatives to allopathic medicine in partnership with the academe, and the industry to screen marine, microbial and plant species for pharmacologic activities. To expand the coverage of the Tuklas Lunas researches across the country taking into account the Philippines' rich biodiversity, the PCHRD plans to establish more Tuklas Lunas Development Centers (TLDCs), with Region V as one of the target sites. 
With this, the DOST-PCHRD Tuklas-Lunas Program Team headed by  Dr. Amelia P. Guevarra, Chair of the Technical Advisory Group, Ms. Melissa Bulao, Tuklas Lunas Program Coordinator and Mr. Aldrick B. Verano, project management officer conducted institutional visits to Department of Science and Technology V (DOST V), University of Santo Tomas- Legazpi (UST-Legazpi) and  Bicol University (BU) last October 8-9, 2018 to discuss possible collaboration, repackaging and expansion of the scope of the proposal as the program following the project proposal submitted by Dr. Lilibeth A. Cajuday, a professor of Biology department of the Bicol University. 
The said meeting was attended by the president of Bicol University and BCHRD Chairperson, Dr, Arnulfo M. Mascarinas, Dr. Jocelyn Serrano, dean of BU-College of Science, Dr. Lilibeth A. Cajuday, project leader of the study submitted, Prof. Michael Montealegre, BCHRD director, Dr. Rafaelita Lucena, DOST V representative, BUCS faculty and staff as well as DOST V and BCHRD staff. 
During the said meeting, the objectives and the process of drug research under the Tuklas Lunas Program were discussed by Ms. Melissa Bulao followed by the presentation of the project proposed by Dr. Lilibeth Cajuday and the presentation of the Manpower and Facilities of the Bicol University relevant to the program. Comments of the Tuklas Lunas advisory team were given after. The visit was ended with a tour of the natural science laboratory of the Bicol University.
Details

Category: Updates
In observance of the Generics Awareness Month for September, the Department of Health (DOH) Bicol urged the public to refrain from overusing or misusing antibiotics by taking in antibiotic medicines without the doctor's prescription or discontinuing use before the specified date. This is to prevent the spread of Antimicrobial Resistance (AMR) wherein the microorganisms exposed to antimicrobial drugs such as antibiotics develop a resistance from medicines.
DOH warns that misusing antibiotics would render medicines ineffective and let infections persist in the body, which can increase the risk of spread to others. AMR also threatens the effective prevention and treatment of an ever-increasing range of infections caused by bacteria, parasites, viruses and fungi.
DOH 5 Regional Director Napoleon Arevalo cited that "without effective antimicrobials for prevention and treatment of infections, medical procedures such as organ transplantation, cancer chemotherapy, diabetes management and major surgery would be compromised."
He also added that the cost of health care for patients with resistant infections is higher than care for patients with non-resistant infections due to longer duration of illness, additional tests and use of more expensive drugs.
To strengthen the thrust of preventing AMRs, DOH conducts Philippine Antibiotic Awareness Week every November. Meanwhile in Bicol, DOH Pharmacist III, Maribel Cruz, also started to integrate lectures on AMR on most programs of the DOH Bicol to further spread the advocacy.
"The best we could do is be strict with prescriptions, and conduct more information caravans so we can convince people to change their behavior when it comes to taking antibiotics," said Cruz.
In 2016, 490 000 people developed multi-drug resistant TB (MDRTB) globally, extensively drug-resistant tuberculosis (XDR-TB), a form of tuberculosis that is resistant to at least 4 of the core anti-TB drugs, has been identified in 105 countries, as data from World Health Organization (WHO).
Meanwhile, records from 2017 registered a total of 368 people in Bicol region afflicted with MDRTB and mostly affects people from ages 25 to 54, especially males.
WHO revealed that drug resistance is starting to complicate the fight against HIV and malaria, as well.
DOH advises the public to always consult with a doctor before taking in antibiotics, follow and finish the correct regimen when taking the medicine, and desist from giving excess antibiotics to others. Additionally, it is recommended to cover the mouth when coughing or sneezing to prevent bacteria from spreading.
Details

Category: Updates
Seeing the rise of cases of measles in the region, the Department of Health (DOH) Bicol intensified its prevention campaign and urged the public to avail vaccines. According to DOH, unvaccinated children and pregnant women are among the population with increased risk of acquiring measles.
The DOH Bicol has recorded 197 cases from January to September this year, which is a 194% spike from the 67 cases from 2017. Masbate holds the highest record among the other provinces with 69 cases as of date, followed by Camarines Sur – 60, Camarines Norte – 41, Albay – 12, Sorsogon – 12, and Catanduanes - 3. The DOH attributes the rise of cases to the public's resistance to vaccination.
"The increasing trend of cases of measles in Bicol is alarming and that is why we are strengthening our information caravan to increase the level of awareness of the general public regarding tigdas (measles), as well emphasize the importance of getting vaccinated as part of the prevention method," said Regional Director of DOH Bicol, Dr. Napoleon Arevalo. He also advised the public to seek and avail vaccines from Supplemental Immunization Activities of DOH.
"Currently, there is no specific antiviral treatment for measles so the best that we can do here is make sure we prevent it, the MMR (Measles, Mumps, and Rubella) vaccine is 93% effective at preventing measles and we included it in our Basta Wednesday Bakuna Day program," he added.
Complications from measles can be serious and even fatal resulting in blindness, severe diarrhea, respiratory infections such as pneumonia, encephalitis or the acute inflammation of the brain, and even death.
DOH Bicol assured that it would continue its information and education campaign on the prevention of measles in the region. Part of the strategy that DOH employs is the routine measles vaccination for children through school health caravan, and fixed house-to-house immunization.
DOH Bicol Family Health Cluster Head, Dr. Rita Mae Ang-Bon reminded that vaccines are safe and further encouraged stakeholders to help their immunization program.
"We want to inform everyone that vaccines are safe and it is the primary prevention for measles. We also have ongoing campaigns in schools and communities and we would need everyone's support in order to make Bicol tigdas-free," said Ang-Bon.
//NSAU
Details

Category: Updates
CALL FOR PARTICIPATION

Application deadline: December 8, 2017
REGISTRATION IS FREE (limited slots only)
             The Department of Science and Technology - Philippine Council for Health Research and Development (DOST-PCHRD) and Bicol Consortium for Health Research and Development (BCHRD), in cooperation with Philippine Association of Medical Journal Editors (PAMJE) and Asia Pacific Association of Medical Journal Editors (APAME) is organizing the 13th National Medical Writing Workshop and 6th Writeshop for Young Researchers on 8-9 January 2017 in Legazpi City. The workshop aims to help young investigators in health and health social sciences acquire practical knowledge and skills in preparing a scientific article for publication in a scholarly peer-reviewed journal. Successful applicants will be granted free workshop registration, accommodation for participants and meals during the workshop, and assigned to a mentor-facilitator who will guide them in preparing their articles for a brief presentation.
Subcategories