Details

Category: News
BRTTH Receives Back-to-Back Recognition
            In a span of just two months, the Bicol Regional health Research BRTTH was consecutively recognized by the Department of Health (DOH) and the Forum for Ethical Review Committees in the Asian and Western Pacific Region (FERCAP). Last September 2018, the DOH released its Department Memorandum No. 2018-0367 re: FY 2017 Performance-Based Bonus (PBB) Office Ranking, indicating that BRTTH ranked second best among the Level III Hospitals nationwide, with a rating of 91.50%. While last November 2018, the hospital sent its Institutional Review Board (IRB) Members and Secretariat Staff, together with the Chief of Medical Professional Staff Dr. Salvacion S. Macinas, to Taoyuan City, Taiwan to receive the international recognition as a FERCAP recognized IRB.
            According to FERCAP, the BRTTH-IRB is the 30th IRB from the Philippines to receive this international recognition. They now join 234 other FERCAP recognized IRBs from countries in the Asia Pacific Region.
            These recognitions are in keeping with the Institution's quest to exceed customer expectations and continually improve hospital operations.
Details

Category: News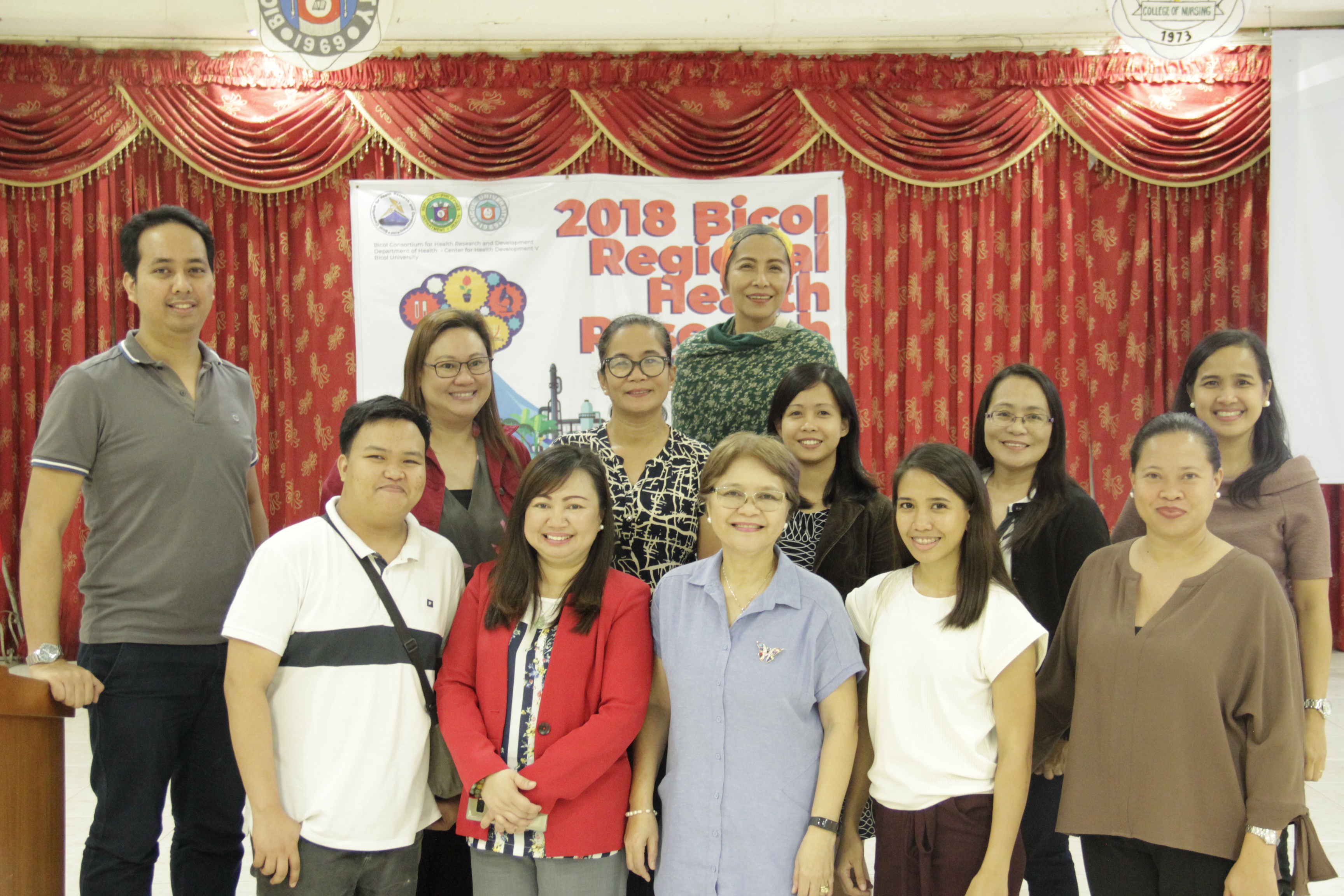 LEGAZPI CITY-As part of the celebration of the 2018 Regional Health Research Week, the Bicol Consortium for Health Research and Development (BCHRD) conducted a one day seminar on Health Research Ethics for Researchers held last November 28, 2018 at BUCN Amphitheater, Bicol University, Legazpi City.
This activity aims to equip with the basic knowledge, skills and attitude pertaining to ethical/legal standards needed when undertaking a research.
Two speakers were invited namely Dr. Sandy Lasa and Dr. Marlyn Daguno of BCHRD-REC to discuss the following topics:
1. Applying Research Ethics;
2. How to be an Ethical Researcher; and
3. Process in Securing Ethical Clearance from an Accredited Research Ethics Committee
It was attended and participated by representatives from Ateneo de Naga University (AdNU), Central Bicol State University of Agriculture (CBSUA), Bicol Medical Center (BMC), University of Saint Anthony (USANT), and Mabini Colleges. (KBC/BCHRD)
Details

Category: Updates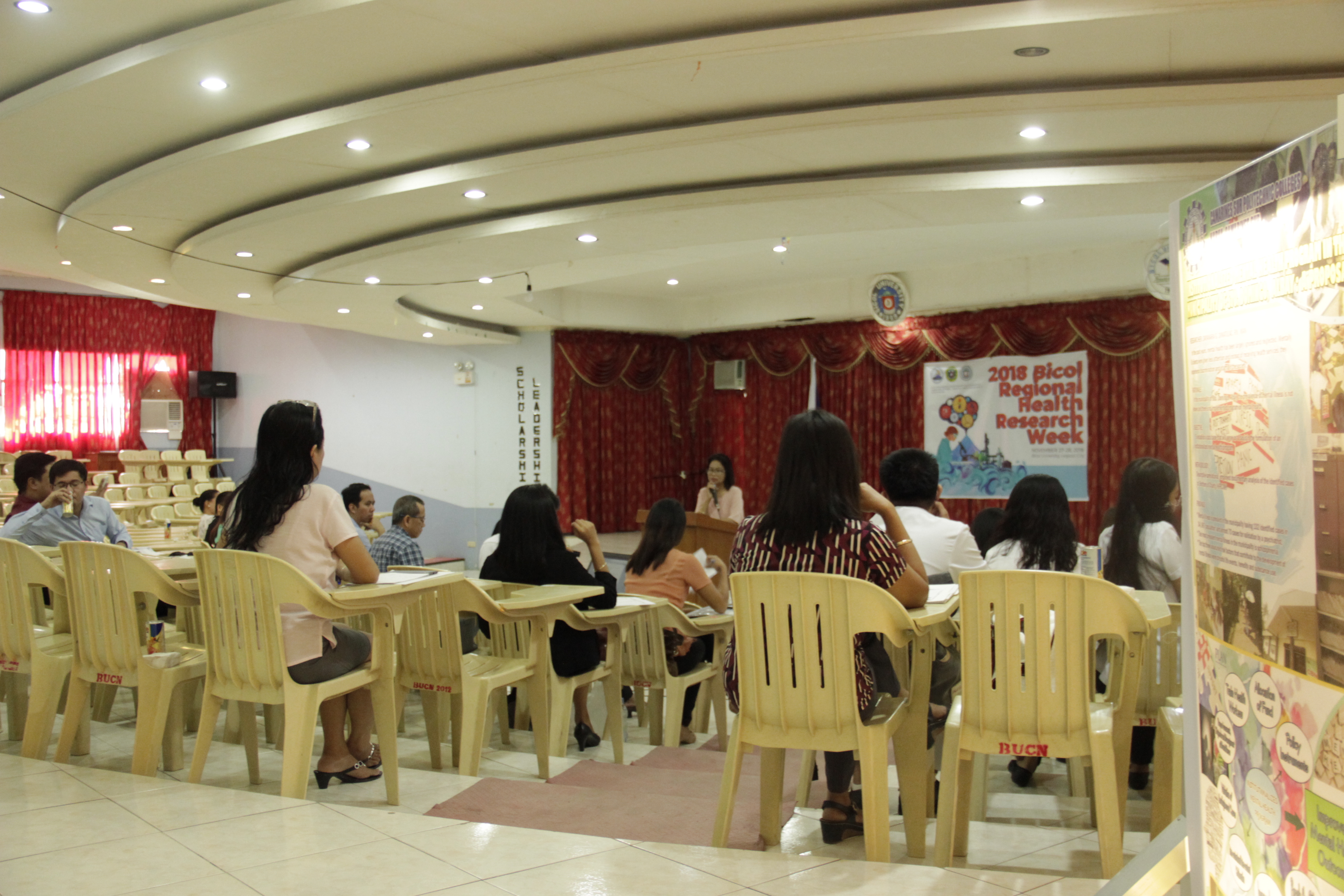 BCHRD CONDUCTS THE 2018 BICOL REGIONAL HEALTH RESEARCH WEEK 
As part of the annual activity of the Bicol Consortium for Health Research and Development, the 2018 Bicol Regional Health Research Week was celebrated to provide a venue for the regional health and health-related researchers to showcase and disseminate the results of their completed researches. The said celebration also aimed to increase and encourage more young and budding researchers to write health researchers for the region in the future.
To start the week celebration, an opening program was conducted at the Bicol University College of Nursing Amphitheater to welcome the guests and participants. Afterwards, the participants were advised to proceed to their respective sessions and contests. The said sessions were as follows:
Oral Paper Presentation (Student Category)
Oral Paper Presentation (Professional Category)
Poster Presentation (Student Category)
Poster presentation (Professional Category)
Research problem Identification on Bicol HeaRT: Public Health
 Students from different member-institutions of BCHRD discussed and presented the results of their researches. The following researches were presented:
Oral Paper Presentation (Student Category)
TITLE
PROPONENT
INSTITUTION
Knowledge and Practices on Primary Mental Health Care of Community Health Workers in Selected Barangays In Legazpi City

Mary Jade E. Gonzalo

Jason Rafael San Andres
Bicol University
Knowledge, Attitude and Practices on Chronic Kidney Disease Among Selected College Students of Bicol University Legazpi And Daraga Campuses

Dianne Mae S. Catampongan

Meg Andrea M. Martinez
Bicol University
Effectiveness of Coco Filter In Reducing the Risk of Microorganisms Causing Waterborne Disease

Casida, Ma. Michaela B.; Briones, Jose Alejandro B.; Callao, Honie Michelle B.;

Canonizado, Sherry Mae M.; Fermindoza, Ma. Dianne G.; Regala, Melissa Marie F.

Universidad de Sta. Isabel
Folk Illness Beliefs and Health-Seeking Behaviors of Families Living In Rural Areas And It's Implication To Health Care Delivery

Dorias, Verna Grizza N.; Beltran, Norman M.; Guinhawa, John Boy Isaiah H.

Nnadi, Amaka Linda Kimberly; Realino, Nick Lawrence L.; Recientes, Rica P.
Universidad de Sta. Isabel

Effectiveness of Coco Coir as a Reducing Factor Against Vaginal Bacteria

Gabrielle C. Arienda; Joanna May R. Dulong;

Marianne Therese M. Lopo; Carline Angelica L. Luna;

Lea Angela L. Nuñez; Ruffa Mae S. Perido; Rozielle N. Polagñe
Universidad de Sta. Isabel
Poster Presentation (Student)
TITLE
PROPONENT
INSTITUTION
 Self-Care Practices of Postpartum Mothers in Barangay Taysan, Legazpi City
 

Mariana Jessa V. Ozaeta

Patrisha Loise V. Rinon

 Bicol University
 Assessment of Solid Waste Management Practices of Bicol University Legazpi City
 

Terrie Mae C. Copino

Diane U. Frondozo

 Bicol University
 Infant Care Practices of Married Couples in Daraga, Albay
 

Maria Krisline Jane M. Jimenez

Ma. Cristina Danica Naño
 Bicol University
 Lived Experiences of Persons with Diabetes Mellitus in Legazpi City

 Ara Joy R. Albaño 

 Dulce Dayne G. Celis

 Bicol University

 Level of Knowledge on Hypertension and Lifestyle Practices of Hypertensive Clients in Sto. Domingo, Albay

 Carmille Marjorie C. Baldoza 

Mie Vi A. Bigueras

 Bicol University
Oral Paper Presentation (Professional Category)
TITLE
PROPONENT
INSTITUTION
The Development Of A Community-Based Drug Intervention For Filipino Drug Users

Ma. Regina M. Hechanova,1 Arsenio S. Alianan,1 Mendiola T. Calleja,1

Isabel E. Melgar,1 Avegale Acosta,1 Angelique Villasanta,

1 Kay Bunagan,1 Camille Yusay,1 Angelica Ang,1 Jane Flores,

1 Nico Canoy,1 Ervina Espina,2 Gayle A. Gomez,3 Elena Samonte Hinckley,4 Antover P. Tuliao,5 and Miriam P. Cue6

Ateneo de Naga University
 Healthcare Waste Management Practices of Lying-In Clinics and Other Agencies Catering Maternity and Newborn in Rinconada
 Marilyn N. Rivera
 Camarines Sur Polytechnic Colleges
 The Safety and Effectiveness of Different Herbal Plants as Perceived by Indigenous Healers And Their Patients In Bicol Region
 

Alma S. Banua

Cauline Ruth A. Pangan
 Bicol University
 Patients' Reasons for Seeking Consultation and Their Herbolario's Treatment Practices in Bicol Region
 Mary Joy B. Sande
 Bicol University
 Compliance on Mother Baby Friendly Hospital Initiative (Mbfhi) In Rinconada
 Liziel B. Malapo
  Camarines Sur Polytechnic Colleges

 Four Care Strata – The Unraveled Concept of Care from The Lens of Patients with Hansen's Disease of Bicol Sanitarium: A Basis For Program Development And Evaluation

 Vincent Vaughn Nicolas D. Navarez
 Universidad de Sta. Isabel

Postoperative Pain Management Competency of Nurses: Its Implication to Patients' Level of Satisfaction

Raymar V. Bron

Universidad de Sta. Isabel
Poster Presentation (Professional)
| | | |
| --- | --- | --- |
| TITLE | PROPONENT | INSTITUTION |
| Knowledge, Attitude and Practices of Vulnerable Population Towards HIV/AIDS in The Province Of Albay | Ryan D. Altavano | Camarines Sur Polytechnic Colleges |
| Institutionalized Mental Health Program in The Municipality of Sto. Domingo, Albay: A Proposal | Dayanara G. Dimatulac | Camarines Sur Polytechnic Colleges |
| Profiling and Time Utilization of Barangay Health Workers | Roanne T. Morano | Bicol University |
| Performance of Barangay Health Workers as Community Health Care Providers | Lucilyn Camba-Ebuenga | Bicol University |
| The Profile and Experiences of Herbolario and their Patients in Bicol Region | Nera A. Galan | Bicol University |
| Performance of Barangay Health Workers of Family Health Tasks | Brigida M. Lobete | Bicol University |
The winners of the said contests were awarded during the closing program in the afternoon. 
Details

Category: Updates
CALL FOR APPLICATIONS: GELIA CASTILLO AWARD FOR SOCIAL INNOVATION IN HEALTH (GCASIH)
       The Gelia Castillo Award for Social Innovation in Health (GCASIH) aims to recognize the outstanding models of social innovations that address persistent, societal and health systems challenges. The award also acknowledges the innovators at the frontlines. Through the innovators' experience we can better understand how and why social innovations are impactful, the factors enabling their success and the lessons that can be gleaned from their experience to scale it more broadly in the larger health system.
       The award is open to all ongoing social innovation programs or projects developed by Filipinos for the Filipinos. The entry must be implemented mainly in the Philippines.
       For the purposes of this Award, Social innovations in Health (SIH) is defined as a novel solution (process, product, practice, market mechanism) created and implemented by a range of stakeholders, in response to a priority health need within a geographical context. This may come from a formal or informal research process that has enabled innovation has enabled health care that is more inclusive, affordable and effective.
Who can nominate?
Any institution - public or private
Members of the consortium
Scientific, technological and professional societies or associations
Research institutes
Universities and colleges
Individuals
*Self-nomination is not allowed.
Criteria
Eligibility. The research or innovation program or project will be considered for shortlisting based on the following eligibility criteria. The entry or entries:
Must be developed by Filipino/s.
Must be implemented for at least one (1) year.
Based on an identified priority health need of a community or geographical context.
Complete application form (that has sufficient information for a fair review) submitted within the set deadline.
Selection. The shortlisted, eligible entries will be reviewed by an external selection panel based on the following selection criteria
SELECTION CRITERIA
 DESCRIPTION
 WEIGHT
 General/ Generic Criteria  

 Degree of Innovativeness

 The innovation provides a novel approach to address a systemic health challenge within the context. It provides an alternative to the status quo
 25 %

      2. Inclusiveness

 The solution has the potential to be used by a large number of people, enhancing equity and access
 15%

      3. Affordability

 The solution is affordable to the poor who are otherwise excluded in the local context or the solution is more cost-effective than the status quo
 15%
      4. Effectiveness
 The solution has a demonstrated positive outcome on the health challenge it is addressing
 15%
Country- specific Criteria           
1. Based on Health Need
 The solution addresses a health priority of the Philippines (as defined by the National and/ or Regional Unified Health Research Agenda), or a priority in a more localized level such as prevalent yet neglected health problem in a town or a marginalized group/ ethnic group
 10%
2. Participatory & Co-Owned
 Participatory approach is evident in the development, implementation, and evaluation of the innovation (i.e. contributions from various stakeholders: the patients/ families, local health personnel, local leaders, other sectors)
 10%
3. Has Potential for Integration/ Scale
Feasibility for the solution to be applied, replicated and scaled up to other communities with similar problems.
10%
GCASIH Secretariat
Nomination Procedures
How to nominate

Nominations should be made using the prescribed nomination form. All entries must be submitted to and endorsed by an institutional RHRDC Member.
RHRDC Secretariat will evaluate the submissions based on eligibility criteria
All interested parties may submit in person, through a courier or through an electronic mail. All entries must be submitted to the Regional Health Research and Development Consortia (RHRDC). A list of contact persons and addresses per RHRDC will be provided. A web-based nomination platform will also be designed to those who wish to submit online. The platform can help facilitate receiving, storing and processing of nominations
Aside from the fully accomplished nomination form, all interested parties are requested to submit relevant documentary proofs (e.g. publications, technical reports, certifications, photographs)

Schedules and Deadlines
            Nominations are accepted and reviewed on a rolling basis. Entries received after the deadline may be considered in the next cycle. However, strongest consideration will go to those entries submitted on or before the prescribed deadline.
Procedure for Selection
There will be two (2) levels of selection:
The Preliminary Screening or Shortlisting
Final Selection
Preliminary
Preliminary screening/Shortlisting
The RHRDC will be responsible for the initial review and shortlisting of all entries based on the eligibility criteria. The applicants whose nominations have been excluded should be emailed directly to be informed that their nomination did not meet the eligibility criteria.
The RHRDC will then recommend the shortlisted entries to an independent panel of experts to be appointed/convened by the DOST-PCHRD and the DOH for evaluation and final selection.
Final Selection
A panel of experts will be convened based on the number of shortlisted entries received.
Allocation of entries to expert panel will be in two distinct ways:
First: targeted allocation where the entry will be matched to a reviewer that have some or is an expert in the focus area of the innovation being presented
Second: random allocation
This dual approach will help ensure that the selection process is relevant and fair. If there is a conflict of interest in the allocation, the entry should be reassigned.
Once the review panel has been organized, they can begin the process of scoring nominations. Each nomination will be evaluated by two reviewers and will be scored on a scale of 1 – 5 in 0.5 increments. An online scoring platform is proposed to be developed to make the evaluation more unified and transparent.
Once all scores have been received from the selection panel members, the two scores for each nomination should be averaged. The full list of nominations must then be ranked by these average scores.
Once the final selection has been concluded and before the public announcement is made, each applicant should be directly contacted with the outcome of the decision (i.e. was or was not selected).
If no innovation sufficiently meets the qualifications, the expert panel has the prerogative not to give the award.
The decision of the expert panel of reviewers is final.
| | |
| --- | --- |
| DESCRIPTION | RANGE |
| Outstanding | 4.5/ 5.0 |
| Excellent | 4.0 |
| Very Good | 3.0 /3.5 |
| Ordinary | 2.5 |
| Needs more thought | 1.5 /2.0 |
| Flawed | 1.0 |
Incentives
Option A:
The Award consists of a cash prize of Php 100,000 each and a trophy for the top 3 socially innovative projects.
Alternatively, we can award:
Php 200,000 for the top socially innovative project and Php 50,000 each as consolation incentives for top 2 and 3 projects/innovations respectively.
OR
One winner each in Luzon, Visayas, and Mindanao with cash incentive of Php 100,000 each.
Option B (in the future/subsequent calls):
Innovation acceleration fund (between Php 300,000 – Php 500,000) + capacity building package/workshop with partner institution (e.g. SIHI Philippines Hub and/or Asian Institute of Management) to further expand and scale the innovative project.
DEADLINE OF SUBMISSION OF NOMINATIONS WILL BE ON APRIL, 2019.
Details

Category: Updates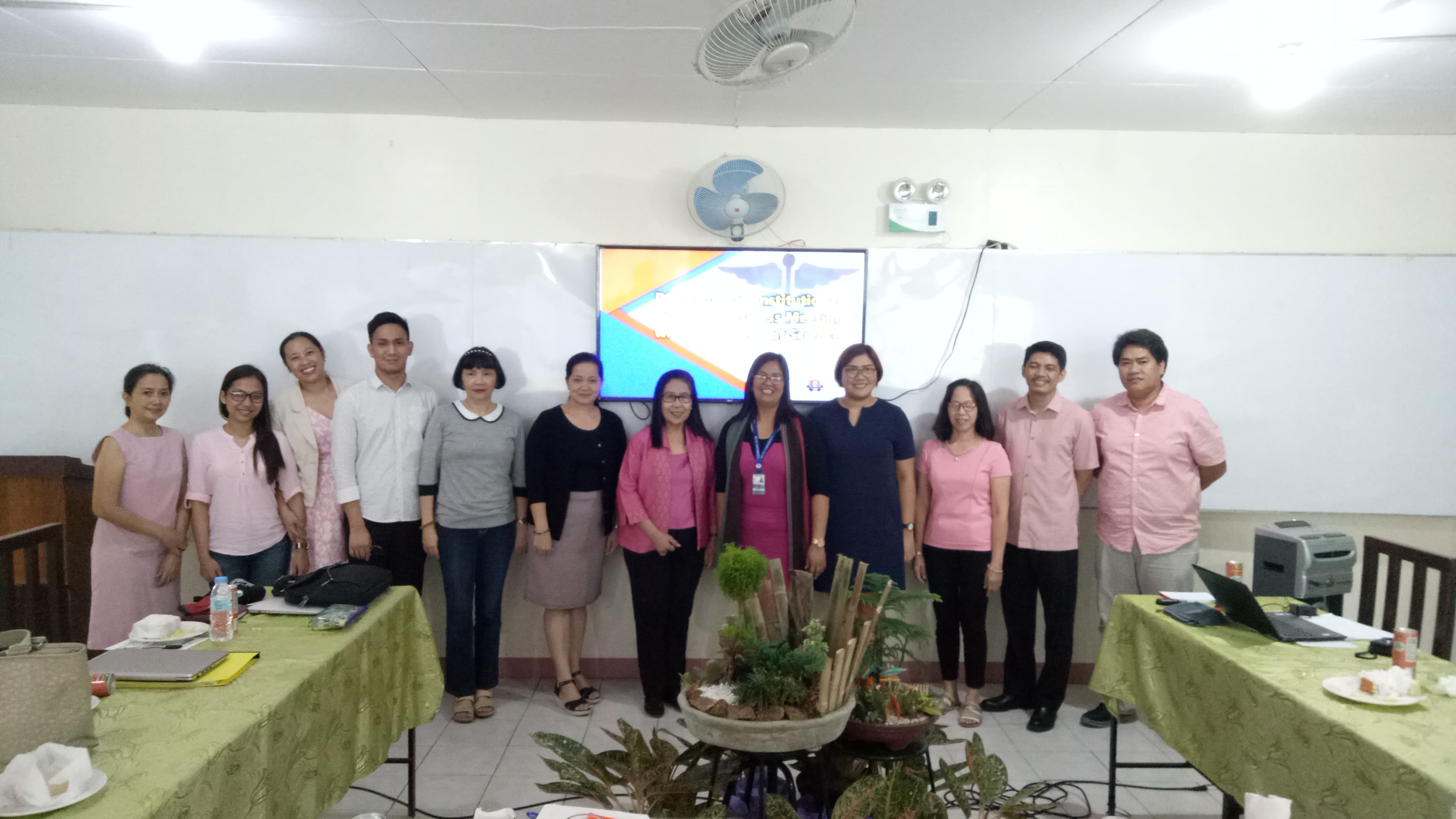 LEGAZPI CITY-The DOST through the Philippine Council for Health Research and Development (PCHRD) initiated a program called Tuklas Lunas as an effort to discover safe and effective natural alternatives to allopathic medicine in partnership with the academe, and the industry to screen marine, microbial and plant species for pharmacologic activities. To expand the coverage of the Tuklas Lunas researches across the country taking into account the Philippines' rich biodiversity, the PCHRD plans to establish more Tuklas Lunas Development Centers (TLDCs), with Region V as one of the target sites. 
With this, the DOST-PCHRD Tuklas-Lunas Program Team headed by  Dr. Amelia P. Guevarra, Chair of the Technical Advisory Group, Ms. Melissa Bulao, Tuklas Lunas Program Coordinator and Mr. Aldrick B. Verano, project management officer conducted institutional visits to Department of Science and Technology V (DOST V), University of Santo Tomas- Legazpi (UST-Legazpi) and  Bicol University (BU) last October 8-9, 2018 to discuss possible collaboration, repackaging and expansion of the scope of the proposal as the program following the project proposal submitted by Dr. Lilibeth A. Cajuday, a professor of Biology department of the Bicol University. 
The said meeting was attended by the president of Bicol University and BCHRD Chairperson, Dr, Arnulfo M. Mascarinas, Dr. Jocelyn Serrano, dean of BU-College of Science, Dr. Lilibeth A. Cajuday, project leader of the study submitted, Prof. Michael Montealegre, BCHRD director, Dr. Rafaelita Lucena, DOST V representative, BUCS faculty and staff as well as DOST V and BCHRD staff. 
During the said meeting, the objectives and the process of drug research under the Tuklas Lunas Program were discussed by Ms. Melissa Bulao followed by the presentation of the project proposed by Dr. Lilibeth Cajuday and the presentation of the Manpower and Facilities of the Bicol University relevant to the program. Comments of the Tuklas Lunas advisory team were given after. The visit was ended with a tour of the natural science laboratory of the Bicol University.