Details

Category: Updates
CALL FOR PARTICIPATION

Application deadline: December 8, 2017
REGISTRATION IS FREE (limited slots only)
             The Department of Science and Technology - Philippine Council for Health Research and Development (DOST-PCHRD) and Bicol Consortium for Health Research and Development (BCHRD), in cooperation with Philippine Association of Medical Journal Editors (PAMJE) and Asia Pacific Association of Medical Journal Editors (APAME) is organizing the 13th National Medical Writing Workshop and 6th Writeshop for Young Researchers on 8-9 January 2017 in Legazpi City. The workshop aims to help young investigators in health and health social sciences acquire practical knowledge and skills in preparing a scientific article for publication in a scholarly peer-reviewed journal. Successful applicants will be granted free workshop registration, accommodation for participants and meals during the workshop, and assigned to a mentor-facilitator who will guide them in preparing their articles for a brief presentation.
Details

Category: Updates
The Philippine National Health Research System and Philippine National Ethics Board launches the 2017 National Ethical Guidelines for Health and Health-Related Research last August 24, 2017 at PICC, Pasay City, Metro Manila during the 11th PNHRS Week Celebration.
During the PNHRS Pre-conference session entitled, Emerging Issues in Research Ethics, Dr. Marita V.T. Reyes discussed the introduction and highlighted the new provisions to the National Ethical Guidelines for health and Health-Related Research and in the 2017
Two hundred copies of the said handbook were produced and was distributed during the launching. PHREB apologizes to attendees that due to the limited copies produced, only the accredited RECs will be given a copy and only one per institution.
PHREB guarantees that the copy of the 2017 national ethical guidelines is readily available for download at their website http://www.ethics.healthresearch.ph/ (BCHRD/Kevin Capoles)
Details

Category: Updates
The Philippine Health Research Ethics Board-Committee on Standards and Accreditation (PHREB-CSA) and Forum for Ethical Review Committee in the Asian and Western Pacific Region (FERCAP) conducted a 4 day training and survey visit for PHREB Accreditation last August 13-16, 2017 at University of the East Ramon Magsaysay Memorial School, Aurora Blvd. Quezon City.
The training consists of lectures and group on topics related to PHREB visit and by a practicum on-site visit from August 15-17, 2017 at the same institution.
It was attended by six accreditation trainees including members and staff of BHCRD. The attendees were divided in to three groups. Each group was headed by a team leader from PHREB or FERCAP surveyor. Group 1 was led by Dr. Tri Wibawa, group 2, Dr. Tito Atienza and group 3 was Prof. Michael Peralta. (BCHRD/Kevin Capoles)
Details

Category: Updates
 In an effort to increase the capacity of health researchers in the region, the BCHRD will be organizing program called "Bicol Health Research Training Environment (Bicol HeaRT): Training Program for Researchers", a scholarship program designed to capacitate researchers who have interest in conducting health and health-related researches along with the identified research priorities in the region.
Submitted concept notes shall be screened by a group of experts in health research and its proponents shall be accepted in the scholarship program who shall undergo a series of trainings and workshops to come up with a full blown proposal for funding of DOST-PCHRD, DOH or other funding agencies. Slots will be prioritized to applicants from member-institutions of BCHRD. Accepted scholars shall enter into a contract between the proponent, agency and BCHRD.
Attached the concept note format, schedules of the training/workshops and the Regional Unified Heath Research Agenda (RUHRA) 2017-2022. Please send the concept notes and the curricula vitae of the proponents (no more than 2 pages, giving emphasis on research) to This email address is being protected from spambots. You need JavaScript enabled to view it.. For inquiries you may contact them at 742-1803 or at 09167332353.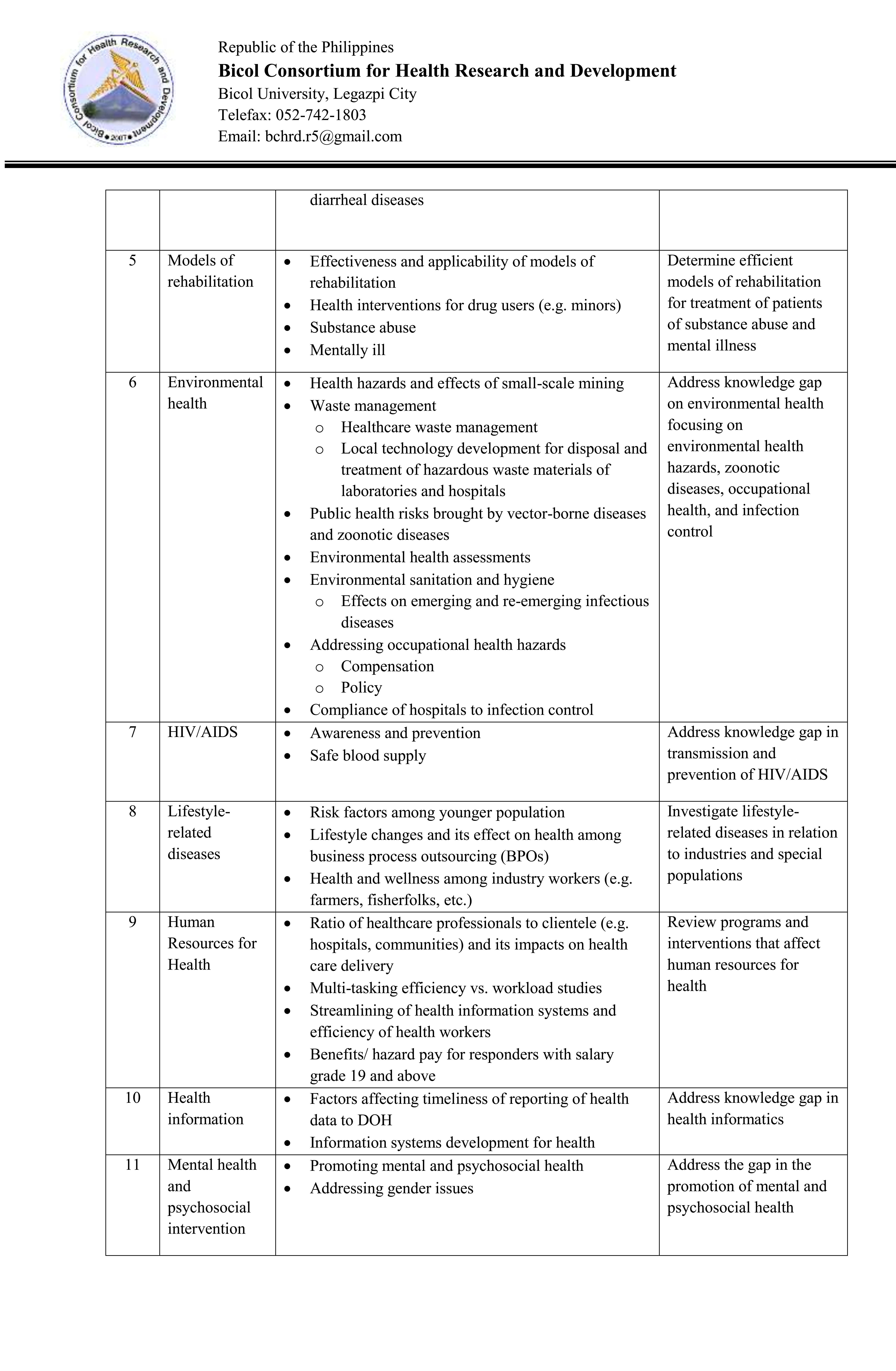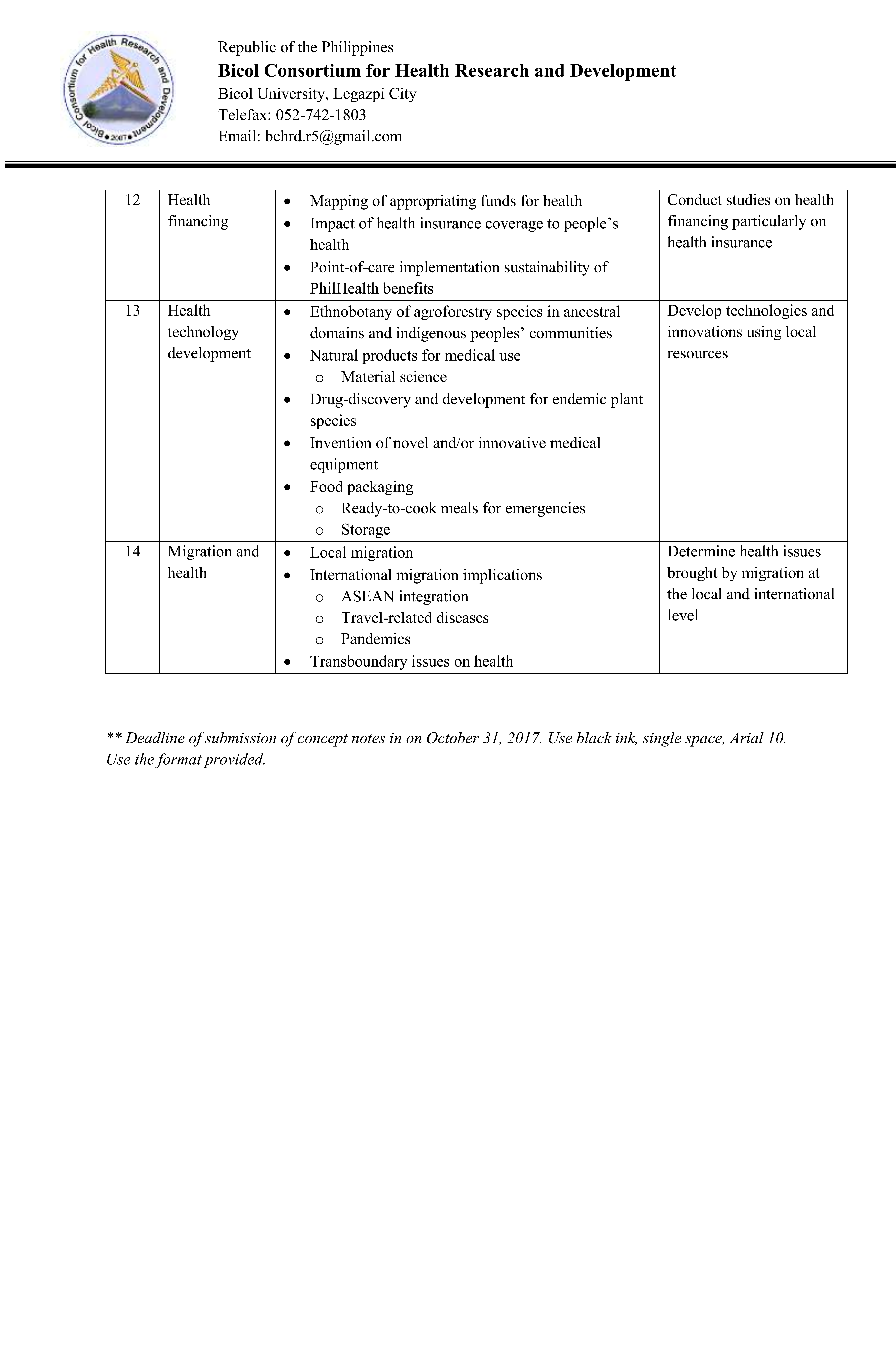 Details

Category: Updates
 Every year the Department of Science and Technology Regional Office V celebrate's the Regional Science and Technology Week and Bicol Regional and Invention Contest and Exhibit. As partner agency of the DOST-V, BCHRD joins in celebrating the regions biggest celebration for science and technology. One of the efforts of the consortium is to conduct a forum about the health research. This year BCHRD focus on disseminating the RUHRA and Research Dissemination on NVSP.