Details
The Alberto Romualdez, Jr. Outstanding Health Research Award (AROHRA)  is extended until January 19, 2021
For more info: http://pchrd.dost.gov.ph/index.php/events/5846-call-for-nomination-alberto-g-romualdez-jr-outstanding-health-research-award-arohra
GUIDELINES
PURPOSE
The Alberto G. Romualdez, Jr. Outstanding Health Research Award (AROHRA) encourages researchers to be sensitive to the scientific and technological requirements of the health delivery system and rewards those whose research have contributed significantly to addressing prevalent health issues.
The Award gives recognition to a research program or project that has demonstrated the link between research and practice through the utilization of research findings in the health delivery system. Given by the Department of Science and Technology- Philippine Council for Health Research and Development (DOST-PCHRD) in collaboration with the Department of Health (DOH), the award has two (2) categories: Biomedical Research and Health Services Research.
NOMINATION PROCEDURES
1. What can be nominated
Any health research program or project may be considered for the Award. Work to be nominated may fall under any of two categories: Biomedical Research or Health Services Research.
For Biomedical Research, the program or project must be engaged in generating and/or adapting appropriate health technologies that address specific health problems and emphasize the development of diagnostic tools and techniques, biological (e.g. drugs, vaccines, functional foods, etc.), biomedical devices, and ICT-based healthcare technologies.
For Health Services Research, the program or project must be involved in the organization, administration, operation, utilization and other aspects of health services delivery systems that address the country's social, political, cultural, and economic conditions.
2. Who can nominate
Any institution; members of the consortium; scientific, technological and professional societies or associations; research institutes; universities and colleges; and individuals may nominate. Self-nomination is not allowed.
3. Who can be nominated and what can be a nominated entry
The award is open to a completed research program or project done by Filipino researcher/s. The nominated entry must be done mainly in the Philippines.
For purposes of this Award, a research program refers to a group of interrelated or complementing research projects that require an interdisciplinary or multidisciplinary approach to meet established goal/s within a specific time frame, while a research project refers to the basic unit in the investigation of specific research problems with predetermined objective/s to be accomplished within a specific time frame.
4. How to nominate
Nominations should be made using the prescribed nomination form. Entries from both consortium member institutions and non-consortium member institutions must be submitted to and endorsed by the Chair of the consortium. Each nomination should include ALL of the following:
a. Write-up on the impact of the project on health delivery,a contextualization of the problem that the project/program seeks to address and a description of the program/project, highlighting how the results were utilized, as well as the benefits derived from their utilization.
b. One copy of each of the technical reports and/or publicationsof the completed projects leading to technology transfer and/or translation to a policy formulation or program intervention.
c. Statement from the technology user(s) and program or project end-userdescribing the contribution of the technology and project or program in improving health delivery.
• After the preliminary screening, the judges may ask for additional supporting documents from the nominees.
5. Schedule of Selection and Awarding
The Award is given every three (3) years.
6. Where to send nominations
a. Nominations should be submitted to the regional consortium secretariat not later the deadline. (Please refer to the attached paper for list of addresses)
b. Endorsed entries by the consortium chair should be submitted to DOST-PCHRD.
INCENTIVES
The Award consists of a cash prize of P 500,000 and a trophy for winners of each category
arti. Bernard Dexter M. Moros, SRS I
details credits to Philippine Council for Health Research and Development
Details
The Philippine Council for Health Research and Development (PCHRD) of the Department of Science and Technology (DOST) invites you to be part of its Webinar Series on Intellectual Property and Technology Transfer. The third installment of the webinar series will be providing discussions on the Basics of Intellectual Property. This session aims to familiarize researchers and aspiring inventors with the different types of intellectual property, such as patents, utility model, industrial design and others, and how to protect them.
Atty. Maria Gladys C. Vilchez, Founding Partner of Hechanova Bugay Vilchez and Andaya-Racadio Law Offices and IP Consultant of the Technology Application and Promotion Institute (TAPI), is our resource speaker for the webinar.
Registration is absolutely FREE! Join us on October 01, 2020, Thursday from 9:30AM to 11:00AM by registering through this link: http://bit.ly/iptmIPbasics. 
Please feel free to share the registration link to members of your institution and your network.
For inquiries, you may reach us at This email address is being protected from spambots. You need JavaScript enabled to view it..
See you at the webinar!
Details
The PCCI Injap Sia Outstanding Young Entrepreneur Award seeks to recognize young entrepreneurs which are able to innovate ideas to develop new markets, create wealth and generate jobs. The award is open to all Filipino entrepreneurs, 45 years old and below, owner or significant shareholder/management member of an enterprise that has been operating for  two (2) years and   registered in the Philippines. 
See promotional flyer below: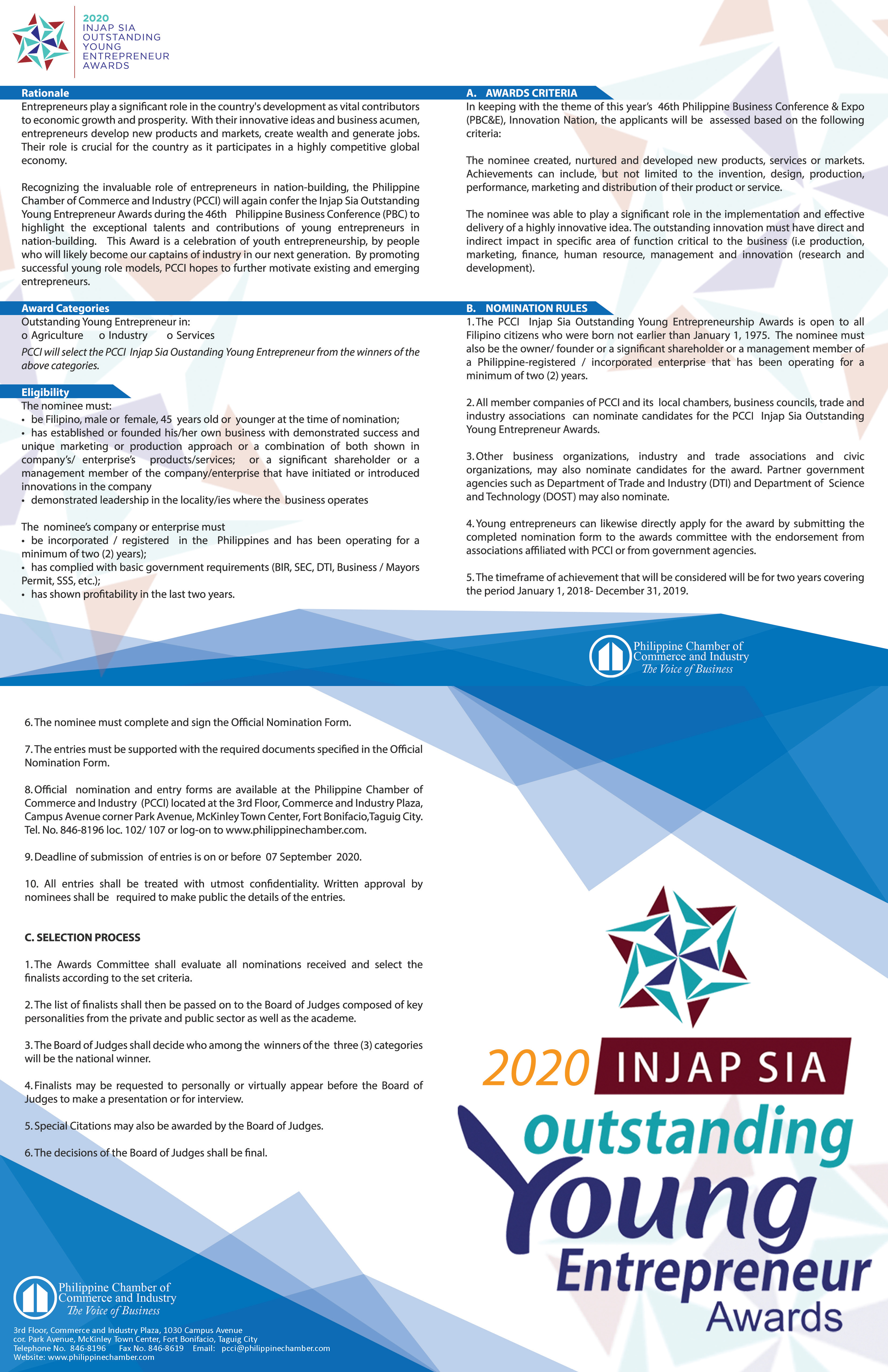 Details
MMHRDC Webinar Series: The Science of Ageing
The Metro Manila Health Research and Development Consortium is pleased to announce the conduct of its  FREE webinar series with the theme, "The road to Super Seniors: The science of Ageing. It's earlier than you think, but it's never too late". Co-organizing this webinar series are  Far Eastern University and Our Lady of Fatima University. 
The series will run through three Saturdays for the month of September (12, 19 and 26) from 1000h to 1200h and will feature at most 3 speakers per day. 1,000 slots will be opened but participants will be required to pre-register online. Those who can no longer be accommodated in the platform may view the webinar via Facebook live.
To register, please click 
HERE.
For further inquiries you may reach us at 
This email address is being protected from spambots. You need JavaScript enabled to view it.
.