Details
The Bicol Consortium for Health Research and Development (BCHRD) invites you to register for the upcoming 14th PNHRS Week Celebration South Luzon Cluster Satellite Session on August 3, 2021 at 8:00 AM.
The theme of the satellite session is "Financing for National Health Security and Pandemic Preparedness"
Register in advance for this webinar: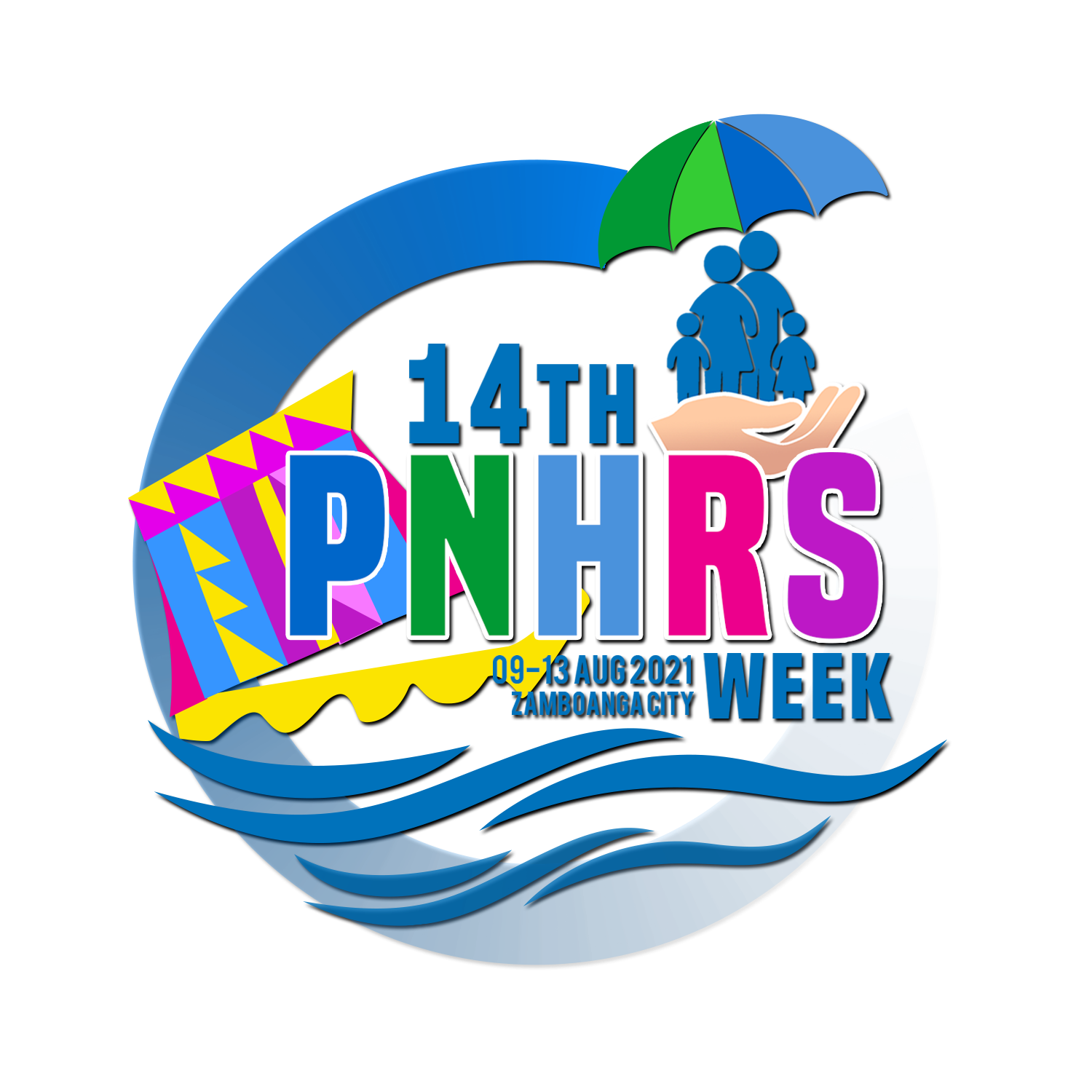 Details
Now on its 14th year, the annual Philippine National Health Research System (PNHRS) week will showcase health research and development in the new normal in the upcoming virtual celebration scheduled on 9-13 August 2021.
Using a combination of live and pre-recorded materials through various online media platforms, the 14th PNHRS Week celebration aims to serve as a platform for the health research community to share their best practices and experiences in pursuit of healthier lives for the Filipinos through health R&D. 
Hosted by the Zamboanga Consortium for Health Research and Development (ZCHRD), the 14th PNHRS Week theme is "Health R&D in the New Normal: Moving Towards Universal Health Care." 
"This year, we recognize the collective work and achievements of the System which supported the passage of UHC and produced relevant healthcare solutions," DOST-PCHRD Executive Director Dr. Jaime C. Montoya says. "As we move forward in the implementation of the UHC, we bank on the System's diverse expertise and strong network once again to ensure that the Filipino people will have access to better healthcare," he adds.
The celebration will showcase new dimensions and ways the 17 regional consortia's emerging partnerships address the country's current challenges on health issues and will cover the following activities: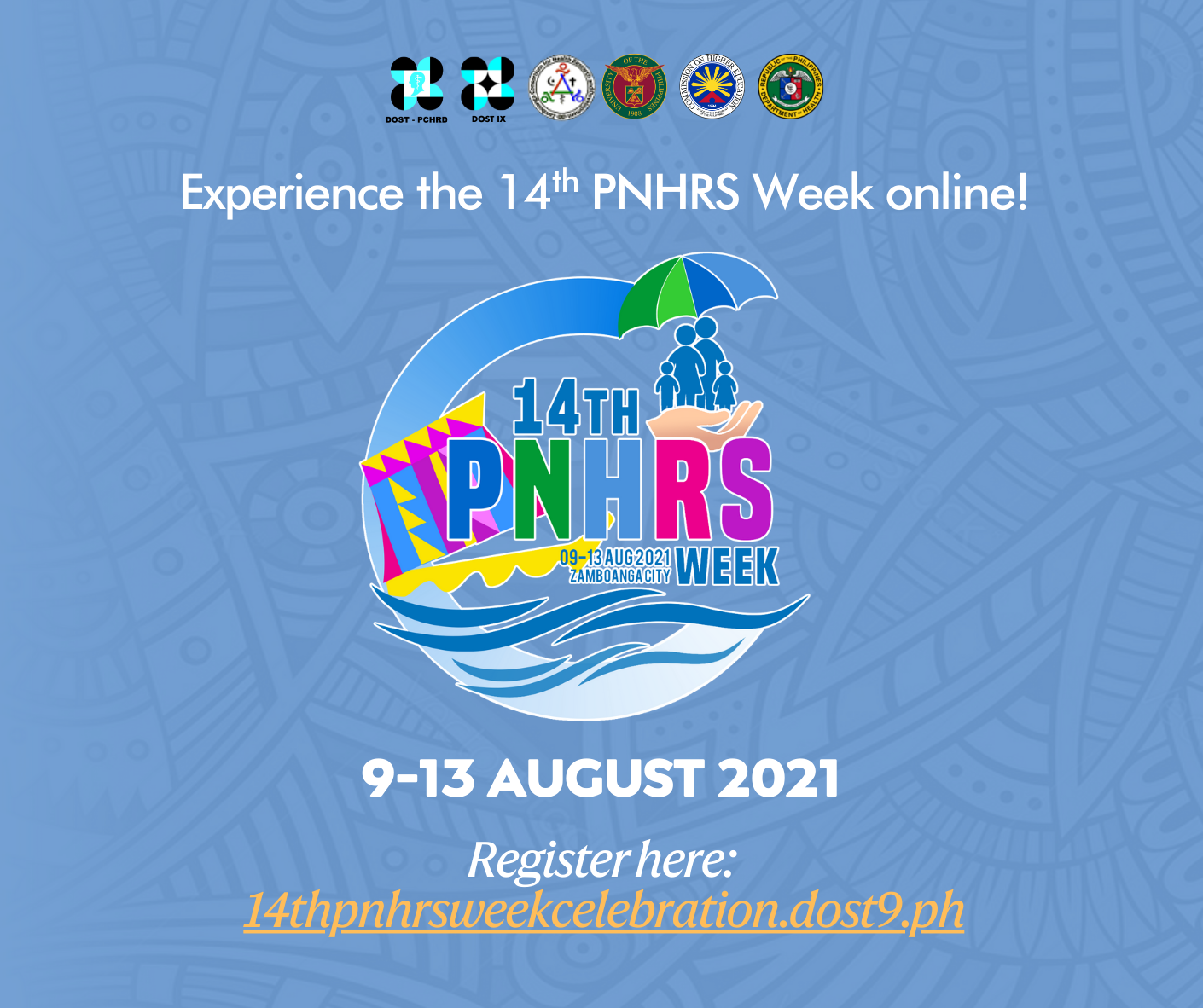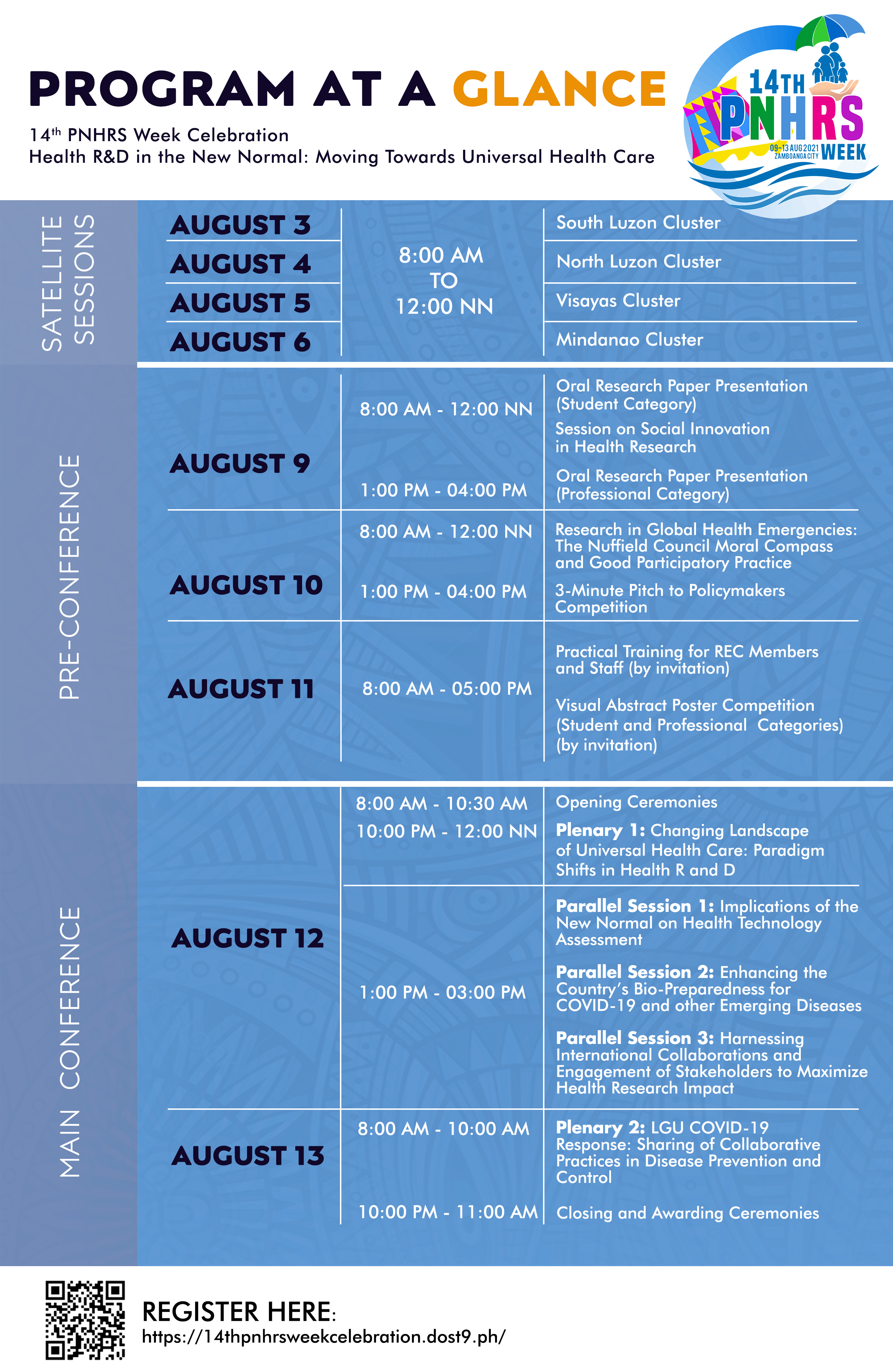 Details
We are privileged to invite researchers from the BCHRD members who are involved in/with special interest on research in the Mental Health Sciences* and allied disciplines, to the 1st Philippine Mental Health Research Summit, organized by the Philippine Council for Mental Health( PCMH ) Technical Committee on Research in cooperation with the National Center for Mental Health. With the theme "Cultivating the Culture of Research in Philippine Mental Health", the summit will be conducted virtually in a series of five webinars from June 21 to October 11, 2021.
Schedule of topics as follows:
Series 1 : Perspectives on Mental Health and Mental Health Research
Date : 21 June 202

Series 2 : Well-being and Cultural Relevance
Date : 19 July 2021

Series 3 : Governance and Leadership
Date: 16 August 2021

Series 4 : Mental Health Services
Date : 13 Sept. 2021

Series 5 : Mental Health Information System:
Date : 11 October 2021
All webinars will be held from 9am-12nn, with virtual log-in from 8-9am, except the last of the Series ( Series 5 ), which will be held from 1-4pm, virtual log-in from 12nn-1pm.
All lectures during the respective webinars will be pre-recorded. There will be a live interactive discussion and Q & A with lecturers and participants after all the symposia lectures, and a Summary at the end of each session.
Registration to the summit will be required for each individual participant, and is limited to the 1st 300 registered participants, for each webinar series. We will be sending the REGISTRATION LINK for the respective Webinar Series, one week prior to the schedule
for each event.
Early registration is encouraged to ensure participation in the summit.
We are looking forward to the active participation among our members to the Mental Health Summit Webinar Series, as we continue to pursue the mandate of the Mental Health Act on Mental Health Research and Development in the country.
Program as follows:
Credits to: LEONOR CABRAL-LIM, MD, FPNA, FAAN
Published by: Bernard Dexter M. Moros, BCHRD Secretariat
Details
CALL FOR PROPOSAL
Republic of the Philippines
Department of Health
Bicol Center for Health Development
OFFICE OF THE DIRECTOR
The DOH – Bicol Center for Health and Development (CHD) Research and Development Committee announces the 2021 Call for Submission of Research Proposals aligned to our Research Priorities for implementation in CY 2021 -2022.
For this year, the proponents should focus on the following research priority topics .These were sourced from various references and documents such as COVID – 19 related priority activities, country commitments and the required inputs to support the Universal Health Care (UHC) Law Implementation.
The following listed below were further screened and prioritized to account for the Regional's budget limitations and the need to repurpose funding to support the pandemic response.
RESEARCH PRIORITY

RESEARCH AREA

RESEARCH TOPIC

Health Service Delivery

Improving Access to Quality Hospitals and Health Care Facilities

·         Preparedness and Response of the Facilities for emerging and re-emerging infectious diseases

·         Health Outcomes and Hospital Infection Rate Improvement

·         Strengthening the health facilities' capacity for COVID 19 and future pandemic

·         Health Facility Information Management System and Integration of the Health Care Provider Network

 

 

Improving Provision of Public Health Services

·         Evaluation of UHC Integration Sites

(UIS)

·         Implementation of Province City –Wide Workload indicators of Staffing Needs (WISN) Study in the Select UHC Integration Sites (UIS)

·         Assessment of the Local Capacity of the Pharmaceutical Industry in the Philippines

·         Primary Health Care Study

·         Waiting Time and Turn-around time reduction

·         Health Facility Operations and Management Efficiency Improvement

Socio- Environmental Health Concerns

Health Social Sciences (including community development)

·         Conduct of the Responsible Parenthood and Reproductive Health (RPRH) Law Fifth Year Implementation Review (Phase 2)

·         Evaluation of Maternal and Child Health Service Delivery (include NBS and Immunization)

·         Impact of Community Quarantine on Persons who Use Drugs

·         Studying interventions to address mental health problems

·         Health Care Delivery in GIDA

·         Improvements in patient confidence and trust in accessing health care

 

 

Environmental, Disaster and Climate Change

 

·         Climate Change, pandemic and mental health: Exploring the effects of chronic stress on mental health and cognition

·          Research that increases the likelihood of implementing an all – hazards health emergency and disaster risk management approach, including prevention and readiness, for the risks related to emergencies that may occur during the COVID -19 pandemic

·         Research to strengthen community resilience before, during, and after the COVID -19 Pandemic

·         Beliefs on Disasters of Indigenous

Peoples

 

Health Financing

Financial Risk Protection

·         Analysis of the Costs to Provide the Optimal Combination of Financial and Non-Financial Incentives that is effective in Ensuring Adequate Distribution and Retention of Health Human Resource in Primary Care

·         Impact Assessment on the Implementation of Value Added Tax (VAT) Exemption to Medicines Prescribed for Diabetes, Hypertension and High Cholesterol

 
Please be advised that all proposals shall be screened in accordance to the attached criteria (Annex A). Kindly submit and upload the electronic copies of the documents needed through This email address is being protected from spambots. You need JavaScript enabled to view it. given below:
The electronic copies/ documents for submission are as follows:
Research Proposal using the DOST Template (downloadable)

Gantt Chart

Curriculum Vitae of the Proponent

Detailed Budget Line Item

Work and Financial Plan (WFP) and Project Procurement and Management Plan (PPMP)

Scanned copy of the Letter of Endorsement of the Head of Office addressed to:
ERNIE V. VERA, MD, MPH, CHA, CESO III
Director IV
DOH Bicol Center for Health and Development
Legazpi City
The deadline of submission of the Research Proposal will be within the First Quarter of 2021. The announcement of selected research papers will be on April 15, 2021. For any queries, you may contact Ms. Lotis B. Palencia, Statistician III or Ms. Maryden Loar, Health Program Researcher of the Planning and Statistics Unit – Data Management and Research through landline number (052) 204 0040 loc 506.
CRITERIA FOR SELECTION
NATURE OF THE STUDY

The Proposed Research Study should fall within the prescribed research priority for 2021.

The proposal should be prepared following the DOST Template.

The Researchers will be ranked based on its relevance, feasibility and reproducibility.
DURATION

Studies with expected substantial results obtained within 6 - 9 months are preferred.

If the proposed research proposal will be a multi – year research, this will be subject to the availability of funds from the Health Sector Research and Development Fund to provide fund augmentation.
BUDGET / FUNDING COUNTERPART

The line- item – budget (LIB) must be detailed.

Funds if available, may be sourced from the different Clusters of the Local Health Support Division (LHSD)
Credits to: Lotis B. Palencia, DOH-CHD V Statistician III, Head of Research Department
Article by: Bernard Dexter M. Moros, SRS I BCHRD