Details

Category: Announcement
CALL FOR ABSTRACTS:
CHED-CODGE-PSU Regional Research Conference
October 5-7, 2020
Theme: Research Engagements Geared toward Practical Solutions
A virtual conference sponsored by the Commission on Higher Education (CHED ROV), Council of Deans for Graduate Education (CODGE V) and Partido State University (PSU)
All faculty and students of Graduate Schools and Higher Educational Institutions in the Bicol Region are invited to submit completed researches for presentation in the online conference. Best papers will be selected and recognized.
Those interested to submit their abstract are requested to follow the procedures below.
1) Submit an abstract of your research not later than SEPTEMBER 21, 2020. Paragraph form, 200-250 words indicating the title of your research, general & specific objectives, methodology, general findings and main conclusion.
2) Below the research title, indicate your full name, email, mobile number, name of your institution, discipline cluster, faculty or student category.
Discipline Clusters:
Arts & Education

Agriculture, Environment & Health

Numerical, Business & Accounting

Social Sciences & Public Administration
3) Submitted abstracts will be evaluated by a review committee.
4) Results of abstract review will be released within one week after submission. Earlier submissions will be issued earlier results.
Email your abstracts to This email address is being protected from spambots. You need JavaScript enabled to view it. not later than SEPTEMBER 21, 2020
Reference: D.E. Baldo, Instructor - Partido State University
Details

Category: Announcement
The Ateneo de Naga University (ADNU) invites researchers to participate in the 
3rd Ateneo de Naga University International Research Conference (IRC)
on July 2-4, 2020
at the Ateneo de Naga University (ADNU) campus in Naga City, Camarines Sur, Bicol Region, Philippines. 
"Industry 4.0: Shaping the future of business, the environment, education and people in the 21st century."
CPD points is being applied.
If you and/or your students have completed research related to this theme, we welcome the abstracts of your studies. The deadline for submission of abstracts is on February 28, 2020.
Details

Category: Announcement
The Department of Science and Technology- Philippine Council for Health Research and Development (DOST-PCHRD) is pleased to announce the call for nominations for the 3rd year implementation of the DOST-PCHRD- Undergraduate Thesis Grant in Natural Products.
The program aims to sustain a research culture in natural products to increase the number of research and later on build a pool of researchers/experts specializing in the field. It supports the Drug Discovery and Development Program of the Department of Science and Technology-Philippine Council for Health Research and Development (DOST-PCHRD) which aims to develop safe, effective and affordable alternative drugs from the country's natural resources.
The search is open to all undergraduate students of Colleges of Pharmacy, Chemistry, Nursing and Health and Allied Sciences who have thesis proposals on natural products in the current school year. All nominees must submit the following documents to the Bicol Consortium Health Research and Development (BCHRD)
A. Duly accomplished prescribed research proposal form with college seal
B. Endorsement letter from the institution signed by the head of the university/college dean
C. Soft copy of the proposal (MS Word Format)
D. Hard copy of the proposal using A4 paper
E. Certificate of plant authentication (if applicable)
F.  Applicable clearances:
Ethics Clearance from a PHREB accredited Research Ethics Committee for studies involving human subjects.
Animal Research Permit from the Bureau of Animal Industry (BAI) for studies involving animals.
Free and Prior Informed Consent from National Commission on Indigenous People for studies involving indigenous people.
Gratuitous Permit from the Protected Area and Management Board of DENR for studies involving collection of samples from protected areas.
Biosafety Clearance from institutional biosafety committees for studies involving genetic engineering and pathogenic organisms.
G.  Curriculum vitae of the students and adviser using the prescribed form
Nominations with incomplete requirements will automatically be excluded from the list of official entries.
Deadline for submission of nominations to the consortium is on May 29, 2020. We expect the consortium to review and come up with a short-list of entries (maximum of 4 entries) for
endorsement to DOST-PCHRD by June 12, 2020. A thesis grant amounting to Fifty Thousand Pesos (PhP 50,000.00) will be given to two (2) thesis proposals per region.
After completion of the study, six (6) finalists will be chosen to present their research during the Philippine National Health Research System (PNHRS) week celebration wherein three (3) winners will be selected. The Cash prizes include P 30,000 for the first prize, P 22,000 for the second prize winner and P 15,000 for the third prize winner net of tax.
Details

Category: Announcement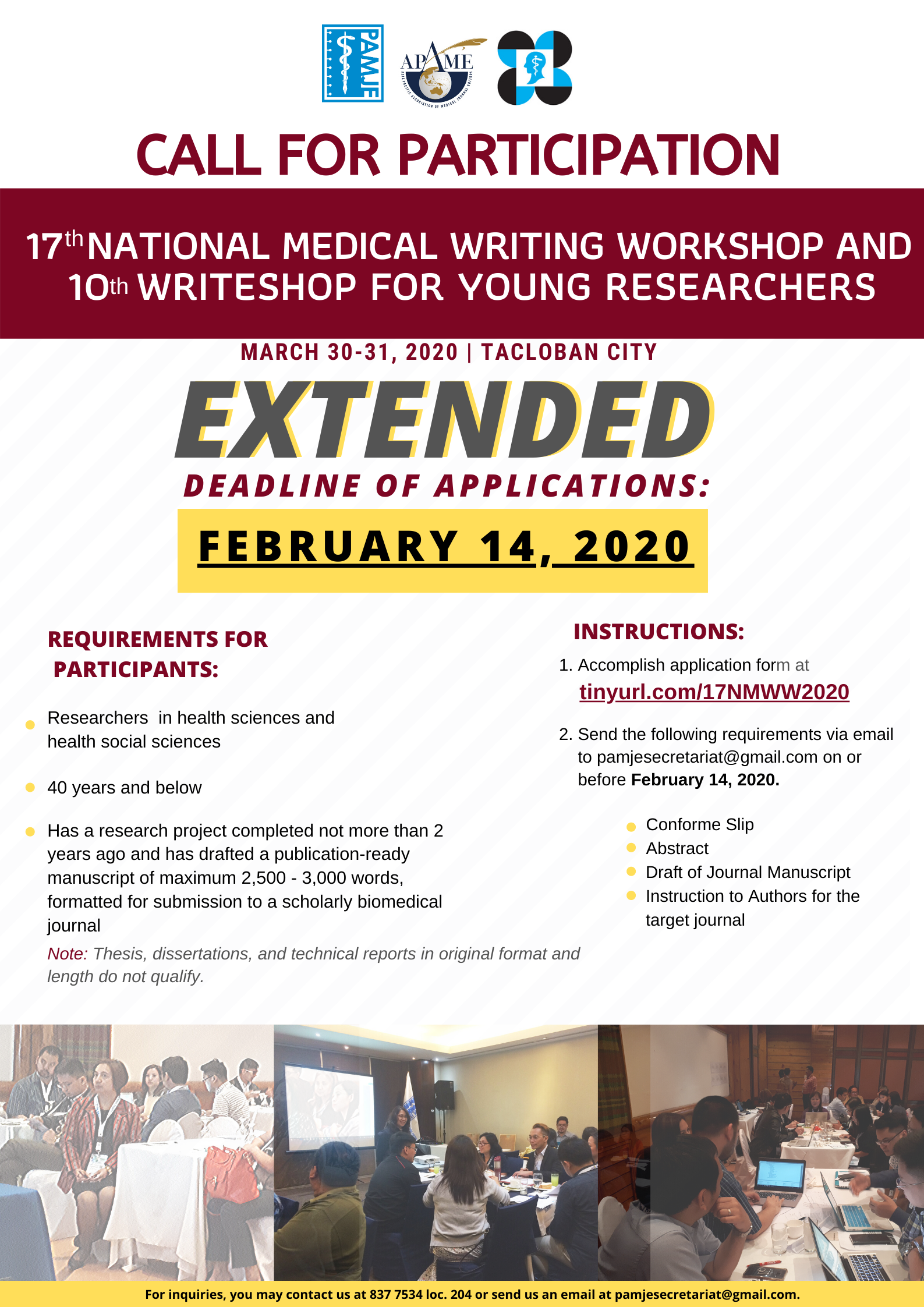 17th National Medical Writing Workshop and
10th Writeshop for Young Researchers
Tacloban City, Philippines
30-31 March 2020
Organized by the Philippine Association of Medical Journal Editors (PAMJE)
with support from the Philippine Council for Health Research and Development (PCHRD)
Endorsed by the Asia Pacific Association of Medical Journal Editors (APAME)
CALL FOR PARTICIPATION
Application deadline: January 31, 2020
Deadline of Application is extended until FEBRUARY 14, 2020.
REGISTRATION IS FREE (limited slots only)

The Philippine Association of Medical Journal Editors (PAMJE) Inc. with support from the Department of Science and Technology-Philippine Council for Health Research and Development (DOST PCHRD) and Asia Pacific Association of Medical Journal Editors (APAME) is organizing the 17th National Medical Writing Workshop and 10th Writeshop for Young Researchers on 30-31 March 2020 in Tacloban City. The workshop aims to help young investigators in health and health social sciences acquire practical knowledge and skills in preparing a scientific article for publication in a scholarly peer-reviewed journal. Successful applicants will be granted free workshop registration, accommodation, and meals during the workshop, and will be assigned to a mentor-facilitator who will guide them in preparing their articles for a brief presentation.
Requirements for participants
The workshop is designed for a maximum of forty (40) researchers in health sciences and health social sciences, aged 40 years old and below, who have a research project completed not more than 2 years ago and have drafted a publication-ready manuscript of maximum 2,500 - 3,000 words, formatted for submission to a scholarly biomedical journal. Note that thesis, dissertations, and technical reports in original format and length do not qualify. The selected draft manuscripts will be reviewed and revised during the workshop, based on the lectures and exercises, under the guidance of the faculty and mentor – facilitators. All participants are expected to present a powerpoint summary of their revised manuscripts on the second day of the workshop and agree to submit the article to an appropriate scholarly peer-reviewed journal within three (3) months after the workshop.
Instructions
Applicants should send the following requirements via email to This email address is being protected from spambots. You need JavaScript enabled to view it. on or before February 14, 2020.
1. Fill out the application form. (Link: https://tinyurl.com/17NMWW2020)
2. Conforme slip
3. Abstract (in .docx and .pdf format)
4. Draft of Journal Manuscript (in .docx and .pdf format)
5. Instructions to Authors for the target journal (This is a free document downloadable from the website
of your prospective journal.)
Please use this subject format in your email: Application_17th Writeshop_(Surname)
Please save your documents in this format:
● Conforme Slip_(Surname)
● Abstract_(Surname)
● Manuscript_(Surname)
● ITA_(Surname)

The results of the selection of participants for the Workshop will be communicated on February 24,
2020.

Note:
● Selected participants are responsible for their travel arrangements.
● Selected participants must show their paid ticket details on or before March 9, 2020, to reserve a slot in the workshop.
Should you have any concern, do not hesitate to contact Ms. Christine Alayon (e-mail address: This email address is being protected from spambots. You need JavaScript enabled to view it.; tel. no.: (02) 8-837-7534 loc. 204).