Details

Category: Updates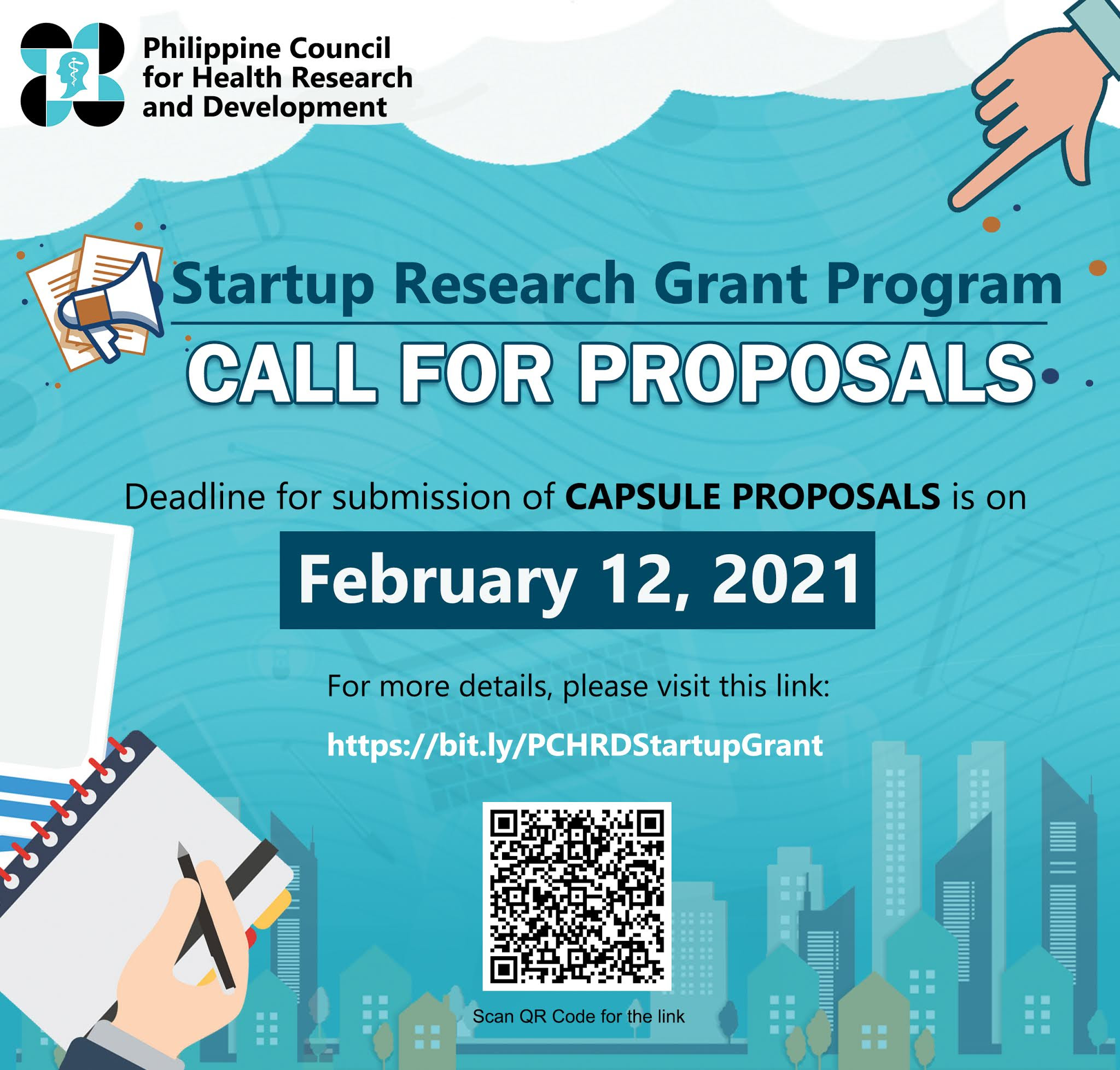 For Dissemination:
Copyright Written by Julie Anne Balangat Published: 18 December 2020
https://bit.ly/3sVQHny


CALL FOR PROPOSALS FOR
PCHRD STARTUP RESEARCH GRANT PROGRAM
What is PCHRD's Startup Research Grant Program?
Under Republic Act No. 11337 or the Innovative Startup Act, the Department of Science and Technology (DOST) has been identified as one of the key government agencies tasked to support research and development (R&D) activities of Filipino-owned startups and promote the startup ecosystem within the country. RA 11337 also authorizes the establishment of a Startup Grant Fund (SGF) under DOST which will be used to fund R&D activities of eligible startups that are aimed at improving their core technology, enhancing the product's market potential, and refining their existing products, processes, or services.

The Philippine Council for Health Research and Development (PCHRD), one of the sectoral planning councils of DOST, greatly recognizes the importance of R&D in addressing the health issues of the country. In support to the operationalization of RA 11337, PCHRD created a Startup Research Grant Program under DOST SGF that aims to support research activities of startups in the health sector.
Objectives of the Program:
The PCHRD Startup Research Grant Program will provide financial support to qualified startups to conduct research activities aimed at:
Overcoming R&D roadblocks;
Strengthening intellectual property (IP);
Establishing initial market traction;
Refining business model; and/or
Scaling up production.
Benefits to Startups:
Recipients of research grants under this program are entitled to receive the following benefits:
Access to the DOST/Council's GIA Program
Access to follow-up financial assistance for scale-up and expansion offered by other DOST offices and agencies
Access to the science and technology network of the DOST and the Philippine National Health Research System
Access to DOST Testing Laboratories and Research Facilities
Access to the DOST Technology Business Incubator (TBI) Network
Call Scope
Research proposals must be drafted based on any of the following research areas:
Innovative Tools for Improved Health Care Provider-Patient Experience
Systems/tools that will improve health care provider-patient experience (e.g. appointment systems, specialist search, resource mapping/tracking, homecare monitoring, etc.)
Systems for Health Service Delivery
Efficient and inclusive health service delivery systems such as online referral systems, ePharmacy, teleconsultations, etc.
Innovative Technologies for Health Care Facilities
Technologies for health facilities, such as biomedical devices, diagnostic kits, supply chain management, smart and resilient health facilities, etc.
Fund Tracks
Interested applicants may submit research proposals under any of the following funding tracks:
1. Proof-of-concept to Product (POC2P Track)
Generation of marketable and validated products/services
2. Product to Market (P2M Track)
Validation of business model
Incubation
Mentoring
Business support program
Capacity building
Fabrication support
Marketing and market validation
Optimization of processes
Acquisition of production capacities
Optimization of value chains
Legal and expert support
Use of facilities
Scale up optimization
Roll out
Expansion of protection to other countries
Eligibility Requirements
To avail of the grant, a startup must have the following qualifications:
Must be registered with DTI or SEC

Must be a startup company with one or multiple products and/or service related to health 

Must be Filipino-owned (at least 60% of the company is Filipino-owned)
Must be in operation for a minimum of 1 year and a maximum of 3 years
Project leader must be Filipino
Must show capability to conduct R&D
Has legal personality to issue receipt
Does not have any outstanding accountabilities with DOST
Has no ongoing project with DOST
Has no pending administrative or criminal cases
Application Mechanics and Documentary Requirements
Here is how to apply:
1. Prepare a capsule proposal (download template here) in PDF format containing the following information and required attachments:
Project title
Proposed project duration (maximum of 1 year)
Name of project leader
Company name, address and contact details
Cooperating agencies (if any)
Project plan (statement of the problem, objectives, description of proposed research activity, methodology, target accomplishments and expected outputs, significance/impact, discussion on regulatory barriers and plan to overcome the same)

Required attachments:
Budgetary requirements (capped at PhP 3M) (download template here)
Background of the startup

Year established
Current level of funding round
Products/services offered with corresponding descriptions
R&D activities conducted on current products
Team composition
Business model
Competitive advantage

Proofs of eligibility

Authenticated copy of DTI Registration for Sole Proprietorship; or, authenticated copies of SEC-registered Articles of Incorporation and the latest General Information Sheet for stock and non-stock corporations like NGOs, foundations, cooperatives or associations; or authenticated copy of SEC-registered Articles of Partnership for partnerships;
Authenticated copies of Business Permits and Licenses;
Latest copies of Income Tax Returns, Audited Financial Statements, and other financial reports;
Proof of capability and track record in conducting R&D, and when applicable, endorsement from the business incubation facility where the startup is located.
Disclosure of other businesses (if any)
CV of project leader

2. Deadline for submission of capsule proposals is on February 12, 2021. The capsule proposal and required attachments should be submitted via email at This email address is being protected from spambots. You need JavaScript enabled to view it. or This email address is being protected from spambots. You need JavaScript enabled to view it..

3. Shortlisted applicants will be announced on March 1, 2021. All shortlisted applicants are required to attend PCHRD's online writeshop for the preparation of full-blown proposals. This online writeshop is tentatively scheduled on March 8, 2021.

4. Full-blown proposals should be submitted/uploaded to the DPMIS portal (https://dpmis.dost.gov.ph/) by March 19, 2021. The full-blown proposal shall include the following:

Title of the proposed project
Duration of the proposed project
Description of the startup and the founders
Description of the product and value proposition
Background of the startup and the development of the technology (evolution of the startup, first prototype, first test, first sale)
Description of the target market and size
Competitive advantage analysis using a comparative advantage table
IP status and protection
Objective and scope of the proposed research
Methodology and expected outputs
Work plan or Gantt Chart of activities
Curriculum vitae of the project leader
Line-Item-Budget with 20% counterpart funding
Sworn Affidavits from all of the startup owners/ incorporators/ stockholders/ organizers/ partners, directors and/ or officers that they are not agents of or related by consanguinity or affinity up to the fourth civil degree to any DOST officer authorized to process and/or approve the grant and release of funds
Grant guidelines
The following guidelines shall be observed:
Interested applicants are only allowed to submit one (1) proposal at a time. Likewise, grantees are only allowed to implement one (1) project at a time.
Approved R&D activities must be implemented for a maximum period of 12 months. Grant per project is capped at PhP 3M.
DOST-supported and non-DOST-supported startups may apply.
R&D activities for DOST-supported technologies may be applied. R&D activities for non-DOST-supported technologies may also be applied as long as the technology is Filipino-owned and is health-related.
All required project reports shall be submitted using applicable DOST Forms. The DOST Startup Grant guidelines for project implementation and monitoring will be followed.
PCHRD shall monitor status of startup grantees after project termination. Startup grantees shall likewise accommodate PCHRD's request for updates.
Dates to Remember
| DATES | EVENTS |
| --- | --- |
| December 16, 2020 | Release of Call for Proposals |
| February 12, 2021 | Deadline for submission of capsule proposals |
| February 19, 2021 | Last day of in-house evaluation (pre-screening) |
| February 26, 2021 | Last day of external technical panel evaluation |
| March 1, 2021 | Announcement for the shortlisted applicants |
| March 8, 2021 | Online writeshop for the preparation of full-blown proposals for shortlisted applicants |
| March 19, 2021 | Deadline for submission of full-blown proposals at DPMIS portal |
| March 30, 2021 | Last day of second round of external technical panel evaluation |
| April 5, 2021 | Announcement of the list of official startup grantees |
FREQUENTLY ASKED QUESTIONS (FAQs)
I have a product idea but I am still building a working prototype. Can I apply for a grant under this program?
NO, R&D activities for proof-of-concepts (POCs) will not be funded. You must at least have an ugly but working prototype to qualify for funding assistance under the program.
Can I request for funding assistance above PhP 3M?
YES, funding requests above PhP 3M may still be approved subject to PCHRD's evaluation. Additional documentary requirements (i.e. financial viability doc, financial projections, manufacturing plan, value engineering, IP protection) may be requested by PCHRD as bases for approval of such request.
Do I have to use the DOST LIB form for the capsule proposal?
NO, you may only submit to us a list of all required expenses as an attachment to your capsule proposal. You may list all these required expenses in our prescribed budgetary requirement form (download here). We will assist you in preparing an LIB using prescribed DOST form during the writeshop.
Are we allowed to request for extension?
YES, subject to PCHRD's evaluation and provided that the reason for extension is justified and acceptable.
Our startup has been in operation for more than a year but we are still in the process of applying for registration (DTI/SEC). Are we eligible to apply for a grant?
NO, a startup must be in operation for at least 1 year 

starting from the date of registration

 to be eligible.
Published by: Bernard Dexter M. Moros, BCHRD Secretariat
Details

Category: Announcement
CALL FOR PROPOSAL
Republic of the Philippines
Department of Health
Bicol Center for Health Development
OFFICE OF THE DIRECTOR
The DOH – Bicol Center for Health and Development (CHD) Research and Development Committee announces the 2021 Call for Submission of Research Proposals aligned to our Research Priorities for implementation in CY 2021 -2022.
For this year, the proponents should focus on the following research priority topics .These were sourced from various references and documents such as COVID – 19 related priority activities, country commitments and the required inputs to support the Universal Health Care (UHC) Law Implementation.
The following listed below were further screened and prioritized to account for the Regional's budget limitations and the need to repurpose funding to support the pandemic response.
RESEARCH PRIORITY

RESEARCH AREA

RESEARCH TOPIC

Health Service Delivery

Improving Access to Quality Hospitals and Health Care Facilities

·         Preparedness and Response of the Facilities for emerging and re-emerging infectious diseases

·         Health Outcomes and Hospital Infection Rate Improvement

·         Strengthening the health facilities' capacity for COVID 19 and future pandemic

·         Health Facility Information Management System and Integration of the Health Care Provider Network

 

 

Improving Provision of Public Health Services

·         Evaluation of UHC Integration Sites

(UIS)

·         Implementation of Province City –Wide Workload indicators of Staffing Needs (WISN) Study in the Select UHC Integration Sites (UIS)

·         Assessment of the Local Capacity of the Pharmaceutical Industry in the Philippines

·         Primary Health Care Study

·         Waiting Time and Turn-around time reduction

·         Health Facility Operations and Management Efficiency Improvement

Socio- Environmental Health Concerns

Health Social Sciences (including community development)

·         Conduct of the Responsible Parenthood and Reproductive Health (RPRH) Law Fifth Year Implementation Review (Phase 2)

·         Evaluation of Maternal and Child Health Service Delivery (include NBS and Immunization)

·         Impact of Community Quarantine on Persons who Use Drugs

·         Studying interventions to address mental health problems

·         Health Care Delivery in GIDA

·         Improvements in patient confidence and trust in accessing health care

 

 

Environmental, Disaster and Climate Change

 

·         Climate Change, pandemic and mental health: Exploring the effects of chronic stress on mental health and cognition

·          Research that increases the likelihood of implementing an all – hazards health emergency and disaster risk management approach, including prevention and readiness, for the risks related to emergencies that may occur during the COVID -19 pandemic

·         Research to strengthen community resilience before, during, and after the COVID -19 Pandemic

·         Beliefs on Disasters of Indigenous

Peoples

 

Health Financing

Financial Risk Protection

·         Analysis of the Costs to Provide the Optimal Combination of Financial and Non-Financial Incentives that is effective in Ensuring Adequate Distribution and Retention of Health Human Resource in Primary Care

·         Impact Assessment on the Implementation of Value Added Tax (VAT) Exemption to Medicines Prescribed for Diabetes, Hypertension and High Cholesterol

 
Please be advised that all proposals shall be screened in accordance to the attached criteria (Annex A). Kindly submit and upload the electronic copies of the documents needed through This email address is being protected from spambots. You need JavaScript enabled to view it. given below:
The electronic copies/ documents for submission are as follows:
Research Proposal using the DOST Template (downloadable)

Gantt Chart

Curriculum Vitae of the Proponent

Detailed Budget Line Item

Work and Financial Plan (WFP) and Project Procurement and Management Plan (PPMP)

Scanned copy of the Letter of Endorsement of the Head of Office addressed to:
ERNIE V. VERA, MD, MPH, CHA, CESO III
Director IV
DOH Bicol Center for Health and Development
Legazpi City
The deadline of submission of the Research Proposal will be within the First Quarter of 2021. The announcement of selected research papers will be on April 15, 2021. For any queries, you may contact Ms. Lotis B. Palencia, Statistician III or Ms. Maryden Loar, Health Program Researcher of the Planning and Statistics Unit – Data Management and Research through landline number (052) 204 0040 loc 506.
CRITERIA FOR SELECTION
NATURE OF THE STUDY

The Proposed Research Study should fall within the prescribed research priority for 2021.

The proposal should be prepared following the DOST Template.

The Researchers will be ranked based on its relevance, feasibility and reproducibility.
DURATION

Studies with expected substantial results obtained within 6 - 9 months are preferred.

If the proposed research proposal will be a multi – year research, this will be subject to the availability of funds from the Health Sector Research and Development Fund to provide fund augmentation.
BUDGET / FUNDING COUNTERPART

The line- item – budget (LIB) must be detailed.

Funds if available, may be sourced from the different Clusters of the Local Health Support Division (LHSD)
Credits to: Lotis B. Palencia, DOH-CHD V Statistician III, Head of Research Department
Article by: Bernard Dexter M. Moros, SRS I BCHRD
Details

Category: Announcement
The Alberto Romualdez, Jr. Outstanding Health Research Award (AROHRA)  is extended until January 19, 2021
For more info: http://pchrd.dost.gov.ph/index.php/events/5846-call-for-nomination-alberto-g-romualdez-jr-outstanding-health-research-award-arohra
GUIDELINES
PURPOSE
The Alberto G. Romualdez, Jr. Outstanding Health Research Award (AROHRA) encourages researchers to be sensitive to the scientific and technological requirements of the health delivery system and rewards those whose research have contributed significantly to addressing prevalent health issues.
The Award gives recognition to a research program or project that has demonstrated the link between research and practice through the utilization of research findings in the health delivery system. Given by the Department of Science and Technology- Philippine Council for Health Research and Development (DOST-PCHRD) in collaboration with the Department of Health (DOH), the award has two (2) categories: Biomedical Research and Health Services Research.
NOMINATION PROCEDURES
1. What can be nominated
Any health research program or project may be considered for the Award. Work to be nominated may fall under any of two categories: Biomedical Research or Health Services Research.
For Biomedical Research, the program or project must be engaged in generating and/or adapting appropriate health technologies that address specific health problems and emphasize the development of diagnostic tools and techniques, biological (e.g. drugs, vaccines, functional foods, etc.), biomedical devices, and ICT-based healthcare technologies.
For Health Services Research, the program or project must be involved in the organization, administration, operation, utilization and other aspects of health services delivery systems that address the country's social, political, cultural, and economic conditions.
2. Who can nominate
Any institution; members of the consortium; scientific, technological and professional societies or associations; research institutes; universities and colleges; and individuals may nominate. Self-nomination is not allowed.
3. Who can be nominated and what can be a nominated entry
The award is open to a completed research program or project done by Filipino researcher/s. The nominated entry must be done mainly in the Philippines.
For purposes of this Award, a research program refers to a group of interrelated or complementing research projects that require an interdisciplinary or multidisciplinary approach to meet established goal/s within a specific time frame, while a research project refers to the basic unit in the investigation of specific research problems with predetermined objective/s to be accomplished within a specific time frame.
4. How to nominate
Nominations should be made using the prescribed nomination form. Entries from both consortium member institutions and non-consortium member institutions must be submitted to and endorsed by the Chair of the consortium. Each nomination should include ALL of the following:
a. Write-up on the impact of the project on health delivery,a contextualization of the problem that the project/program seeks to address and a description of the program/project, highlighting how the results were utilized, as well as the benefits derived from their utilization.
b. One copy of each of the technical reports and/or publicationsof the completed projects leading to technology transfer and/or translation to a policy formulation or program intervention.
c. Statement from the technology user(s) and program or project end-userdescribing the contribution of the technology and project or program in improving health delivery.
• After the preliminary screening, the judges may ask for additional supporting documents from the nominees.
5. Schedule of Selection and Awarding
The Award is given every three (3) years.
6. Where to send nominations
a. Nominations should be submitted to the regional consortium secretariat not later the deadline. (Please refer to the attached paper for list of addresses)
b. Endorsed entries by the consortium chair should be submitted to DOST-PCHRD.
INCENTIVES
The Award consists of a cash prize of P 500,000 and a trophy for winners of each category
arti. Bernard Dexter M. Moros, SRS I
details credits to Philippine Council for Health Research and Development
Details

Category: Announcement
The Philippine Council for Health Research and Development (PCHRD) of the Department of Science and Technology (DOST) invites you to be part of its Webinar Series on Intellectual Property and Technology Transfer. The third installment of the webinar series will be providing discussions on the Basics of Intellectual Property. This session aims to familiarize researchers and aspiring inventors with the different types of intellectual property, such as patents, utility model, industrial design and others, and how to protect them.
Atty. Maria Gladys C. Vilchez, Founding Partner of Hechanova Bugay Vilchez and Andaya-Racadio Law Offices and IP Consultant of the Technology Application and Promotion Institute (TAPI), is our resource speaker for the webinar.
Registration is absolutely FREE! Join us on October 01, 2020, Thursday from 9:30AM to 11:00AM by registering through this link: http://bit.ly/iptmIPbasics. 
Please feel free to share the registration link to members of your institution and your network.
For inquiries, you may reach us at This email address is being protected from spambots. You need JavaScript enabled to view it..
See you at the webinar!
Details

Category: News
The road to Super Seniors: The science of Ageing. It's earlier than you think, but it's never too late

Members of the consortium are invited to attend the webinar series this coming Saturday, September 19, 2020.
To register, please click: https://forms.gle/YW6DJFC9wLyvwZMW7
Likewise, we would like to also extend this invitation to your family, friends, and colleagues!