Details

Category: Announcement
The Philippine Council for Health Research and Development (PCHRD) of the Department of Science and Technology (DOST) invites you to be part of its Webinar Series on Intellectual Property and Technology Transfer. The third installment of the webinar series will be providing discussions on the Basics of Intellectual Property. This session aims to familiarize researchers and aspiring inventors with the different types of intellectual property, such as patents, utility model, industrial design and others, and how to protect them.
Atty. Maria Gladys C. Vilchez, Founding Partner of Hechanova Bugay Vilchez and Andaya-Racadio Law Offices and IP Consultant of the Technology Application and Promotion Institute (TAPI), is our resource speaker for the webinar.
Registration is absolutely FREE! Join us on October 01, 2020, Thursday from 9:30AM to 11:00AM by registering through this link: http://bit.ly/iptmIPbasics. 
Please feel free to share the registration link to members of your institution and your network.
For inquiries, you may reach us at This email address is being protected from spambots. You need JavaScript enabled to view it..
See you at the webinar!
Details

Category: News
The road to Super Seniors: The science of Ageing. It's earlier than you think, but it's never too late

Members of the consortium are invited to attend the webinar series this coming Saturday, September 19, 2020.
To register, please click: https://forms.gle/YW6DJFC9wLyvwZMW7
Likewise, we would like to also extend this invitation to your family, friends, and colleagues!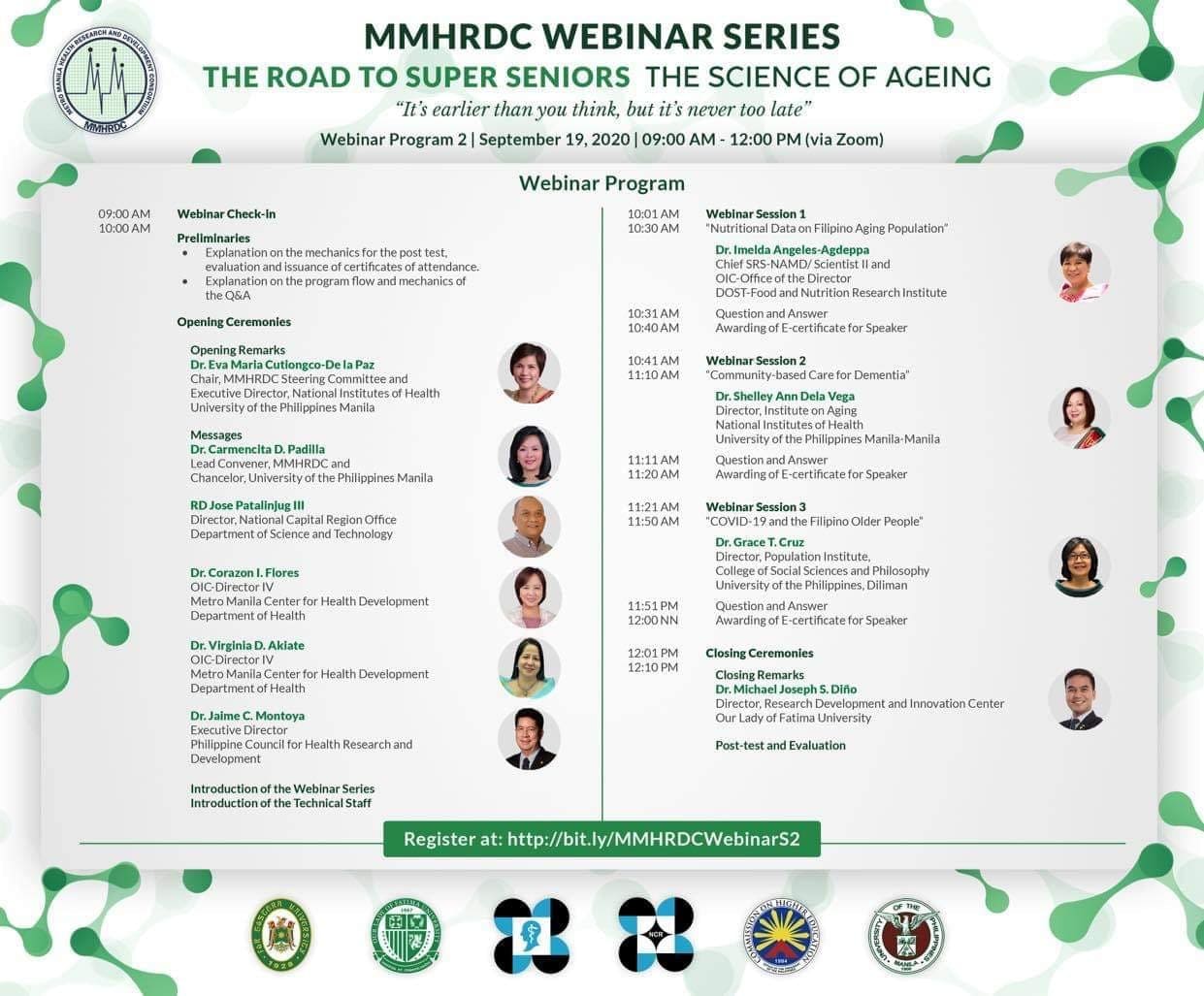 Details

Category: Announcement
The PCCI Injap Sia Outstanding Young Entrepreneur Award seeks to recognize young entrepreneurs which are able to innovate ideas to develop new markets, create wealth and generate jobs. The award is open to all Filipino entrepreneurs, 45 years old and below, owner or significant shareholder/management member of an enterprise that has been operating for  two (2) years and   registered in the Philippines. 
See promotional flyer below: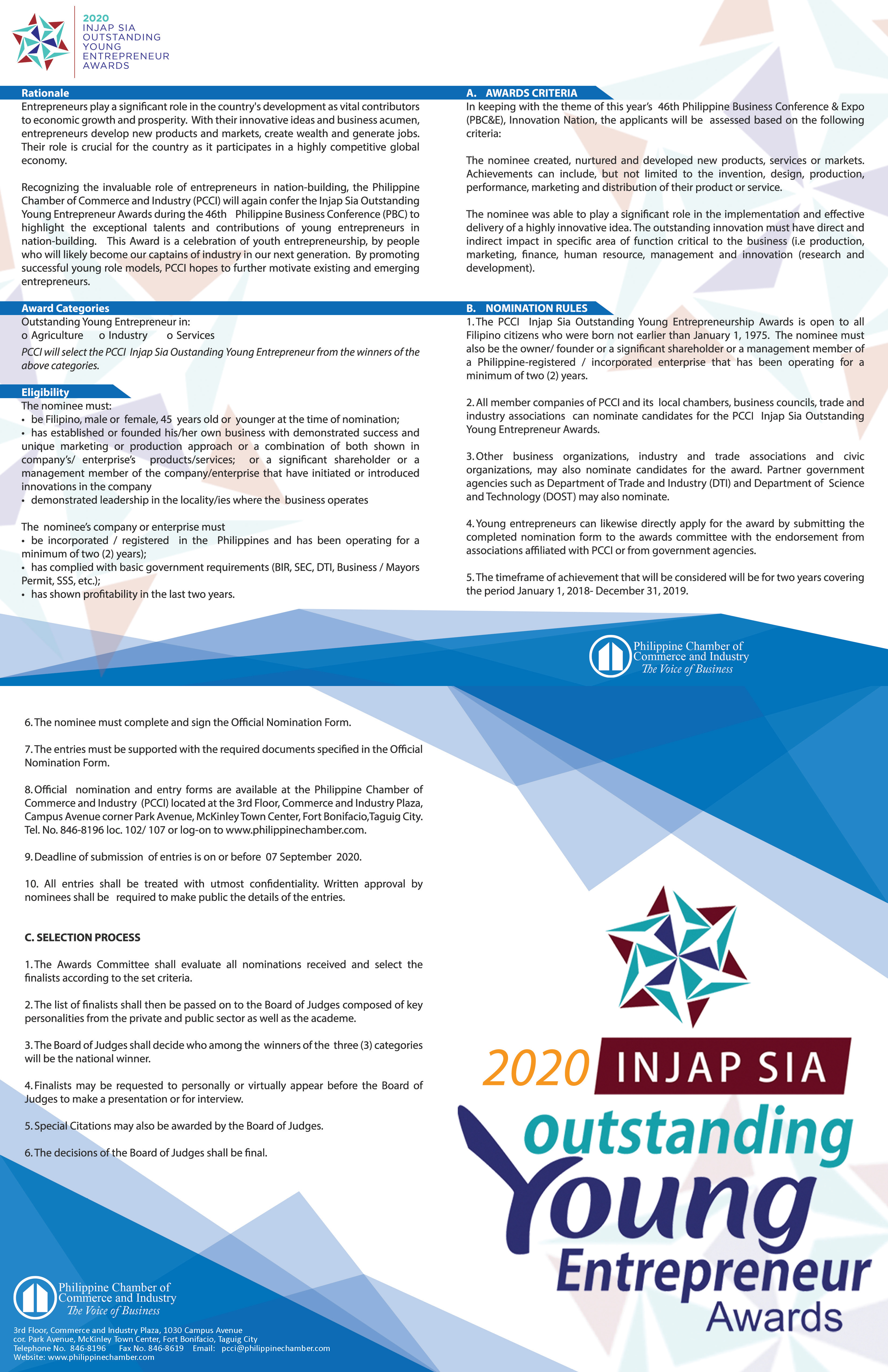 Details

Category: Announcement
MMHRDC Webinar Series: The Science of Ageing
The Metro Manila Health Research and Development Consortium is pleased to announce the conduct of its  FREE webinar series with the theme, "The road to Super Seniors: The science of Ageing. It's earlier than you think, but it's never too late". Co-organizing this webinar series are  Far Eastern University and Our Lady of Fatima University. 
The series will run through three Saturdays for the month of September (12, 19 and 26) from 1000h to 1200h and will feature at most 3 speakers per day. 1,000 slots will be opened but participants will be required to pre-register online. Those who can no longer be accommodated in the platform may view the webinar via Facebook live.
To register, please click 
HERE.
For further inquiries you may reach us at 
This email address is being protected from spambots. You need JavaScript enabled to view it.
.