Details

Category: Updates
The Bicol Consortium for Health Research and Development (BCHRD) organized a three-day Research Methods Training on January 29-31, 2013 with the following objectives: 1) Equip the participants with research methodologies; 2) Assist participants in refining the methodology of their research proposals; and 3) Assist the participants in packaging the research proposals, in preparation for the technical and ethical review by the consortium evaluators.
The training was facilitated by the Consortium Director Dr. Alma Banua and the PCHRD-DOST Regional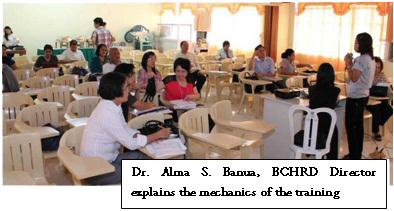 Coordinator Ms. Marie Jeanne Berroya. It was participated by the chairpersons and members of the BCHRD Research and Development (R&D) and Ethics Review (ERC) Committees, as well researchers from the different member-agencies of the consortium.  Doctors, nurses, and professors from the different schools, institutions, and agencies came all the way from as far as Catanduanes and Camarines Sur to join their local counterparts in Legazpi City.
The member-agencies of BCHRD represented during the training were: Universidad de Sta. Isabel (USI)- Ms. Sandy Lasa; Catanduanes State University (CSU)- Dr. Alvin Ogalesco and Prof. Joel Olfindo; University of Saint Anthony (USANT)- Prof. Joyce Obis; Ateneo de Naga University (AdNU)- Ms. Elma Peralta; University of Nueva Caceres (UNC)- Dr. Carmelita Baylon and Dr. Yolanda Castroverde; Camarines Sur Polytechnic Colleges (CSPC)- Ms. Salvacion Tablanza and Ms. Ma. Angela Concepcion Nolasco; Partido State University (PSU)- Ms. Emelina R. Padayao; Aquinas University (AUL)- Ms. Athena G. Masip; Bicol Medical Center (BMC)- Dr. Marla Litam; BRTTH- Dr. Marlyn Daguno and Ms. Bernardita Patacsil; and Department of Health (DOH)- Dr. Aurora Teresa Daluro, aside from BCHRD host agency Bicol University, which had participants from the College of Nursing- Dr. Richard Bartolata and Prof. Garry Grageda; College of Science- Profs. Ida Revale, Jocelyn Serrano, Joan Nace, Daile Meek Membreve and Mr. Michael Angelo Brogada; Tabaco Campus- Profs. Carina Orden and Dennis Gogola; and RDC- Dr. Arnulfo Mascariñas.  Also present were the BCHRD Secretariat composed of Ms. Maria Vicenta Corazon Guidote, Ms. Reizha Rito, and Ms. Eunice Endrano.
The participants were privileged to have as resource speaker the in-demand and highly recommended Dr. Ophelia "Ophie" M. Mendoza, a PCHRD consultant and research expert. Dr. Ophie holds several degrees including Master of Science in Public Health (Biostatistics) and Doctor of Public Health (Biostatistics) from the University of North Carolina at Chapel Hill as well as the degrees of Bachelor of Science in Statistics, and Master in Statistics from the University of the Philippines.  A researcher in her own right with a considerable number of researches to her name both here and abroad, it is only fitting that she would be recommended by no less than the PCHRD-DOST itself, to give lectures during seminars that it funds.
Needless to say, Dr. Ophie did not disappoint;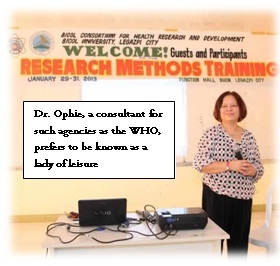 evaluation from the participants all contained rave-reviews of how well she delivered the lectures which were very comprehensive, and how she was able to simplify even the most complicated topics.
The training followed a challenging daily lecture-workshop-plenary schedule that really squeezed the creative juices out of the committee members and researchers, who were all required to give presentations as well as evaluate each other's outputs.  Dr. Ophie was on hand to assist the R&D and ERC committees in the critiquing.
On the whole the BCHRD is happy with the fifteen (15) research proposals that were presented, and hopeful that with certain revisions, they will be ready to be submitted to the R&D and ERC committees for technical review, in preparation for submission to PCHRD for final consideration.  Further trainings will be held to give assistance to the researchers in the refinement of their proposals.
Details

Category: Updates
HERDIN stands for Health Research and Development Information Network, a research repository / database with over 40 thousand records of health research articles and health researches about the Philippines or Filipinos, authored by Filipinos or non-Filipinos, published and unpublished.
To be able to access the research information network, BCHRD organized a HERDIN training on November 28, 2012 at the Bicol University, College of Nursing.  Three speakers/trainers from PCHRD came to Legazpi City to provide the participants with the knowledge and skills needed in the setting up/operating of a research database in their respective institutions that could be linked with the regional (BCHRD) and national research repositories.
The said speakers/trainers were: Mylene B. Marco who gave the mechanics of the workshop, Meychell Angoy, who lectured on the technical aspect of HERDIN, and Ronel D. Molina, who lectured on data inputting (setting up, updating, enhancing, and maintenance of the Consortia website).
The training workshop was participated by a total of twenty seven (27) point persons for research database from member and non-member agencies. The participants  were given the HERDIN User's Guide / Manual  as reference for the technical aspect of HERDIN. The database can be searched for free at http://www.herdin.ph
Data inputting of the researchers and researches in Region V will be done in 2013. The inventory of these researchers and researches in the region is still ongoing.
Ms. Meychell Angoy (above) explaining the technical aspect of HERDIN.
Details

Category: Updates
The BCHRD facilitated a two day write-shop for researchers in the region on November 14-15, 2012.  Its main objective was to generate fundable research proposals that are reflective of the priority research agenda of the region.
The pre-workshop phase was highlighted by the presentation of the Research Agenda of Region V by R & D Chair Dr. Marlyn Daguno, to guide the participants on the research priorities of the region.  Following the presentation were lectures on "Problem Conceptualization" and R & D Methodologies (Quantitative) including Basic Statistical Test and Analysis by Dr. Yolanda Castroverde, an R & D member, and Dr. Maridel Borja, from University of the Philippines, Manila.
Three (3) research proposals were presented and evaluated by the R & D committee (Dr. Marlyn Daguno and Prof. Elma Peralta), with Dr. Borja, as guest evaluator. The proposals were as follows: 1) Urban Wastes and Environment: Effect on People's Health by Dr. Yolanda Castroverde of University of Nueva Caceres, 2) "Follow-on" and "Toddler Formula" Using Adlai Grains by Dr. Janet Recierdo of Bicol University, and 3) Wound Healing Properties of Guyabano Leaves (Anona muricata Linn) and Malunggay Root (Moringa oleifera) Extract: A Product Development by Dennis Gogola of Bicol University.
The research entitled Urban Wastes and Environment: Effect on People's Health by Dr. Yolanda Castroverde was technically approved by R & D committee and was submitted to the Bicol Medical Center, Naga City for ethical review. The ERC of the consortium had already reviewed it ethically. This proposal was submitted to the Philippine Council for Health Research and Development for funding under the Regional Research Fund (RRF).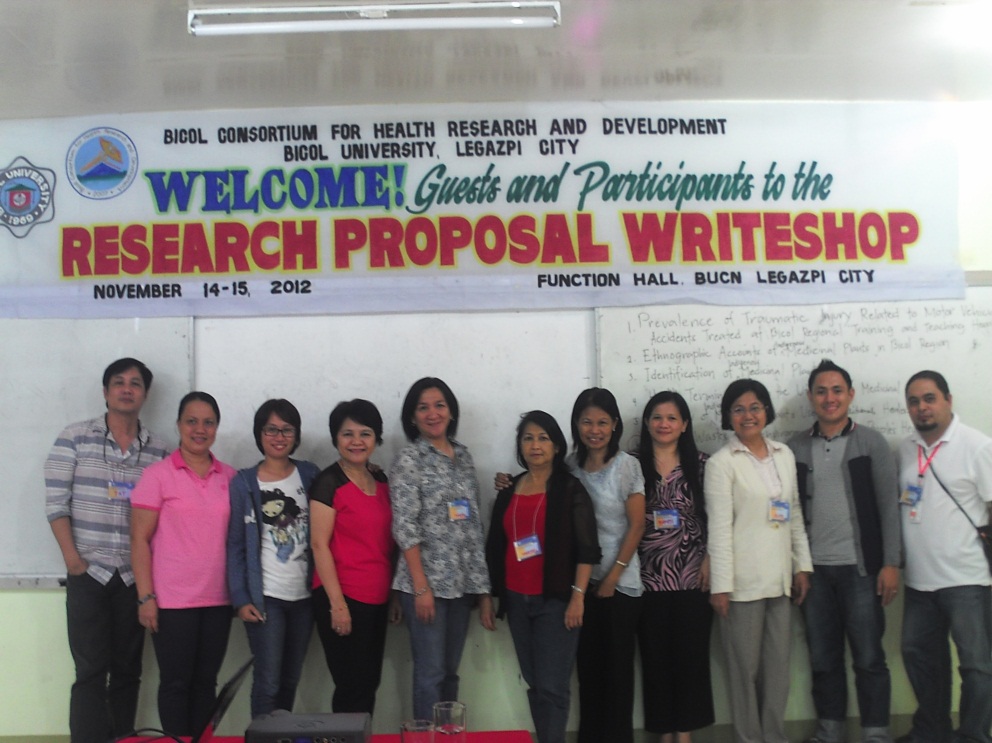 (left) Participants of the research proposal write-shop pose with R & D committee chair Dr. Daguno, committee member Prof. Peralta, and guest evaluator Dr. Borja.
Details

Category: Updates
The Basic Ethics training was a  two-and-a-half-day training workshop (October 29-31) organized by the Philippine Health Research Ethics Board (PHREB), Philippine Council for Health Research and Development (PCHRD) and Bicol Consortium for Health Research and Development (BCHRD).
The main objective of the training was to build the capacity for quality ethics review processes in research institutions.  A total of twenty four (24) participants composed of the member institutions of the BCHRD and allied health workers of health agencies in Region V were the recipient of the research ethics concepts.
The speakers from the PHREB were: Dr. Cecilia Tomas, Chair of the PHREB-Subcommittee, Standards and Accreditation and Dr. Maria Salome Vios.  With them were two members of the PHREB Secretariat, Ms. Marie Jeanne Berroya, who is also the Regional Coordinator for Region V and Mr. Nico Angelo Parungao.
The participants were welcomed by Dr. Alma Sorrera-Banua, BCHRD Director and Dr. Amelia Dorosan, VPAA of Bicol University, who mentioned the importance of respecting the rights of subjects of the research, of organizing an institutional ERC, and of maintaining a functioning ERC.
Among the topics discussed were the following:
1)    Ethical Principles in Research  (International & National)
2)    Ethics and Ethical Issues in Research Proposal
A. Benefits/Risk Assessment
B. Informed Consent
C. Ethics Review Committees and Review Process
D. Ethical Issues: Vulnerable Participants, Conflict of Interest,  Inducements,  Use of Biologic Samples, Community Considerations
3)  PCHRD  Registration & Accreditation of ERCs
4)  Authorship & Publication
5)  SOPs for ERCs
6) National Framework for Protection of  Human  Research Participants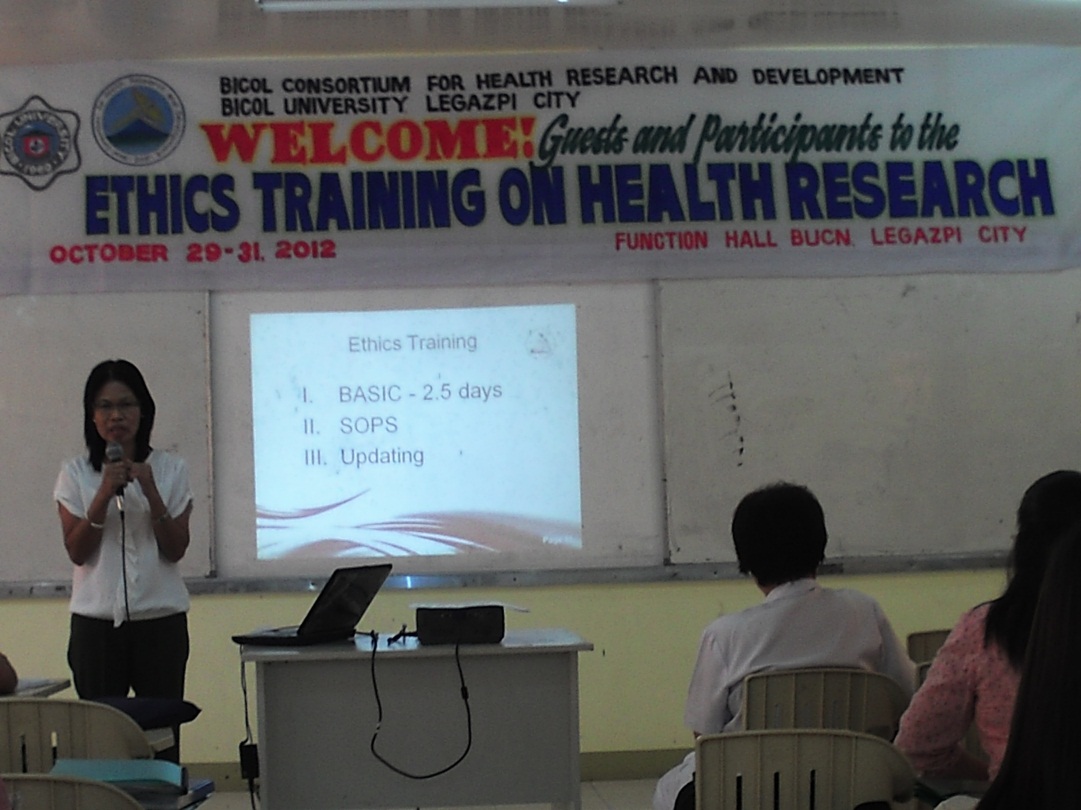 The participants were able to realize the importance of ensuring that researchers follow the highest ethical standard, observe the safety of the human participants, and ensure the quality of research output.
BCHRD Director Dr. Alma Banua welcomes the participants during the Basic Ethics Training.
Details

Category: Updates
The Bicol Consortium for Health Research and Development conducted a Strategic Planning Workshop last October 9-10, 2012 at the Bicol University College of Nursing, Legazpi City. The objective of the workshop was to 1) identify and understand the BCHRD's internal and external environment, including the major trends and events affecting it; and 2) generate/formulate a shared Vision, Mission, Goals/Objectives and Strategies for the BCHRD within the next 3 years.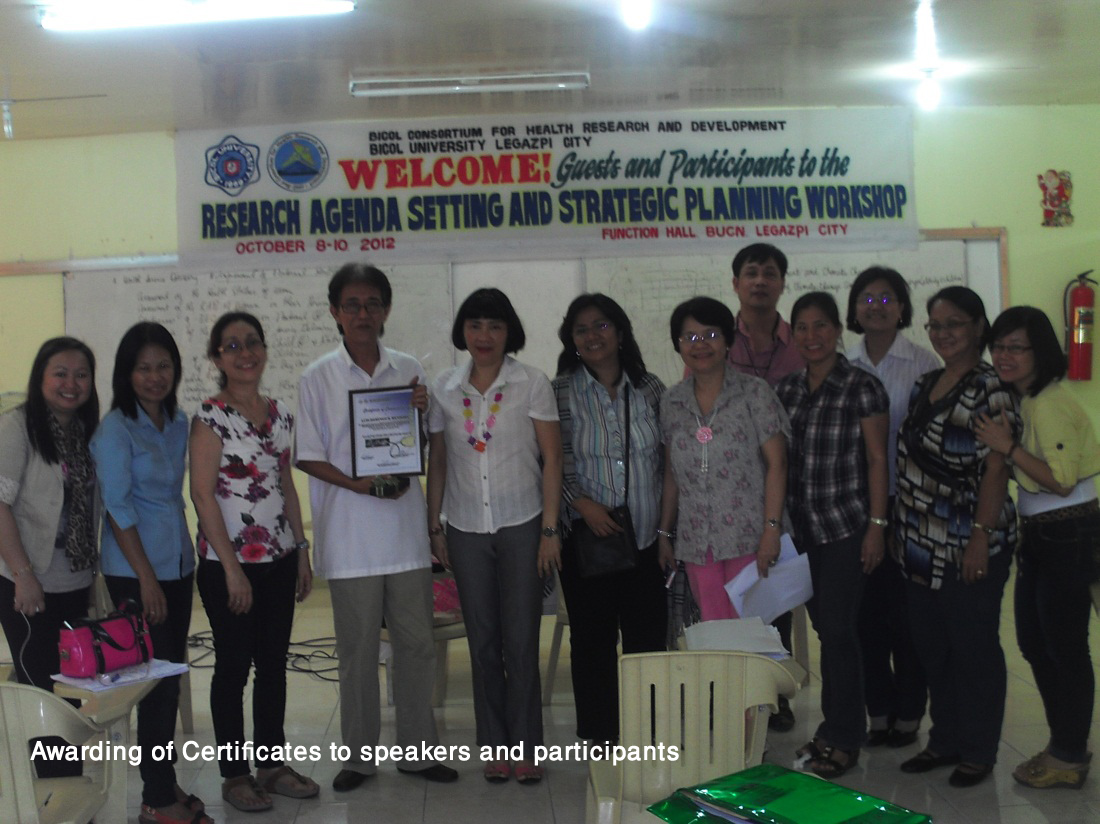 The activity was facilitated by Engr. Ellen P. San Juan, President & Managing Director of Transformation OptimizerProfessionals Inc. A total of thirteen (13) member agencies participated and came up with the Vision, Mission, Goals, Objectives, CoreValues, and the SWOT analysis for the operation of the consortium. The output of the workshop was as follows:
Vision: We are a nationally recognized from prime mover of excellent health and health related researches responsive to the needs of the Bicolanos towards improved quality of life.
Mission: We are a consortium of committed research institutions that produce quality health researches adhering to the highest ethical standards by collaborating with stakeholders and building the capacity of the researchers in the Bicol Region.
Goals:
1. Quality of  Researchers: enhancement of researchers' capacity and capability
2. Researches: undertake quality health and health related R & D activities
3. Recipient of various institutional awards from recognized award-giving bodies.
4. Establishment of linkages between and among S &T / R & D networks.
5. To produce quality researches that will improve the health conditions of Bicolanos.
6.To establish a dynamic, innovative, and collaborative organization that upholds good governance.
Specific Objectives:
To increase the number of competent researchers by at least 3% in 3 years.
At least 3 completed collaborative researches.
To publish 3 completed research in peer reviewed journals.
Come up with 9 approved quality health researches and receive at least 3 major awards from recognized award-giving bodies: (PNHRS, CHED Zonal Research Center,  CHED- NHERA, and  FNRI)
Establish and strengthen linkages between and among Research and Development / Science & Technology networks.
Produce one health research program on Maternal and Child Health and Nutrition for implementation of concerned institutions.
Increase the number of member institutions by 50 per cent.
Core Values
Commitment
Integrity
Innovativeness
Respect
Teamwork
Strengths
1. Internal  Strengths
a. Increased number of committed member institutions/ agencies
b. Strong research capabilities of member institutions/ agencies
c. Basic training programs in place
d. Desire to make committees functional
e. Drafted research priorities for the region
f. Initial re-alignment of R & D's with the NUHRA by some member institutions.
g. Capability to conduct clinical/ experimental researches.
h. Availability of ISO accredited Analytical Laboratory ( DOST )
i. Availability of IPOPHIL office at BURDC
j. With ongoing inventory of researchers, researches, and their training needs
k. Strong commitment of member institutions
l. Well-defined mission and vision
m. Well-established research department with member institution
n. ISO-accredited RDC of the base institution - Bicol University
o. Expanding membership from 5 to 15.
p. Committed pool of researchers (multidisciplinary with ISO accreditation)
2. External Opportunities
a. Wide S & T networks
b. More funding institutions (e.g. DOST central office, JICA, WHO, UNESCO, UNICEF, FAO, KOIKA, AECID, National and Local Government agencies)
c. Supportive partner institutions
d. Develop in-line linkage with international institutions like hospitals and universities (E-Libraries)
e. Bilateral Cooperation between BCHRD & institution abroad - exchange researchers
f. Existence of PCHRD scholars' society
g. Strong support of the government (RA 8503 and HB 564)
h. Regional economic growth of 26%
i. Liberalization of the telecommunication industry
j. Technology transfer
k. Access to seminars trainings in and out of the country
l. Good governance (LGU's receptive to research undertakings and utilization of research findings)
Threats
1. External
a. Priority program of Government (National Local)
b. Lack of support from private hospitals in conducting research and implementation of research outputs
c. Problems in peace and order situation
d. Inaccessible research settings
e. Lack of support from External Funding Institutions
f. Lack of awareness and support from the community
a. Change of government due to elections, priorities/ agenda, funding, mechanism, choice of people (cabinet, etc.)
b. Pressure / enforcement by international groups
c. World trend (can't cope)
g. Undefined linkage between health researchers, policy makers, health program developers, and practitioners
h. Region 5 unemployment rate of 37.7% as of July 2012
i. Increase in population (2.7%)
j. Magnitude of poverty
k. Social development challenges
l. High percentage in terms of not meeting family planning needs of the region
2. Internal (Areas of Improvement)
a. Minimal research output
b. Low level of information dissemination and utilization of research output
c. Low level of interest to conduct research
d. Absence of strategic direction and long term development plan
e. Limited resources (manpower, financial constraints, etc.)
f. Absence of office and other facilities
g. Internal policies that restrict the consortium operation
a. Institutionalization not yet realized
b. BCHRD Operations with reference to base agency/ member institutions, office, financial management, other support services
h. Lack of skills among members of respective departments of member institutions